Accusations Starting To Hurt Cain In The Polls
Polls are starting to show signs that the sexual harassment allegations are starting to hurt Herman Cain.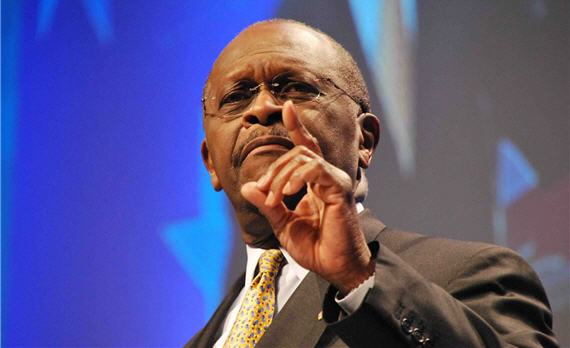 In the ten days since the sexual harassment allegations against Herman Cain were first leveled, Cain's support in the horse race for the GOP nomination doesn't seem to have slipped all that much. He still holds a slight lead over Mitt Romney according to the RealClearPolitics poll average, although there are understandable differences between some of the polls based on sampling differences. In all of these polls, taken before the allegations made by Sharon Bilek became public seem to show that GOP voters don't think that the charges amount to very much: 
In a series of polls taken since Politicofirst reported on two anonymous allegations on Oct. 30, most Republican respondents have said they think the charges are false:

Cain has remained at the top of the race, sharing front-runner status with Mitt Romney: Three of the above polls showed the two candidates in a statistical tie for first place.
Even in those polls, though, The Atlantic's Chris Good finds signs of trouble for the pizza man:
Perhaps more troubling for Cain is that poll respondents are viewing him less positively than before. Since well before he became a nationally known political figure, Cain's campaign has looked promising because his positivity ratings have been high. Few people knew who he was, but people liked him — a lot.

Now, his numbers are starting to slip. NBC/Wall Street Journal found eight percent of Cain's "very positive" rating seemingly migrating to "somewhat positive," the former dropping from 28 percent to 20 percent (still the highest rating in the GOP field).
In the first post-Bilek poll to come out, though, there are already signs that the introduction of a woman making accusations in person, rather than anonymous sources in a news report, may be changing how the public views Herman Cain:
Most voters now say that the sexual harassment allegations made against Herman Cain may be both serious and true. At the same time, two-thirds believe Cain's ethics are at least as good as most politicians. The latest Rasmussen Reports national telephone survey finds that 51% of voters nationwide say it is at least somewhat likely the allegations against Cain are both serious and true.
This is a Rasmussen poll, so the usual caveats apply. Nonetheless, it seems consistent with a new Gallup poll that seems to show some slippage in the public's previously positive image of him:
Herman Cain's image among Republicans is starting to get worse amid claims that he sexually harassed several women in the 1990s. His latest Positive Intensity Score, based on Oct. 24-Nov. 6 Gallup Daily tracking, is 25. However, across the two weeks that make up that average, his score was 29 in interviewing conducted Oct. 24-30, before the news broke, and 20 in the days since.

A USA Today/Gallup poll conducted this past weekend found most Republicans believing sexual harassment charges against Cain were probably untrue, and he remains a co-leader in national Republicans' nomination preferences. Since then, on Monday, a fourth woman and the first to speak publicly, alleged that Cain sexually harassed her while he was head of the National Restaurant Association in the 1990s. Cain insists the charges are false.

While Cain's position on the ballot suggests his campaign is not collapsing under the weight of the allegations, they are beginning to take a toll on his image. Cain's Positive Intensity Score surged to a high of 34 a few weeks ago, but now is nearly 10 points lower. It is likely to decline further at least into the low 20s unless his score in this week's interviewing rebounds to pre-allegation levels.
The chart tells it all: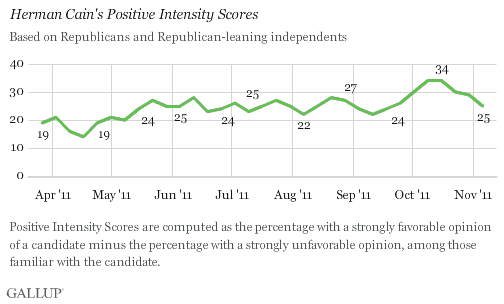 As a man with no public record and obvious gaps in his knowledge, the biggest thing that Herman Cain has going for him right now is the fact that the Republican selectorate likes him and the people who support him are very enthusiastic about his candidacy. If that starts to slip, then Cain has nothing to fall back on and I would expect to see his p0ll numbers at the national and state level start to slip as likely voters start looking for other candidates. In the end, it's inevitable that number would slip even if these allegations didn't come out, though. Most of Cain's appeal has been his "new-ness" and the fact that he isn't like the other candidates. With the passage of time, that novelty starts to wear off and some of the initial enthusiastic support wanes. It's something that has happened to pretty much every Presidential candidate at some point, it even happened to Barack Obama during the course of his 2008 knock-down-drag-out with Hillary Clinton. The difference is that Obama had more to his appeal to Democratic voters than novelty, Cain doesn't. However this sexual harassment story plays out, and I don't expect to end any time soon given that we're now hearing about the possibility of a joint press conference with all of Cain's accusers in attendance, it seems that it's inevitable that it's only going to chip away further at Cain's appeal. Who that helps is another question.