Additional Questions Of Plagiarism Directed Against Fareed Zakaria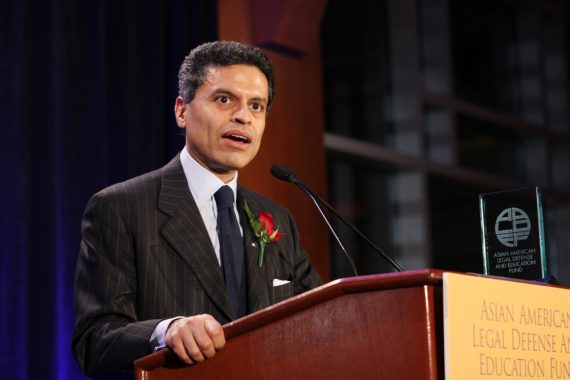 Last week, Fareed Zakaria was suspended by Time and CNN after it came to light that he had borrowed heavily from another author's work in a column he wrote about gun control in the wake of the Wisconsin Sikh Temple shootings. Today, The Washington Post's Paul Fahri makes note of additional allegations that bring Zakaria's previous work in to question: (Please note: The Washington Post has essentially retracted this story, please see Update #2 below)
Columnist and TV host Fareed Zakaria, who acknowledged plagiarizing parts of a magazine article last week, appears to have also published without attribution a passage from a 2005 book.

Zakaria's 2008 book, "The Post-American World," contains a quote from former Intel Corp. chief executive Andy Grove about the nation's economic power. "America is in danger of following Europe down the tubes, and the worst part is that nobody knows it," Grove says in Zakaria's book. "They're all in denial, patting themselves on the back as the Titanic heads straight for the iceberg full speed ahead."

The first edition of Zakaria's book, which became a bestseller, makes no mention of the comment's source, nor does a paperback version of "Post-American World" published in 2009.

In fact, Grove's comment was published three years earlier in "Three Billion New Capitalists: The Great Shift of Power to the East," by former Commerce Department official Clyde V. Prestowitz.

In an interview Monday, Prestowitz said Grove made the comment in an interview with him that was conducted while Prestowitz was researching his book. The quote appears in the book's first chapter.

Prestowitz, who heads theEconomic Strategy Institute, a Washington think tank, said he contacted Zakaria about the Grove quote when "Post-American World" was published four years ago but received no response. Prestowitz said he also mentioned the lack of attribution to his editor and agent, but he doesn't know if they raised the issue with Zakaria or his publisher.

Zakaria finally acknowledged Prestowitz in the footnotes of "The Post-American World 2.0," an updated and expanded version of his original book that was published last year. The footnote attributes part of the passage containing the comment to Thomas Friedman's 2006 best-seller, "The World is Flat: A Brief History of the Twenty-first Century." It then notes, "Andy Grove's statement is quoted in Clyde Prestowitz, 'Three Billion New Capitalists….'"
Fahri actually got a chance to speak to Zakaria, and his comments seem to indicate he's straying into the land of victimhood:
Zakaria, in an interview Monday, defended the practice of not attributing quotes in a popular book. "As I write explicitly [in the book], this is not an academic work where everything has to be acknowledged and footnoted," his said. The book contains "hundreds" of comments and quotes that aren't attributed because doing so, in context, would "interrupt the flow for the reader," he said.

He compared his technique to other popular non-fiction authors. "Please look at other books in this genre and you will notice that I'm following standard practice," he said.

"I should not be judged by a standard that's not applied to everyone else," he added. "People are piling on with every grudge or vendetta. The charge is totally bogus."
I suppose Zakaria has an argument here. But, isn't this what endnotes and bibliographies are supposed to be for? I've seen both in plenty of "popular" works of non-fiction over the years. In any event, he took a quote and didn't attribute it, even after the same was brought to his attention and there was at least one opportunity to revise the work for the paperback edition.
About the original story, I assumed when it happened that this was really the result of errors by researchers or a ghost writer, and Andrew Beaujon addresses that possibility in an interesting manner:
Eric Zuesse writes — without offering any evidence — that Zakaria "cannot possibly actually write all that is attributed to him. He certainly cannot research it all."

Like many "writing" stars, he has a staff perform much of the research and maybe even actual writing for him, and many in his situation are actually more editors than they are writers; but, regardless, he cannot let the public know that this is the way things are, because this is simply the way that the star system works in the "writing" fields, and because the public is supposed to think that these stars in the writing fields are writers, more than editors.

Defense: Zakaria may have taken the fall because he'd put his name atop someone else's sloppy work.

Ruling: Not totally bogus!

I can't stress enough this defense is predicated on speculation: Zakaria, the theory goes, couldn't have made such a boneheaded mistake on his own. But how is using a researcher's work under your name different from a journalist's editor directing a story, changing its lede, inserting a new ending or making any of the other changes that happen in editorial meat grinders every day?

The only thing I can find admirable in this whole dismal tale is the possibility that Zakaria held up his end of the bargain and apologized for an error he didn't make. "It is a full apology — no hedging, no excuses," Mark Leccese writes.

Is it possible Zakaria observed a kind of omerta because he, like almost every writer who's worked with an editor, OK'd the use of his name on work that was only partially his?
That's certainly possible, but then that leads to the whole question of what the heck is so ethical about the idea of having someone else write a column and then slapping your name on top of it.
UPDATE:  David Frum demonstrates that, "This charge is false, as 10 minutes' work by the Washington Post would have shown. " See also, "Fareed Zakaria Shot the Sheriff But Did Not Shoot the Deputy."
Update #2: The Washington Post has issued the following correction:
Correction:  This article incorrectly states that in his 2008 book, "The Post-American World," Fareed Zakaria failed to cite the source of a quotation taken from another book. In fact, Zakaria did credit the other work, by Clyde V. Prestowitz. Endnotes crediting Prestowitz were contained in hardcover and paperback editions of Zakaria's book. The Post should have examined copies of the books and should not have published the article. We regret the error and apologize to Fareed Zakaria.
Now, of course, the question is how the Post could've gotten this so wrong.