After Controversial Removal, Ryan Reinstates House Chaplain
After hastily removing the House Chaplain under unclear circumstances, Speaker of the House Paul Ryan has reversed himself.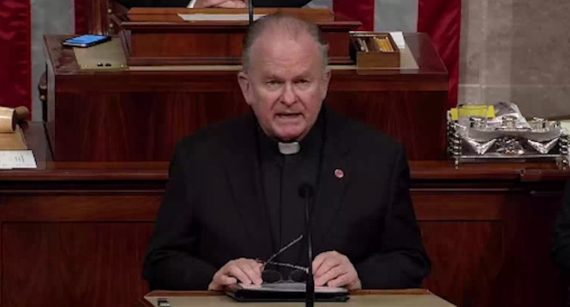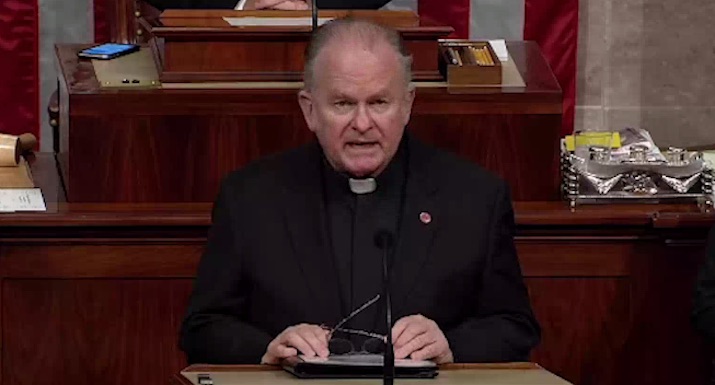 After a week or so of controversy over his removal, Speaker of the House Paul Ryan has agreed to reinstate House Chaplain Fr. Pat Conroy after apparently forcing him out last month under circumstances that remain unclear to just about everyone:
WASHINGTON — Speaker Paul D. Ryan reinstated the Rev. Patrick J. Conroy as the chaplain of the House of Representatives on Thursday, after the chaplain sent him a letter rescinding his forced resignation and daring the speaker to fire him.

"I have accepted Father Conroy's letter and decided that he will remain in his position as chaplain of the House," Mr. Ryan said in a statement. He added, "It is my job as speaker to do what is best for this body, and I know that this body is not well served by a protracted fight over such an important post."

Father Conroy, a Catholic priest who has been the chaplain since 2011, intimated in a letter to Mr. Ryan on Thursday that the speaker did not have the authority to fire him, noting that the chaplain, who is selected by the speaker, is elected by the members of the House. He suggested his Catholic faith had contributed to his dismissal.

And in an interview, Father Conroy said he had hired a lawyer to press his case. "This is so contentious, and I think it is so historic," Father Conroy said, adding, "It's not over."

After Mr. Ryan reversed course, the chaplain accepted some responsibility in the debacle.

"We both acknowledged that we need to talk about how I can improve my performance so the chaplaincy operates for as many members as possible," he said. "I don't know any pastor or any chaplain anywhere that doesn't have some detractors. That is the human condition. My problem is I was never told that that was the case."

Father Conroy said he and Mr. Ryan will sit down together on Tuesday when the House is back in session.

At least one Catholic Republican welcomed the news.

"This should never have happened. He's a good man, he's a good chaplain and if they want to make a change, this is not the way to do it," said a surprised Representative Peter T. King, Republican of New York, who had been critical of the speaker's decision. "He deserved better and now he's gotten better."

Mr. King said that he understood why the chaplain complained: "It's a cloud over the Jesuit order, it's a cloud over him if he goes out with this."

If Mr. Ryan hoped the matter of Father Conroy's firing would fade over the current spring recess, the speaker was delivered an unexpected slap and caved quickly. The dismissal last month of the chaplain had raised concerns with some Catholic Republican House members, and handed Democrats a political gift. But the issue quieted after Congress left Washington last week.

Father Conroy's letter was certain to stoke the anger.

"I have never been disciplined, nor reprimanded, nor have I ever heard a complaint about my ministry during my time as House Chaplain," Father Conroy wrote.

Complaining that Mr. Ryan never spoke to him in person, he also raised his Catholicism. When Mr. Ryan's chief of staff, Jonathan Burks, informed him that the speaker was asking for his letter of resignation, Father Conroy wrote, "I inquired as to whether or not it was 'for cause,' and Mr. Burks mentioned dismissively something like, "Maybe it's time that we had a chaplain that wasn't a Catholic."

Mr. Burks later said he strongly disagreed with Father Conroy's recollection, adding that he was "disappointed by the misunderstanding."

Mr. Ryan, who is also Roman Catholic, responded quickly.

"My original decision was made in what I believed to be the best interest of this institution," he said. "To be clear, that decision was based on my duty to ensure that the House has the kind of pastoral services that it deserves."

But he did not want the fight that the chaplain was demanding.

And politics were sure to follow.

"From the first day he entered the chamber, Father Conroy has done a superb job tending to his flock with wisdom and kindness," said Representative Bill Pascrell Jr., Democrat of New Jersey, in a quickly released statement after the chaplain's letter came to light. "The feeble excuses offered by Speaker Ryan are merely a pretext to cover for the whims of extremists in his caucus. Father Conroy is standing tall, and I stand with him."
As the article goes on to note, the circumstances surrounding Conroy's "dismissal" were never clear to begin with:
Mr. Ryan moved quietly in April to remove the chaplain, who submitted his resignation when he was asked to and said his last day would be May 24. The abrupt dismissal caused an immediate uproar in the House, as Catholic lawmakers of both parties demanded an explanation from Mr. Ryan. In a closed-door meeting with Republicans, the speaker said he had received complaints about Father Conroy's pastoral care, according to several lawmakers who attended.

But in an interview with The New York Times, Father Conroy said he thought that a prayer he delivered in November when Congress was debating a tax overhaul may have been a factor in the speaker's decision. In his letter to Mr. Ryan, the chaplain said that Mr. Burks, the speaker's chief of staff, had also mentioned the prayer, as well as an interview Father Conroy had given to The National Journal.

In the prayer, the chaplain urged lawmakers to "guarantee that there are not winners and losers under new tax laws, but benefits balanced and shared by all Americans." Shortly after, he said in the interview with The Times, he was admonished by Mr. Ryan, who views the tax overhaul as his signature achievement.

"Padre, you just got to stay out of politics," he recalled the speaker saying.

After his reinstatement, the chaplain chuckled over the controversy: "The upside of the whole story is people are actually reading my prayers."

But the dismissal itself hints at politics. Father Conroy is a Jesuit, an order of priests viewed by some as more liberal. The hubbub around Father Conroy is all the more contentious in Catholic circles because Mr. Ryan is a Catholic conservative.

Mr. Ryan's move also exposed long-simmering tensions between Catholics and evangelicals in the House. After Father Conroy was forced out, Representative Mark Walker, Republican of North Carolina and a Southern Baptist minister, suggested that the next chaplain should be a family man — a remark that caused upset among Catholics because it implied that Catholic priests, who take a vow of celibacy, would not be eligible.
As noted above, there was at least some speculation that Conroy's dismissal was rooted in the prayer that he read at the opening of a House session in November that appeared to make reference to the tax reform bill that the House of Representatives was debating at the time. However, other explanations or theories for Controy's forced retirement quickly began to spring up, especially since neither Ryan nor any of his staff members offered any explanation for the apparent effort to push Conroy aside. Another theory that was put forward was that some Republicans were bothered by the fact that, at the request of a Democratic Congressman from North Carolina, Conroy had invited a Muslim Imam affiliated with Duke University to deliver the opening prayer for the House back in October of last year. Finally, as noted, it has been suggested that Ryan's decision to force Conroy out came in the wake of complaints by fellow Republicans, most of whom are not Catholic, that the House Chaplin was Catholic to begin with. In that regard, it's worth noting that Ryan is, of course, Catholic himself and the idea that he'd bow to pressure from Evangelicals who objected to a Catholic, and more specifically a Jesuit, Chaplain was in charge of the "pastoral care" of the House of Representatives. Whatever the reason, though, the fact that Ryan has backed down is a strong indication that he was getting significant negative blowback from other members of the Republican Caucus over Controy's dismissal.