Age Limits? (not Term Limits)
It is something we need to think about.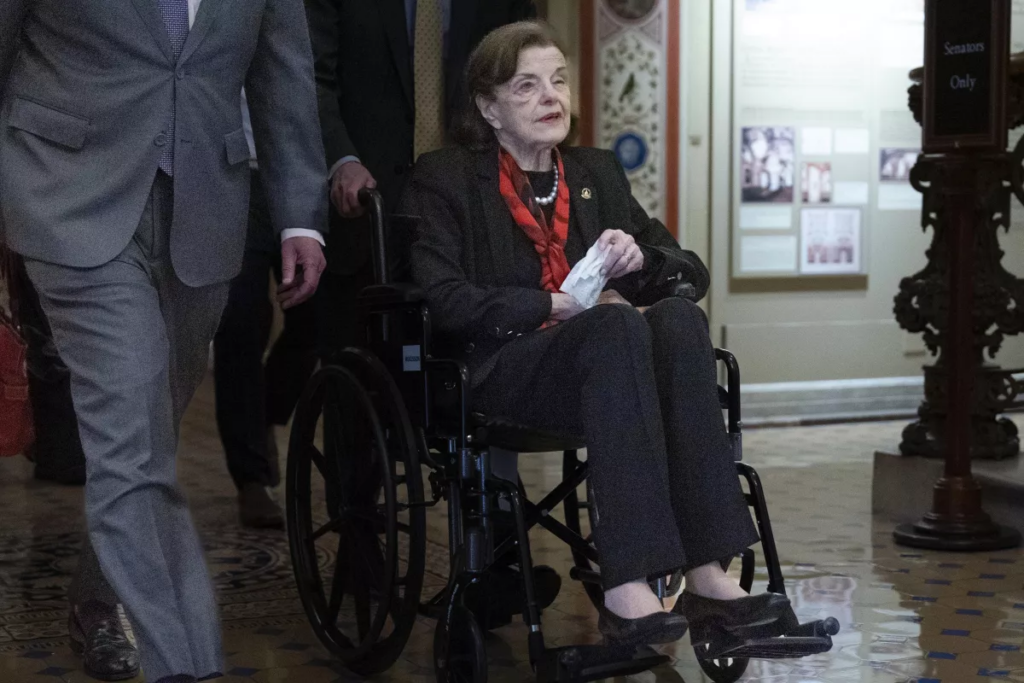 Let me note from the top that this is a difficult subject because it focuses on the inevitability that we all age, and many of us decline in mental capacity as we do. And because these conversations often arise because of specific persons, they can seem insensitive. But there is a broader issue than just specific individuals at stake. Specifically, the functionality of persons who hold public office can have profound impacts on basic democratic quality and/or simply governance as a general matter. It is therefore prudent to consider what general rules ought to be put in place to protect the broader public instead of allowing such decisions to be left up to individuals.
An obvious example of how a lack of such rules can have profound outcomes is the case of Ruth Bader Ginsburg. But, of course, the case that brings me to the keyboard this morning is Senator Dianne Feinstein (D-CA). Feinstein is 89 and will be 90 in June. She was re-elected to the Senate in 2018 for another six-year term.
Let's turn to the following from Slate: A Brief, Concerning Conversation With Dianne Feinstein.
When the fellow reporter asked her what the response from her colleagues had been like since her return, though, the conversation took an odd turn.

"No, I haven't been gone," she said.

OK.

"You should follow the—I haven't been gone. I've been working."

When asked whether she meant that she'd been working from home, she turned feisty.

"No, I've been here. I've been voting," she said. "Please. You either know or don't know."
Now, just in case anyone doesn't understand the significance of the above, Feinstein in fact was gone. She was absent for more than two months. Moreover, this is not the first public mental lapse. James Joyner wrote about this topic over two years ago. If anyone is interested, there is more in a recent episode of The Daily podcast.
So, look, I understand that it is unfortunate (if not a bit gross and uncomfortable) to have to talk about this topic. Aging isn't pretty and it can take a deep toll on individuals and their families and loved ones. The process of watching my grandfather go through dementia issues over the waning years of his life was not fun. No one wants to go to their grandparent's home and not be recognized (if not, at times, be accused of coming to rob the place). It is likewise very hard when dementia robs an individual of the ability to make sound decisions about their own care and living circumstances when, at the same time, the law gives them autonomy. It is a cruel catch-22. And while there are mechanisms to change legal status, they can be grueling and expensive.
So, as hard as it might be for a family to have to try and move a loved one out of a home that they own and have full legal control over, but where they can no longer live there safely, how much harder is it to get a sitting US Senator to resign from a seat when they can no longer competently serve?
I am not a gerontologist, so I am not going to go into a deep attempt to analyze that which is outside my area of expertise (thus risking the breaking of the internet). But I do know that age is a major risk factor for dementia and that it starts to increase significantly in the overall population when we reach our 70s, and especially into our 80s. For example, the Alzheimer's Society notes:
For people aged between 65 and 69, around 2 in every 100 people have dementia. A person's risk then increases as they age, roughly doubling every five years. This means that, of those aged over 90, around 33 in every 100 people have dementia.
More specifically, note the following graph from a study published in the Journal of Neurology, Neurosurgery & Psychiatry. I would note that this is what most graphs that I saw on this topic look like.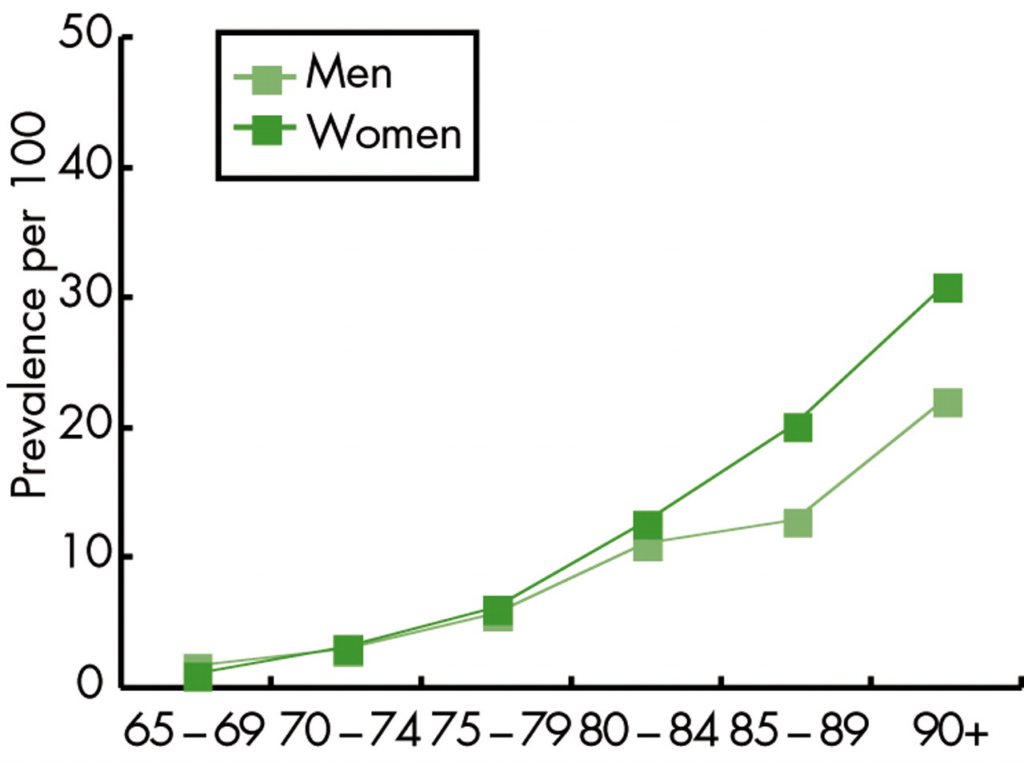 In general, it looks to me like certainly into the 80s the risk of dementia in a powerful person is such that it should give us pause as to whether it is a societal good to run the risk of persons of certain ages being in those positions. We can state that there are mechanisms for assessing competency, but they are rather hard to implement (I mean, is the Senate really going to expel Dianne Feinstein?).
As such, it does not seem unreasonable to have an age ceiling of 80 (but will state that I am not fully set on that number at the moment). I think, at a minimum, it is a conversation worth having. At a bare minimum, there needs to be a better way to deal with the problem of members of Congress who cannot do their duties.
Now, I will note that I do not know of any democracies that have mandatory retirement for elected officials, although most advanced democracies do have upper age limits for judges (see my post Comparative Judiciaries which contains a table from A Different Democracy that is relevant).
And let me note, I am not talking about some blanket mandatory retirement age. I am talking about whether the risks in question warrant conferring substantial power and responsibility don't warrant a specific situation in which an age limit would be appropriate.
I would note that this is not a hypothetical situation. The current president, and almost certain Democratic nominee in 2024, is 80. His likely Republican opponent is 76.
Here is the age breakdown of the 118th Congress via Pew Research: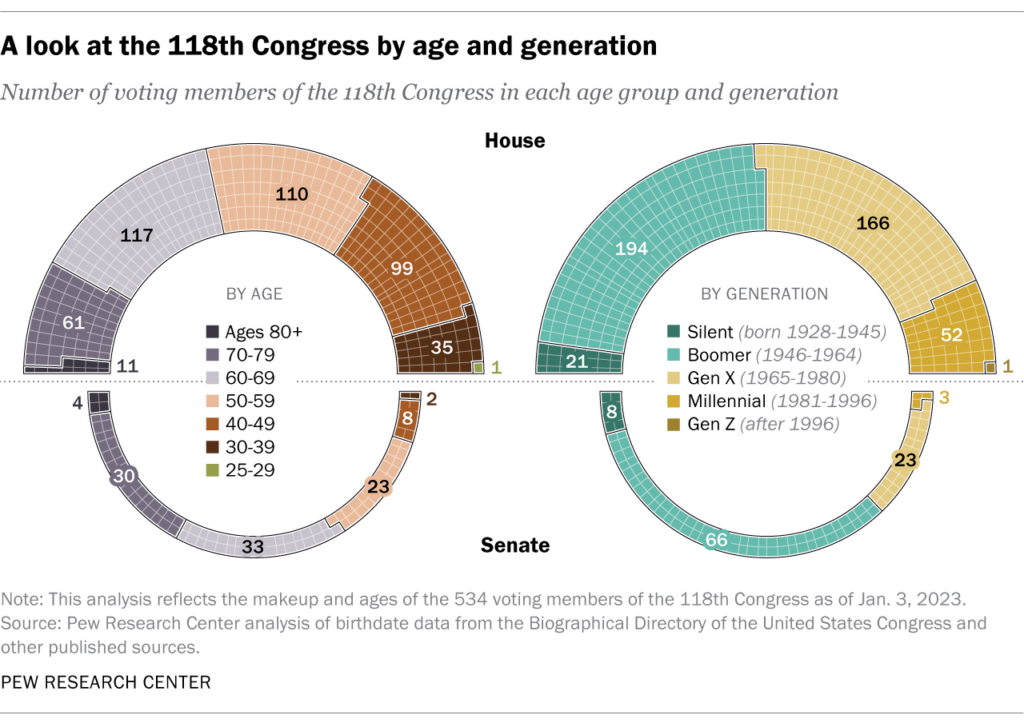 But here's the fundamental question: are the over 39 million residents of the state of California getting appropriate representation from Senator Feinstein?
The answer is manifestly no.
And I am not talking here about whether the Democrats are getting their judges confirmed because of partisan considerations (although judicial confirmations being held up by a single person should be understood to be highly problematic). Rather, I am directly asking whether or not Senator Feinstein can perform a deeply important function within our government. To pick a not inconsequential issue: is she competent to deal with the looming debt crisis issue? Will her health allow her to vote? And if it does, will she be making the decisions, or will her unelected, largely anonymous (for all practical purposes) staff be pulling the strings?
These are consequential questions.
And yes, I think that elections are the best remedy for all these problems, but the reality remains, as I frequently note in various ways, that a combination of weak parties, not especially democratic election processes, and mass behaviors that tend to heavily favor incumbents all combine to make the electoral process less efficacious in this arena than one might like it to be.
Some will, no doubt, suggest that term limits are the answer.
First, this does not address the age issue, as term limits would not restrict or control, in any way, the age of entry into the process. This means that even with term limits, we could end up with someone in the range wherein problems are more likely depending on how old they were when they entered a given office and how many terms they were allowed.
Second, and more importantly, the political science literature is quite clear that term limits do not achieve any of the desired goals that advocates frequently tout, and indeed often create new problems. If one wants a fairly comprehensive rundown of this matter, I recommend political scientist Seth Masket's post from a couple of years ago, Why Political Science Doesn't Like Term Limits.
Side note: I know that it keeps being raised as to whether it is sexist to raise this topic about Feinstein when plenty of men have stayed in the Senate well into their 90s. For the record, it was ridiculous for Strom Thurmond to have been in the Senate at age 100. And yes, I think that Chuck Grassley should retire as well. To be honest, while I understand the appeal of power and relevance, I simply don't understand why people want to be working in their 80s, but I suppose that is its own topic. I will say this: work in your 80s if you like, but you are not entitled to a government office and the commensurate risk to the precious representational role being played for a vast number of citizens. From a purely utilitarian calculation, the pride and self-satisfaction of a single member of Congress should not trump the collective democratic needs of hundreds of thousands (if not, in the case of many Senators, millions) of citizens who have the right to be adequately represented in the legislature.
Let me conclude with the following. The reason I think an age limit rule is worth consideration is that the only way to truly be able to deal with a situation like Senator Feinstein's is to have a pre-existing, dispassionate mechanism in place (which is, in general, why we have rules of all kinds in the first place). Else, these all become ad hoc and personal, not to mention that the politics of the moment amplify and distort rational choices. If it is known that a given system will, from time to time, have to address difficult circumstances it is better to work out the process in the absence of personal feelings or the emotions of the moment. It is the same basic reason why one should make plans for one's own old age and potential infirmities, rather than either a) hoping you will be the one who doesn't have such problems or b) assuming that it will work out at the moment (which is rarely done without some planning).
Update: I meant to also include this Rolling Stone piece: Feinstein's Health Crisis Goes Back Farther than We Knew.