Al Franken's Pay for War Gimmick
A comedian-turned-Senator makes some strong points about how America goes to war.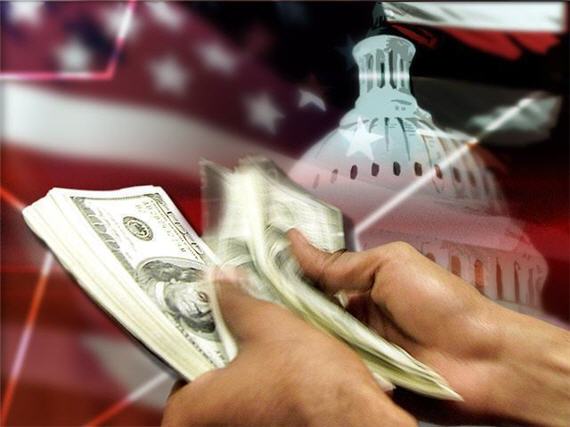 Senator Al Franken has introduced a Pay For War Resolution.
Over the last nine years, we've spent well over one trillion dollars on Iraq and Afghanistan, and we've had to borrow nearly every penny of it. We have to ensure that the deficits created by Iraq and Afghanistan remain exceptions in American history, which is why I've introduced legislation to require that spending on new wars be paid for. My "Pay for War" resolution will ensure that future wars don't make our deficit and debt problems worse. It will ensure that Congress and American citizens face the financial sacrifice of going to war. And it will force us to decide whether a war is worth that sacrifice.

How would the Pay for War bill work? Put simply, if we spend money on a new war beyond what's in the day-to-day defense budget, my legislation says that spending must be paid for. My bill does not specify how we should pay for our wars. It leaves that up to Congress. Different people will have different ideas-some may propose spending cuts; others may propose revenue increases. But the bottom line is that my bill says Congress must find a way to pay for the costs of new wars that we decide to undertake, and I believe doing this will have several key benefits for our country.

First, the financial cost of war should be clear, not hidden. We paid for our wars in Iraq and Afghanistan by borrowing from other countries and passing emergency spending bills outside of the regular federal budget. The result is that the public gets the mistaken impression that going to war requires no financial sacrifice. We know that that's just not true. The question is, who will bear that financial sacrifice – the generation that has decided to go to war, or its children and grandchildren?

Second, war shouldn't add to the deficit. The wars in Iraq and Afghanistan didn't singlehandedly create our deficit problem, but they made it much worse. And if we're going to fix our deficit problem, rejecting how we financed those wars has to be part of the solution.

Finally, all Americans, not just the military, should feel the cost of war. A huge gap has grown between the majority of the American people and the small proportion that serves in the military. So much sacrifice has been asked of them and their families, yet so little of the rest of us. My resolution will reconnect those who serve and our larger society. My bill re-establishes the connection between the citizenry of the U.S. and the costs of going to war – a burden that is now solely undertaken by the men and women of the military and their families.

My bill wouldn't impede necessary military action. For emergencies, my resolution allows Congress to override the 'pay for' requirement by a vote of sixty senators. This is so that if there were a genuine emergency that required immediate military response in the short term, and it couldn't be covered by the base defense budget, my resolution would not tie our hands.
Ezra Klein is enthusiastic:
The Pay for War Resolution isn't particularly powerful legislation. It can be overridden by 60 senators — which is to say, the number needed to override it is essentially the same number needed to pass a bill in the first place. But it establishes the principle that war should be paid for, and if the Senate wants to violate that principle, it forces individual senators to say so explicitly.
Except that: It does not such thing. The fact of the matter is that simple legislation–unlike Constitutional amendments and treaties–has no binding effect whatsoever on future legislation. To the extent subsequent laws conflict with existing laws, they override them.
That said, I actually think Franken is right in his aims and rationale. It's bad enough that Congress has abrogated its war powers to the Executive, helping ensure a cycle of perpetual war. We compound that by making war cost-free for the average American. But, beyond symbolism, a Pay For War Resolution does nothing about either trend.