Alan Turing, Computer Pioneer Who Broke Engima Code, Pardoned On 1952 Conviction Of Homosexuality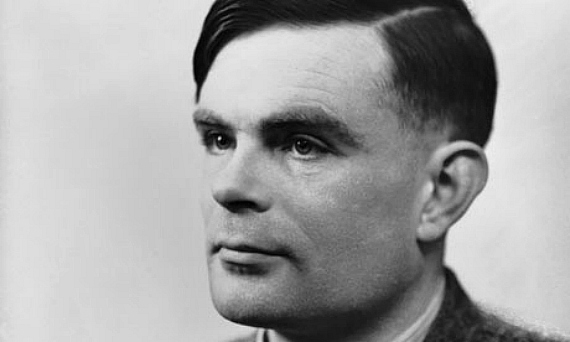 Alan Turing, the computer pioneer who played a crucial role in breaking the Nazi's Enigma code during World War II only to be convicted in 1952 on charges of "homosexuality," has been pardoned by Queen Elizabeth II:
Nearly 60 years after his death, Alan Turing, the British mathematician regarded as one of the central figures in the development of the computer, received a formal pardon from Queen Elizabeth II on Monday for his conviction in 1952 on charges of homosexuality, at the time a criminal offense in Britain.

The pardon was announced by the British justice secretary, Chris Grayling, who had made the request to the queen. Mr. Grayling said in a statement that Mr. Turing, whose most remarkable achievement was helping to develop the machines and algorithms that unscrambled the supposedly impenetrable Enigma code used by the Germans in World War II, "deserves to be remembered and recognized for his fantastic contribution to the war effort and his legacy to science."

The British prime minister, David Cameron, said in a statement: "His action saved countless lives. He also left a remarkable national legacy through his substantial scientific achievements, often being referred to as the 'father of modern computing.' "

Mr. Turing committed suicide in 1954, two years after his conviction on charges of gross indecency. He was 41. In a 1936 research paper, Mr. Turing anticipated a computing machine that could perform different tasks by altering its software, rather than its hardware.

He also proposed the now famous Turing test, used to determine artificial intelligence. In the test, a person asks questions of both a computer and another human — neither of which they can see — to try to determine which is the computer and which is the fellow human. If the computer can fool the person, according to the Turing test, it is deemed intelligent.

In 2009, Prime Minister Gordon Brown issued a formal apology to Mr. Turing, calling his treatment "horrifying" and "utterly unfair." But Mr. Cameron's government denied him a pardon last year.

(…)

When Mr. Turing was convicted in 1952, he was sentenced — as an alternative to prison — to chemical castration by a series of injections of female hormones. He also lost his security clearance because of the conviction. He committed suicide by eating an apple believed to have been laced with cyanide.

The queen has the power to issue a "royal prerogative of mercy" to pardon civilians, but rarely does so. Mr. Grayling said that Mr. Turing's sentence would today be considered "unjust and discriminatory."
Turing also played what others involved in the project as playing the crucial role in the British project to crack Nazi Germany's Enigma code, a development that played a crucial role in World War II. You can read a basic summary of Turing's arrest and trial here. As for why the current UK Government had denied Turing a posthumous pardon, there's this comment:
Tom McNally, a minister of state for justice, told the House of Lords that the Cameron government stood by the decision of previous governments not to grant a pardon for Mr. Turing's conviction for gross indecency. Mr. McNally noted that the former prime minister, Gordon Brown, had issued "an unequivocal a posthumous apology" to Mr. Turing in 2009, but he said that Mr. Turing "would have known" that he was committing an offense under the law as it stood at the time.
In the end it took an 87 year old Monarch to do the right thing here. Better late than never, I suppose, but one can only guess at what Turing might have done with his life had he not been unjustly convicted of an "offense" that didn't belong on the books to begin with.