All Lies Are Not Created Equal
President Biden told a little fib.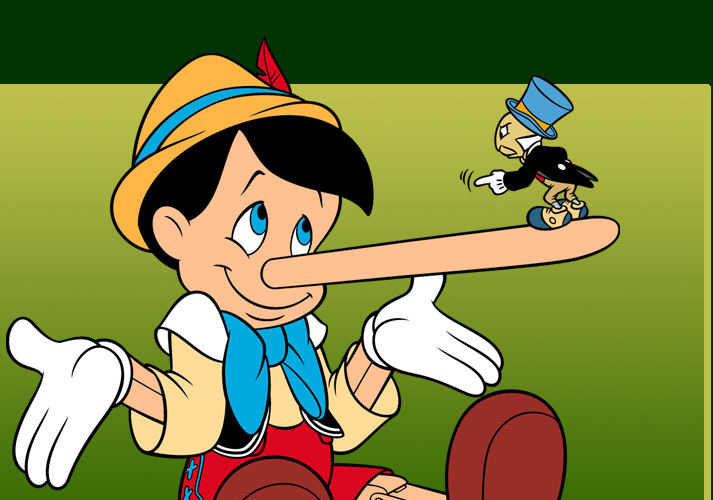 While I agree with the gist of Adam Serwer's "Biden Will Lie to You; All presidents do," he makes the point rather poorly, eliding rather important distinctions.
After cataloging how routinely and destructively President Trump and his administration lied, Serwer declares, quite correctly,
presidential lies were destructive long before Trump appeared, so the press and the public should resist the temptation to assume that the Biden administration will always be on the level, or that its dishonesties can be forgiven because Joe Biden's predecessor wielded falsehood with such abandon. There will be moments when the public interest conflicts with the political interest of the White House, and during some of these moments, the president will lie.
This makes two important points.
First, and most importantly, that Trump should not be the new bar. The fact that Biden is likely to be incredibly honorable by comparison should not excuse misconduct.
Second, yes, it's almost a given that Biden will be dishonest. Indeed, as we'll see, he likely already has.
But Serwer undermines that first point here:
Presidents lie for all sorts of reasons. Lyndon B. Johnson lied about the Vietnam War, as did Richard Nixon. Bill Clinton lied about his relationship with Monica Lewinsky, Ronald Reagan lied about selling weapons to Iran to fund right-wing militants in Nicaragua. George H. W. Bush lied about raising taxes; his son George W. Bush lied to facilitate his push for war in Iraq. Barack Obama lied about how the Affordable Care Act would affect preexisting health-insurance plans. Prior to becoming president, Biden was known for bluster and exaggerations, including most memorably the falsehood that he was arrested while trying to visit an imprisoned Nelson Mandela. These are deceptions, not mere errors of fact which all mortals make.
Most obviously, as the link makes clear, Bush the Elder did not lie when he said "Read my lips, no new taxes." He almost certainly intended to keep that pledge when he made it. Rather, circumstances forced him to go back on that pledge, at great political cost, in order to secure a compromise with an opposite-party Congress. That's not dishonestly; indeed, it's arguably the height of honorable conduct.
Additionally, while I voted against Obama twice and disapproved of his signature healthcare initiative on all manner of grounds, the degree to which "If you like your healthcare, you can keep it" was a lie rather than a goal is at least debatable.
The degree to which Bush the Younger "lied" to get us into the Iraq War is debatable. That Bill Clinton lied about the Lewinski affair is not. But, surely, they're on different scales? Cherry-picking data to garner support for a war that cost trillions of dollars and thousands of American lives is almost certainly a bigger deal than covering up an embarrassing sex scandal.
Which gets us to this:
Already, Biden has sought to mislead the public by setting expectations for vaccinations that experts have said are too modest—which will allow the president to declare his approach a great success if the goal is exceeded. On Thursday, Biden insisted that 100 million vaccinations in 100 days was an ambitious goal that the press had declared impossible.

[…]

This was in fact, false—the Trump administration had nearly reached that pace by the time Biden took office, despite its mishandling of both the pandemic itself and vaccine supply. Speaking to The Washington Post, the vaccine scientist Peter Hotez said that "1 million vaccinations per day is not nearly enough if the aim is to halt virus transmission in six months." The Biden administration has since claimed that the 100 million target was "a floor, not a ceiling." On Monday Biden announced a new target of 150 million vaccines over the next hundred days, a tacit acknowledgment that the original goal was not as ambitious as he had claimed.

Biden's remarks are nowhere near as egregious as Trump's insistence that the virus would "disappear," but Trumpian lies should be neither floor nor ceiling. The standard should be the plain truth, even though the Biden administration will, at times, inevitably fail to meet it. Biden will lie. All presidents do.
So . . . yes, Biden was clearly being dishonest in touting a hundred million vaccinations in a hundred days as a major accomplishment. How else is he going to keep his reputation as a miracle worker? But this strikes me as more akin to Bear Bryant poor-mouthing his team when facing weak opponents than lying to the public.
Serwer is right that we should demand "the plain truth" from public officials. Reporters should call BS when they downplay expectations to make claiming success easier. But treating ordinary spin as "lies" poisons the well rather than raising the discourse.