Allen West And Ben Carson Both Seem To Think God Wants Them To Run For President
Allen West seems to think that God might want him to run for President. Unfortunately for Mr. West, so does Ben Carson.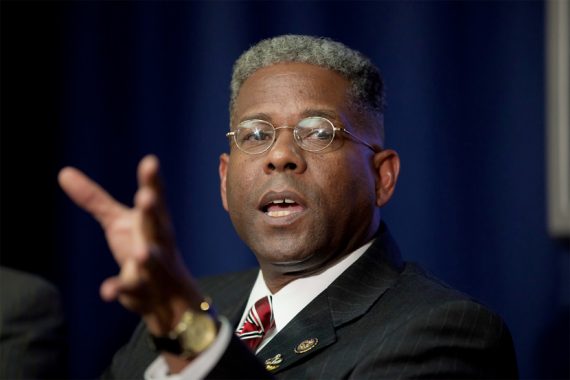 Former Florida Congressman Allan West seems to think that there's a divine demand that he run for President:
The first question to West, after a long ovation, was whether he'd run for another office. He'd actually speculated about running for president one day earlier, on Ben Shapiro's radio show, and the topic had come up in a VIP reception before the dinner.

"I know there are ministers here, so I want to get this right. It says in Proverbs Ch. 3, verses 5-6: Trust in the Lord with all your heart and lean not on your own understanding; in all your ways submit to him, and he will make your paths straight. I could sit around here saying what I think I want to do, but my mommy and daddy taught me that you write those plans in pencil and dear God will erase them. I never thought I'd be standing here in Floyd County talking to you, but I am. I will always be a servant to this great nation, and any way that God believes I can serve America, I will. We will see what he has in store for me, because I think he maybe is getting me ready for something else."
West may want to listen carefully, because Maryland neurosurgeon Dr. Ben Carson, who became something of a conservative darling when he spoke against President Obama to his face at the National Prayer Breakfast, apparently also thinks that God may want him to seek the nation's highest office:
Not long ago, neurosurgeon Ben Carson wrote that he would only consider a GOP presidential run if he felt "called by God" to enter politics. This week, however, he said he is "starting to feel" that calling.

Carson became a conservative icon last year after delivering searing remarks about the Affordable Care Act and the general direction of this country — all with with President Obamaseated at the dais nearby.

He soon retired from his long-held position at Johns Hopkins Hospital and began speaking around the country, inking a Fox News contributor deal along the way.

As pundits began suggesting Carson would make a good Republican presidential nominee, the doctor wrote in his book that, despite there being a plethora of better candidates, "If I felt called by God to officially enter the world of politics, I would certainly not hesitate to do so."

But in an interview with The Weekly Standard this week, Carson said he's "starting to feel" those calls. "[E]very place I go, it's unbelievable." He described how an experience with a woman "really touched me the other night… She just kept clinging to my hand and said, 'You have to run. You have to run.' And so many people tell me that, and so I think I'm starting to hear something."
Carson and West aren't the first Republican candidates in recent years who claimed to have received divine inspiration for their runs for the Presidency. In 2012, both Michele Bachmann and Herman Cain suggested that there was some sort of divine will behind their candidacy, although they interestingly didn't seem to bring that up when their campaigns inevitably crashed and burned. After all, if what they're saying is that God wanted them to run for President then wouldn't it be logical to conclude that God wanted them to run for President and lose in the most humiliating way possible, which is what happened to both of them? Indeed, isn't that what Carson and West are saying since it's blindingly obvious that neither one of them is going to do any better in 2016 than Bachmann and Cain did in 2012? It almost makes you think that this God of theirs is telling them to run just to mess with them, or that maybe he derives his inspiration from the same source as the editors of The Onion.
There is, I suppose, something somewhat disturbing about someone who is so self-assured in their political beliefs that they believe that a run for the highest nation in the land is a good idea even though they are quite obviously not prepared to assume such a position.  A person who was that self-assured probably shouldn't be trusted to hold political office to begin with. At the same time, though, it's worth noting that American Presidents from Washington to Lincoln to Roosevelt to Reagan have made reference to a divine being at various times in their political careers. Of course, neither Carson nor West are a Washington, Lincoln, or Reagan, and quite honestly one suspects that their claims of divine guidance are, in the end, little more than words tossed out to win the support of their fans on the far right.
Speaking as a political blogger, though, I must say I hope they both run. The sheer entertainment value would make 2012 pale by comparison.