America At 235
Some thoughts on the American experiment at 235 years and counting.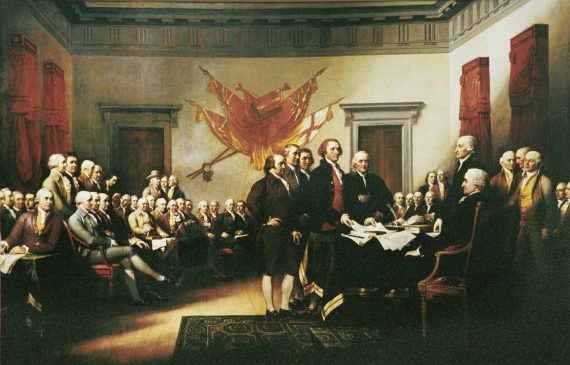 Two Hundred Thirty-Five years ago today, the Second Continental Congress formally approved what undoutably ranks as one of the greatest revolutionary political documents of all time, the Declaration of Independence. It was, when you think about it, an audacious act. The fifty-six men who signed that document were taking on the most powerful nation on Earth and, at the time, the most powerful Empire the world had ever known. Some might have called them fools, many called them that and worse. Had they failed, they would have been called traitors and hung from a tree. Today, we call them patriots.
America is unique among nations. For the first time in history, a nation was founded based on not conquest, or clan, or royal blood, or heavenly decree, but on an idea. And what an idea it was:
We hold these truths to be self-evident, that all men are created equal, that they are endowed by their Creator with certain unalienable Rights, that among these are Life, Liberty and the pursuit of Happiness. That to secure these rights, Governments are instituted among Men, deriving their just Powers from the consent of the governed, — That whenever any Form of Government becomes destructive of these ends, it is the Right of the People to alter or to abolish it, and to institute new Government, laying its foundation on such principles and organizing its powers in such form, as to them shall seem most likely to effect their Safety and Happiness.
Human equality. Human freedom. Self-Government. And the right, some would say the duty, to overthrow a despot when those rights are violated. It was all, quite literally, revolutionary. At the time, no other nation on Earth had even come close to upholding these ideas, and nobody had ever tried to do with these 56 men were attempting to do. While the United States was far from perfect itself — especially with regard to the treatment of blacks and women — even in it's imperfections  it came closer to that ideal than any other before or since. And, because of its philosophical underpinnings, the contradictions that existed —- slavery being the most notable — were just that, contradictions that eventually would have to be corrected if America was to remain the nation she strived to be.
Once the American Revolution succeeded, the ideas that powered it spread across the world. To France, where they contributed to the downfall of a monarchy that had its roots in Charlemagne. And even to Mother England. Those ideas have continued to spread and inspire people from Eastern Europe to China (who can forget the statute of the Goddess of Freedom in Tiananmen Square, looking so much like our own Statute of Liberty ?). Today, if a despotic regime wish to keep those ideas from gaining hold among its population, it must effectively cut itself off from the rest of the world.
So, where does Amerrica stand 235 years later?
There is much to worry about. The modern American state is far larger and far more intrusive than King George ever was. As James Madison would recognize some thirteen years later in Federalist No. 10 a tyranny is no less tyrannical merely because it is imposed by majority will. What's worse, it often seems like a large part of the American populace doesn't care about the continued loss of liberty at home, or even about the events going on around them, as long as the economy keeps booming and there's something entertaining to watch on television. Breads and circuses some would call it.
At the same time, there is cause for optimism. The near universal revulsion at Supreme Court decision in Kelo v. New London in 2005 showed me that, at heart, Americans guard their freedom jealously. At least in its rhetoric, the Tea Party movement harkens back to the ideas of  Philadelphia in -1776. But you can't just react when something bad happens, or when the political party you disagree with is in power. The fight for freedom continues on a daily basis, as Thomas Jefferson said himself:
"The price of freedom is eternal vigilance."
It does no good to speak up only when the threats to freedom become apparent, by then its usually too late.
But enough of that for now. Its the 4th of July, and, as another patriot, John Adams, wrote, its time to celebrate:
I am apt to believe that it will be celebrated, by succeeding Generations, as the great anniversary Festival. It ought to be commemorated, as the Day of Deliverance by solemn Acts of Devotion to God Almighty. It ought to be solemnized with Pomp and Parade, with Shews, Games, Sports, Guns, Bells, Bonfires and Illuminations from one End of this Continent to the other from this Time forward forever more. You will think me transported with Enthusiasm but I am not. I am well aware of the Toil and Blood and Treasure, that it will cost Us to maintain this Declaration, and support and defend these States. Yet through all the Gloom I can see the Rays of ravishing Light and Glory. I can see that the End is more than worth all the Means. And that Posterity will tryumph in that Days Transaction, even altho We should rue it, which I trust in God We shall not
Couldn't have said it better myself.