Rick Santorum v. Individual Liberty
Rick Santorum's views on the role of government are somewhat disturbing.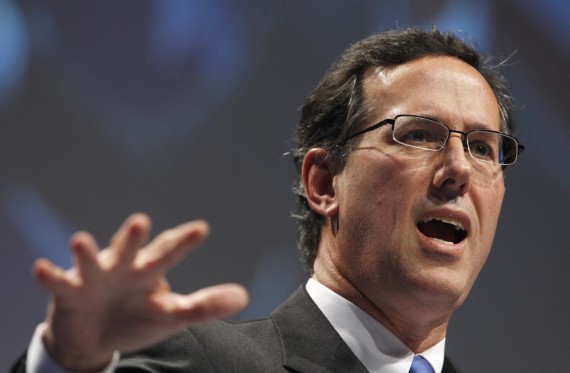 The political punditocracy has focused like a laser beam on Rick Santorum since his rise in the polls and near victory in the Iowa Caucuses and, already, those who didn't know much about the former Pennsylvania Senator have found out many things they probably didn't know before. For example, there's his odd foreign policy vision that seems to be based more on religious certainty than the cold reality of world politics. There are his views about birth control and homosexuality, which are clearly out of step with the mainstream of American political thought. And, there's his record as a Congressman and Senator, which wasn't exactly dedicated to fiscal conservatism. Hovering over it all, however, there's something else about Santorum that I would submit places him outside the mainstream in very important ways. To put it bluntly, more than any other candidate in the field, Rick Santorum stands opposed to the individualism and belief in personal autonomy that has been a part of America from its very beginning.
Consider for example, this rather odd interview in which Santorum says that the time-honored idea of the "pursuit of happiness" is bad for society:
More recently, in 2006, Santorum said in 2006 that he rejected the idea of so-called "radical individualism":
One of the criticisms I make is to what I refer to as more of a libertarianish right. You know, the left has gone so far left and the right in some respects has gone so far right that they touch each other. They come around in the circle. This whole idea of personal autonomy, well I don't think most conservatives hold that point of view. Some do. They have this idea that people should be left alone, be able to do whatever they want to do, government should keep our taxes down and keep our regulations low, that we shouldn't get involved in the bedroom, we shouldn't get involved in cultural issues. You know, people should do whatever they want. Well, that is not how traditional conservatives view the world and I think most conservatives understand that individuals can't go it alone. That there is no such society that I am aware of, where we've had radical individualism and that it succeeds as a culture.
None of this should be a surprise, of course, as Jonathan Rauch pointed out in a 2005 Reason article, Santorum had already put forward in writing a governing philosophy that was more anti-individualist than anything that Hillary Clinton may have been thinking of when the wrote It Takes A Village:
In Santorum's view, freedom is not the same as liberty. Or, to put it differently, there are two kinds of freedom. One is "no-fault freedom," individual autonomy uncoupled from any larger purpose: "freedom to choose, irrespective of the choice." This, he says, is "the liberal definition of freedom," and it is the one that has taken over in the culture and been imposed on the country by the courts.

Quite different is "the conservative view of freedom," "the liberty our Founders understood." This is "freedom coupled with the responsibility to something bigger or higher than the self." True liberty is freedom in the service of virtue—not "the freedom to be as selfish as I want to be," or "the freedom to be left alone," but "the freedom to attend to one's duties—duties to God, to family, and to neighbors."

This kind of freedom depends upon and serves virtue, and virtue's indispensable incubator and transmitter is the family. Thus "selflessness in the family is the basis for the political liberty we cherish as Americans." If government is to defend liberty and promote the common welfare, then it must promote and defend the integrity of the traditional family. In doing so, it will foster virtue and rebuild the country's declining social and moral capital, thus fostering liberty and strengthening family. The liberal cycle of decline—families weaken, disorder spreads, government steps in, families weaken still further—will be reversed.

"Freedom is not self-sufficient," writes Santorum. He claims the Founders' support, and quotes John Adams ("Our constitution was made only for a moral and religious people") and George Washington to that effect. But as University of Maryland political scientist William A. Galston notes, Washington and (especially) Adams stood at one end of a spectrum of debate, and it was a debate that they ultimately lost.

Other Founders—notably James Madison, the father of the Constitution—were more concerned with power than with virtue. They certainly distinguished between liberty and license, and they agreed that republican government requires republican virtues. But they believed that government's foremost calling was not to inculcate virtue but to prevent tyranny. Madison thus argued for a checked, limited government that would lack the power to impose any one faction's view of virtue on all others.

Freedom, for Madison, Thomas Jefferson, and others, was an end, not just a means. A government that allows individuals to pursue happiness in their own fashions, they believed, is most likely to produce a strong society and a virtuous citizenry; but the greatest benefit of freedom is freedom itself. Civic virtue ultimately serves individual freedom, rather than the other way around.

(…)

With It Takes a Family, Rick Santorum has served notice. The bold new challenge to the Goldwater-Reagan tradition in American politics comes not from the Left, but from the Right.
For Santorum and those who agree with him freedom is only properly exercised if it is done so in a moral and virtuous manner, with "morality" and "virtue" of course being defined by them. It's ironic that this argument is resonating so well among evangelicals considering that it is a very Catholic view of the proper definition of freedom, but perhaps there is some compatibility between the two philosophies after all. Because they reject individual autonomy of individuals to make their own choices about their life as long as they don't cause harm to others, Santorum and those like him see no problem with outlawing sodomy, or with suggesting that it might be acceptable for a state government to outlaw contraceptives.
Not surprisngly, then Santorum's dismissal of the value of individual autonomy leads Santorum to reject the idea of limited government as well. It's fairly well known, for example, that he voted in favor of Bush Administration proposals like No Child Left Behind and Medicare Part D, both of which greatly expanded the power, size, and scope of government. As Cato's David Boaz points out, when he ran for re-election in 2006 he emphasized his ability to bring pork back to Pennsylvania and the bills he had sponsored that took autonomy away from the states and implanted it in Washington. More broadly, it's been noted that his ideas are emblematic of the big-government "compassionate conservatism" of George W. Bush, thus suggesting that the GOP return to a path that has been proven to be a failure as a governing philosophy.
It's Santorum's rejection of individual liberty that is perhaps most disturbing, though, In his ideal world, the only freedom that would be acceptable would be "morally appropriate" freedom. That is an idea that stands in stark opposition to the individual liberty that America was founded upon, and which countless Americans have strived for over the past two centuries. The idea that we'd have a President who would consider his obligation to use the Presidency as a bully pulpit to lecture the rest of us on what the appropriate use of our freedom should be is quite disturbing. Quite frankly, how people live their private lives is none of Rick Santorum's business and the idea that he believes that it is indicates just how far outside the political mainstream he actually is. If the GOP nominates this man, which I doubt they will, they would find out very quickly just how much of a suicidal move that would be.
Photo via Politico