American Politics And The Denial Of Reality
It's no wonder partisans can't agree with each other when they can't even agree what the facts are.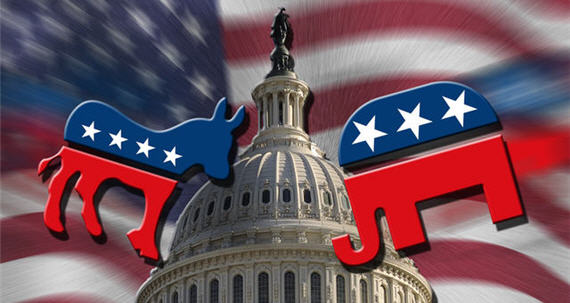 Buzzfeed's Ben Smith makes some excellent points about the denial of reality on the right exemplified by things such as the Poll Denialists and those people alleging some kind of conspiracy behind Friday's jobs report:
There is a vast and longstanding political science literature devoted to explaining the human propensity to fit opinion and even fact to partisan convenience — support for a war, for instance, tends to flip when a new party takes the White House — but many of the political scientists who study just this say they've never seen it the gap this wide.

"It's different today than the Whigs and the Tories fighting it out a couple hundred years ago — and it's even different from the 50s or 60s — because today we have a hyper-partisan media," said Paul Kellstedt, an associate professor of political science at Texas A&M University, who has argued that standard measures of economic confidence fail to take into account the partisan skew.

"When people watch only Fox News, or only MSNBC, their minds are thrown into this preferred-world state," he said. "The accuracy motive fades a bit."

"When we encounter information that is inconvenient or disagreeable, we find ways to explain it away. We can do that with statistics almost as well as we can with any other type of information," said John Sides, an associate professor of political science at George Washington University and co-founder of the blog The Monkey Cage. "Now we have partisan news and partisan leaders to do that work for you. If you don't want to believe that Romney is losing, you go to UnskewedPolls.com, and it will tell you that he's not. "
On some level, I suppose, reactions like this are understandable from a psychological point of view. Once you become heavily invested in a particular candidate, campaign, or political party, any bad news becomes not just a byline at The New York Times, but an attack on your worldview and an argument that what you've been investing yourself in is doomed to failure. As someone who has actually worked on campaigns in his time, I can attest to the fact that this kind of tunnel vision does happen, especially among volunteers who are essentially dedicating a significant portion of their time to a candidate. Bad news is seen as an attack, not as a data point, and the phrase "don't blame the messenger" gets lost in the heat of partisanship. Now that we live in an era of 365/24/7 "news" coverage, supplemented by the Internet, those emotions get spread out among a wider and wider segment of the public. Add into that the fact that, more so than ever before, partisans can choose to receive their information only from sources friendly to their point of view, and it's easy to understand why facts have suddenly become a partisan issue.
As Smith points out, this isn't a problem confined to only one party:
More of the 2012 cycle's descents into fantasyland — the unskewing of polls and BLS paranoia most obvious among them — have featured Republicans than Democrats, prompting some on the left to argue that American conservatives have a particular hostility to reality. And certainly, the conservative movement has long nourished more skepticism of the mainstream media and of some forms of government authority than has the left.

But there's probably a simpler explanation for at least some of this: Mitt Romney has spent most of the year losing, and so the Republicans are the ones feeling compelled to re-imagine the polls. That Democrats share, at least, the impulse became clear Wednesday night when a CNN snap poll showed Romney winning overwhelmingly. The liberal twittersphere erupted with skepticism over a sample that, an easy misread suggested, was tilted toward Southern Whites. The progressive news site TalkingPointsMemo shared, then retracted, those doubts; others, like the enduring liberal blog Hullaballoo, which declared the poll "malpractice," didn't correct, and the episode prompted a wave of glee among conservatives who had watched the previous round of unskewing with some embarrassment.
Smith is correct, and it's quite obvious that the left is as capable of creating its own version of reality as the right is. However, there's no denying that, in recent years, it has been conservatives who have invested themselves in a version of reality that simply doesn't comport with the facts. The most extreme example of this, of course, has been the birthers who insisted, despite all of the available evidence, that the President was either not born in the United States at all or, because of some obscure legal theory, didn't qualify as a "natural born citizen." Close to that, of course, is the idea that President Obama is some kind 'of "secret Muslim" who smokes cigarettes and has been photographed on numerous occasions drinking alcoholic beverages. That's just the fringe, though. Mainstream conservatives have adopted the bizarre argument pushed by Dinesh D'Souza that the President is some kind of "Kenyan anti-colonialist." The nominee of the Republican Party has claimed, falsely, that the President has spent his Presidency going around the world apologizing for America. And, of course, there are the continued assertions that the President is a Marxist and such. It's all really quite insane.
In reality, I don't think that there's anything substantively different about today that wasn't true in the past. It's not like there was ever a time when Americans agreed about everything, or even accepted the same premises when entering into a political argument. Just go back and look at the political dialogue in advance of the Election of 1800, or the Jacksonian years, or, most extremely, the Civil War Era and the decades that led up to it. There have been plenty of times when Americans have been at loggerheads to such an extent that they could not even agree what reality was. The difference this time, of course, is that there's much more of an ability for people to interact across long distances, and we're living in a world where technology demands instant reactions to even the most complex political developments.
Much of this, of course, is a reflection of the hyperpartisan political culture we now live in, a culture that is reinforced by a media world where people can choose where they get their facts from based on what their political preferences are. If you're a conservative, you watch Fox News Channel and get their "fair and balanced" approach which typically just revolves around standard right wing talking points and an emphasis on stories that really don't matter. If you're of the left, you watch MSNBC, or maybe even Al Gore's silly little Current TV venture, which revolves around an increasingly left wing biased view of politics that makes watching anything beyond Morning Joe and The Daily Rundown unbearable for those of us who would like some news without the political spin. The other cable "news" network, CNN, has fallen so far from the lofty days when it was a news pioneer that it isn't even funny anymore. There's nothing wrong with being exposed to multiple points of view, I try to do that on a regular basis, but when the American people start segregating themselves into political camps that get their "facts" from completely different sources with completely different sources, one has to wonder how it's even possible for us to agree about anything.