American Politics Is More Polarized Than Ever
The left-right divide is worse than it has been in decades, and we're paying the price.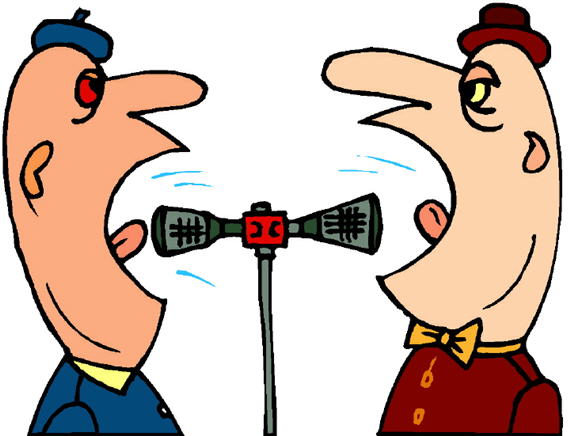 A new Pew Research Poll confirms something that, in reality, we've all known to be the case for quite some time now, that political polarization has become worse today than it has been in the past, and that this is having a negative impact on our politics:
It is common for Americans to lament the polarization and dysfunction of Washington, but Congress might be doing a better job of representing the public than voters care to admit.

According to a new study from Pew Research, Republicans and Democrats in Congress aren't the only partisans who deeply distrust people from the other side of the aisle. Liberals and conservatives prefer to associate with and live near their fellow partisans. They would be unhappy if their children married someone with a different political viewpoint. The result isn't just polarized politics, but a divided society where liberals and conservatives increasingly keep apart.

Although the ideological difference between primary and general election voters in each party is modest, the Pew study found that the most ideological voters were the most energized and the likeliest to participate in primaries, a tendency on display in the defeat of Eric Cantor in the Virginia Republican primary on Tuesday.

The study is not the first to suggest that American politics are sorting along ideological lines. But it is based on a survey of 10,000 Americans, roughly 10 times the size of the average political poll. Respondents were asked novel questions about lifestyle, not just policy preferences.

Partisanship and ideology didn't neatly line up for much of the 20th century, but the voters of both parties have now become more ideologically homogeneous than ever before. Among politically engaged voters (those who almost always vote), the sorting of liberals and conservatives into the two parties is complete: 99 percent of politically engaged Republicans are more conservative than the median Democrat, while 98 percent of engaged Democrats are more liberal than the median Republican. That's up from 88 and 84 percent, respectively, in 2004.

Because the two parties have now relitigated the same cultural and economic issues for several elections in a row, voters have learned what each party stands for and have found their way into the appropriate camps, thus ending the political upheaval that followed the collapse of the post-Civil War party system, when Republicans lost their hold on the North and then Democrats lost their grip on the South.

The result is an electorate that's more likely to demand ideologically consistent candidates — like the Virginia voters who threw out Mr. Cantor — and partisans who are less likely to support the other party in national elections. It makes it harder to forge bipartisan legislation that commands the broad support necessary to overcome a filibuster or pass both halves of Congress. If the Democrats have an advantage in national elections, it will be harder for the G.O.P. to change its policies, and there might be fewer voters open to persuasion.
As I said, none of this is really all that surprising. The rise of political polarization has been readily apparent for decades now, and it has become even more extreme within the last several years thanks in no small part to the rise of the Tea Party on the right. What seems to be different now, though, is the extent to which it has become such an entrenched part of American political culture that the two sides are seemingly incapable of viewing the other in anything approaching a charitable manner and have no desire to associate with people who happen to disagree with them politically:
Twenty-seven percent of Democrats and 36 percent of Republicans see the other party as a threat to the nation's well-being. Consistent liberals and consistent conservatives, those who hold nearly uniform liberal or conservative beliefs, are even more alarmed: 50 percent of consistent liberals and 66 percent of consistent conservatives see the other party as a threat to the nation.

The animosity is so deep that many would be unhappy if a close relative married someone of a different political persuasion: 23 percent of consistent liberals would be unhappy if an immediate family member married a conservative, and 30 percent of consistent conservatives would be unhappy if a close relative married a Democrat.

Other marital preferences indirectly uphold the partisan divide. Twenty-seven percent of consistent liberals would be unhappy if an immediate family member married a born-again Christian. Conversely, 23 percent of conservatives would be unhappy if a close relative married someone of a different race, compared to 1 percent of consistent liberals.

The survey shows that liberals and conservatives have self-segregating preferences, with many explicitly preferring to live around people with similar political views, and others expressing preferences that indirectly lead them toward communities dominated by their fellow partisans.

Twenty-eight percent of Americans say it's important to live in a place where most people share their political views, including 50 percent of voters with consistently conservative beliefs and 35 percent of consistent liberals.
We see evidence of this type of behavior in other places, such as the news sources that people on opposing sides of the political divide choose to rely upon. On the right, people rely on Fox News, talk radio, and conservative blogs. On the left, you find that the main sources of news tend to be MSNBC and liberal blogs. In both cases, the preference is for sources of information that reinforce pre-existing political points of view, while dismissing people who rely on other news sources, or point out the biases in the ideological news sources, as stupid, or worse. Obviously, when you tend to socialize principally only with people who agree with you, and get your information primarily from sources that reinforce your ideological and partisan biases, you are going to end up living inside of a bubble without even being aware that you're there.
The headline grabbing finding from the Pew poll, however, is going to be the fact that Republicans and Democrats find themselves more politically divided now than at any time in the past twenty years. Digging deeper into the poll, for example, Pew asked about ten different policy issues and found that Americans are more polarized now than they were twenty years ago in all ten of them, that the gap between the parties is twice as large now as it has been in 20 years in the majority of those areas, and that Americans are more polarized on the majority of these issues than they have been at any point since the early days of the Clinton Administration. More broadly, as this chart shows, the gap between the "generic Republican" and the "generic Democrat" has widened significantly over the past two decades, with both parties moving closer to their respective bases and away from the center: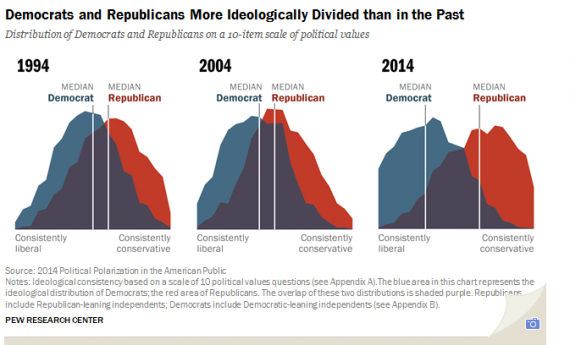 Given the fact that the "middle" of American politics is becoming an increasingly large gap between left and right, it isn't surprising that we are in the situation we are in today. There is hardly a major political issue today where reasonable debate between the two parties seems to be at all possible. Abortion reached that territory a long time ago, of course, and marriage equality isn't far behind, but we've seen it spread to other policy areas as well.  Immigration debates often end up turning into an argument where one side accuses the other of either being racist for opposing immigration reform or wanting to destroy American for supporting the idea that people who have lived in this country legally ought to be allowed to come out of the shadows. Debates about economic policy seem to inevitably devolve into shouts of "socialism" on one side and accusations that anyone who opposes a government program is being duped by "the rich" on the other. Even foreign policy, an area that used to be at least somewhat immune from the partisan vitriol that has always been a part of domestic policy, has become an area where disagreements on whether or not some proposed policy is appropriate are treated as evidence of treason and skepticism over the wisdom of intervention in other nations is dismissed with the ad hominem attack of "isolationism."  Quite obviously, this is not the kind of political rhetoric that leads to the possibility of compromise on contentious issues. Instead, it simply serves to reinforce pre-existing beliefs while demonizing the opposition, which unsurprisingly is the same thing that the partisan media sources that the left and the right gravitate toward do as a matter of course.
Having stated all of this, I'm not at all clear about what can be done about it. We no longer live in a world where everyone gets their information from basically the same sources, and there are many good reasons why we don't want to return to that world. Additionally, a glance at the ratings for the cable "news" networks demonstrates quite clearly that the partisan take on the news that Fox and MSNBC specialize in attracts many more viewers than the more sober and straightforward look at the news that you can get from other sources, if you look for them. Partisan web sites tend to get higher traffic as well. As long as that's the case then it seems obvious that Americans are going to become more and more polarized as time goes on. What that means for the future of our politics is unclear, but I doubt that it's going to be good.