Is Partisanship a "What" or a "Why"?
The conversation continues. (Warning: it is over 3000 words).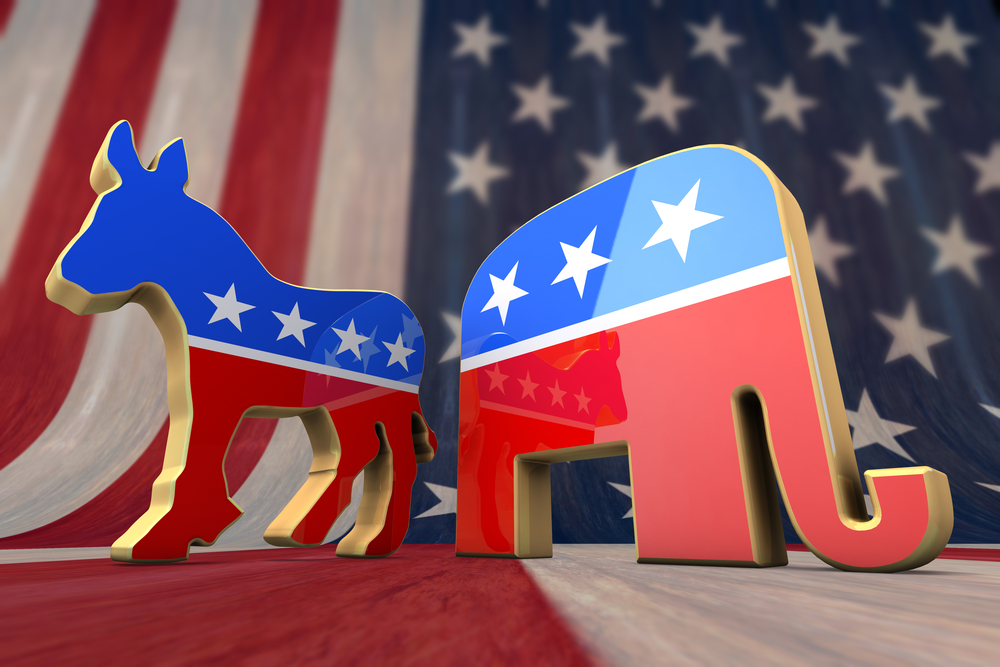 The answer to the title of the post is both. Partisanship is certainly an empirical variable that can be measured in various ways, not the least of which is self-identification and, even more importantly, via electoral outcomes. We can both address partisanship in the moment via polling/election results as well as historically over time. This is true both for the country as a whole, as well as for an individual. It is also a "why" that explains how people behave.
I think that the "why" aspect of all of this is the crux of the problem. We would like to think that political decisions are made based on the weighing of evidence and careful consideration of the facts. But, in reality, that isn't how most decisions are made, not even political ones.
If you have ever made a purchase because you trust the brand of the product, you used a shorthand to cut through a lot of work. If you have ever gone to a restaurant or on a trip because someone you trust suggested it, you used a shorthand to make that choice. Most of us don't have time or, really, the expertise to make fully informed decisions on most things we do. If we are going to be honest, so we frequently use shortcuts.
Political party labels are shortcuts of this type that allow voters to simplify complex choices. This even more true, as I noted yesterday, with the long ballots we have in the United States.
But the "why" of partisanship itself isn't just the shortcut aspect of the label. The "why" is that partisanship is a point of self-identification that influences us regardless of who is running in what race at a given moment in time. If I am a Democrat, then I am likely to vote Democratic. Moreover, if I am Democratic, I am more likely to view Democrats positively, and Republicans negatively. And perhaps most importantly for this conversation, if I am a Democrat I am more likely to rationalize or excuse bad behavior by Democrats and more likely to be highly critical of bad behavior by Republicans.
If you personally actually find that you give both Ds and Rs equally fair treatment at all times and never find yourself giving your party more of the benefit of the doubt than you do the other party, more power to you as you are a rare individual.
However, most people are likely to rationalize the behavior of their co-partisans and, also, to be far more critical of the opposite party.
Indeed, our ability to rationalize is such that research has shown that when we are giving factual information that disproves our positions that this causes people not to change their minds, but to double-down on their previously held position. See the work of Brendan Nyhan, for example. As a species, we are not as rational as we would like to think we are (so to speak).
So, back to identity. The following is a brief overview of the topic, with numerous citations, from a 2011 article in the American Political Science Review (one of the top journals in the field) by Gerber, Huber, and Washington:*
Scholars from a variety of disciplines contend that allegiances and group affiliations, from nationalism and religious identities to ethnic and kinshipties, powerfully affect attitudes and behavior. One such identity is partisanship, which political scientists have hypothesized is an active force shaping how individuals evaluate and interact with the political world (inthe United States: Campbell et al. 1960; more recently,Bartels 2002; abroad: Brader and Tucker 2001; Dancy-gier and Saunders 2006; Whitefield and Evans 1999). Evidence presented to support the importance of partisanship includes the strong correlation between partisanship and political opinions (vote choice: Bartels2000; Campbell et al. 1960; Fiorina 1981; Miller 1991; assessments of the economy: Bartels 2002;Erikson 2004; Wlezien, Franklin, and Twiggs 1997), the divergence among conflicting partisans in interpretations of common events (Bartels 2002; Gerber and Huber 2010; Lupia 1992; Rahn 1993; Zaller 1992), preferences for biased political information (Lau andRedlawsk 2001; Redlawsk 2002), and the persistence over time of partisan affiliations (Alwin and Krosnick 1991; Green, Palmquist, and Schickler 2002; Jenningsand Niemi 1974; Niemi and Jennings 1991). Across accounts, both political and beyond, a common thread is the claim that affiliations and identities cause the outcomes associated with holding a particular allegiance.

The claim that party identification is more than a summary of political attitudes or a "standing decision" regarding candidate choice, but instead might play acausal role in attitude formation, is consistent with the large body of work in social psychology demonstrating the power of social identification to alter attitudes and behavior. According to social identity theorists, it is a common human tendency, perhaps evolutionary in origin, for individuals to distinguish between in-groups,those to which they belong, and out-groups (Sumner1906). Belonging leads to formation of a group-based social identity that includes emotional attachments to the group and a tendency to favor the in-group (Tajfel1978; Tajfel and Turner 1986). Individuals who perceive themselves as members of a group may also internalizethe group's norms and values and use these as a guidefor their own attitudes and behaviors (Brewer andBrown 1998). Following Weisberg and Greene (2003),among others, and applying this logic of social identity formation to partisanship suggests that identifying with a party may be akin to forming a social identity as amember of that party and, as a consequence, may cause the individual to adopt the party's values and developmore favorable attitudes toward the party's candidates and causes.
I can add, too, the following from Enns and McAvoy:**
Survey research has documented partisanship's influence on information processing and opinion updating at the individual level (Berelson et al. 1954; Campbell et al. 1960; Finkel 1993; Goren 2002, 2007; Jacoby 1988; Markus and Converse 1979; Stokes 1966; Zaller 1992). As Stokes (1966, p. 127) notes, "for most people the tie between party identification and voting behavior involves subtle processes of perceptual adjustment by which the individual assembles an image of current politics consistent with his partisan allegiance." Experimental studies also suggest that individuals' motivations to maintain consistent attitudes produce strong partisan effects (Gaines et al. 2007; Kunda 1990; Taber and Lodge 2006; Taber et al. 2009). According to individual level analyses, partisanship influences what information individuals encounter, whether they accept or discount the information, and how they interpret the information.
All emphases are mine.
I just wanted to bring along some other voices on this topic, and the above hits on several items that I have been trying to convey, and the passage helpfully also includes a mini-literature review of the topics in question should people want to do actual research on this topic.
People's partisanship is part of how they view themselves and it filters how they see politics. It very much guides how they rationalize their own side (and the other side as well).
And as I noted elsewhere, a key source of partisan identity is one's family. This has been a key issue in the political science literature since at least the 1960s. You get your first exposure to politics from your family and the community in which your family operates. Your social class, your educational attainment, your race, your religion, your regionality are all linked to family and typically reinforce general identity and specific partisanship.
And since most people don't move away from their families, these identities are reinforced over a lifetime:
The typical adult lives only 18 miles from his or her mother, according to an Upshot analysis of data from a comprehensive survey of older Americans. Over the last few decades, Americans have become less mobile, and most adults – especially those with less education or lower incomes — do not venture far from their hometowns.
The power of place and family are huge influences on our thoughts and behaviors. Indeed, I would wager that those of us who have changed our political points of view over time could link such changes to having lived in different places and having interacted with different kinds of people. I know this has been true for me.
And, as noted above by Enns and McAvoy, it affects what information sources you seek out (and niche partisan news sources have gotten increasingly easier to tap into). This further strengthens all of the above.
Let me tease out two items from that list from the first paragraph of Gerber, et al. which cites studies that show how partisanship can influence the following:
assessments of the economy
divergence among conflicting partisans in interpretations of common events
Surely, the state of the economy is an empirical issue, yes? And yet most people evaluate it through a partisan lens. See this WaPo piece: And just like that, Republicans are pretty confident in where the economy is headed.
Here is a clear, empirical indicator that partisan preferences can drive political opinion without any consideration of actual evidence, and it affects both parties.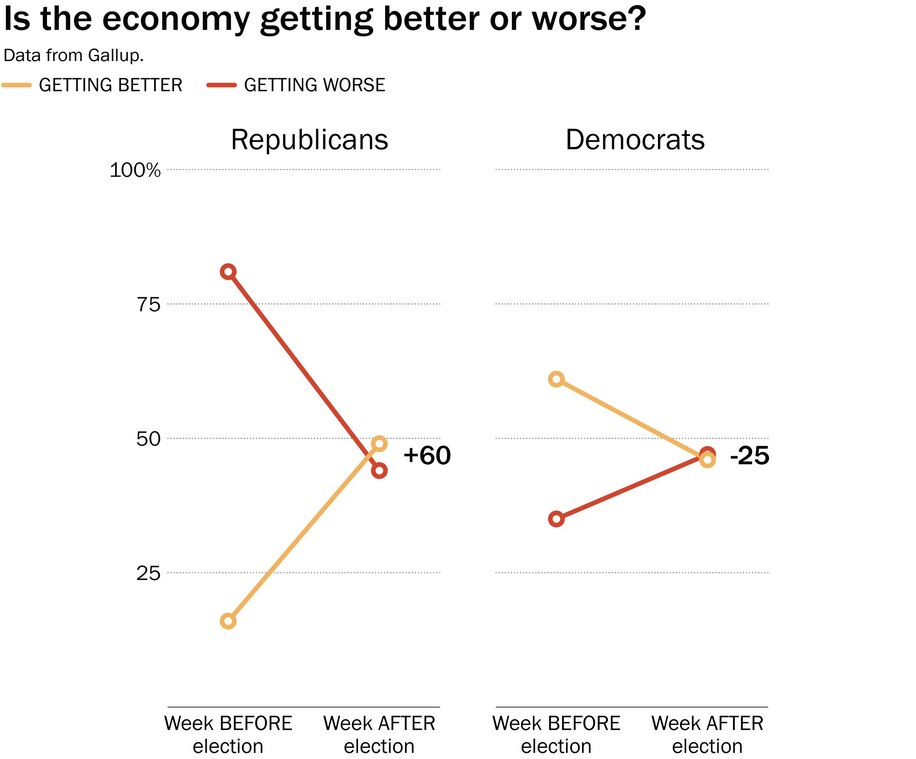 To quote the WaPo piece:
It's almost as though . . . opinions . . . are driven by politics??
And it then noted:
The exact same thing happened when President Obama first took office, as Gallup noted during his first term.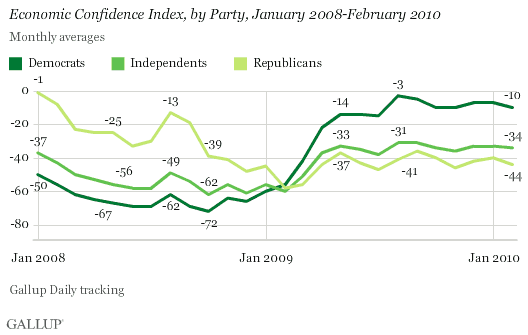 There's more in a follow-on WaPo piece: Your view of the economy depends on whether your party controls the White House. See, also, Gallup: 2017 Partisan Gap in Economic Confidence One of the Largest.
The above are clear examples of partisan identity producing an opinion absent of any evidence or reason save for a shift in partisan control of the executive. The aggregated shifts in opinion were clearly measurable and, again, affected partisans of both parties.
Let's be clear: we have here direct evidence that people's perception of reality is influenced by their partisan identity. This makes it both a "what" and a "why" in and of itself.
Is partisanship destiny? Am I saying people can't use reason or that they can't change their minds? Quite clearly not. At a minimum, I have noted that I personally have changed my mind, and my partisan orientation, over time. Likewise, we know that my co-blogger, James Joyner, has left the GOP. But using personal experiences and views and then extrapolating typically isn't a good basis for science. Luckily, there are plenty of other data points. George Will quit the party publically. Bill Kristol has been an unrelenting Trump critic. There is the general NeverTrump movement and things like the Lincoln Project.
So yes, people can change their minds. But that doesn't mean that mind-changing is easy (we are, after all, talking about personal identity issues) and it is even harder in our binary party system.
But I will say that yes, to a degree, partisanship is destiny in the sense that most people don't change their partisan behaviors over time (this is why I keep using the now tiresome phrase "in the aggregate"). I have repeatedly noted that my argument is about the probabilistic mass behavior of Americans and that most people are quite stable in their political attitudes and voting behaviors.
I will also note, that most people do not pay a lot of attention to the news. They don't know a lot about how the government works or even what is responsibilities are. Most people are not reading or writing a political blog post on a Sunday morning.***
Of course, the radioactive issue in the room is Trump. How in the world could anyone support Trump, especially if that someone is paying any attention whatsoever?
If you want to understand how we can get a Trump presidency and the real possibility of a Trump re-election, a key is the way in which stable partisanship works in a strict two-party system.
Voters have only two real choices in our system. It is binary, as I have discussed for years. Our political institutions create a zero-sum, winner-take-all situation. I win, you lose. That's it.
Going into any election the battlelines are drawn between Rs and Ds well before the election takes place. They are drawn before the prevailing conditions of the elections are known. They are drawn before the candidates are known. People, as a general principle, start to fit the candidates to their preexisting identities, not the other way around.
The causality is: I support Party X and as a result, I support the candidate for party X. And I will very likely retrospectively adjust certain opinions I have (many of which aren't that firm to begin with) to fit candidate X.
If we are talking about Republican voters in the aggregate, that is what most of them have done. They were Rs in early 2016. Most of them did not vote for him in the GOP primary (both on the sense that most voters don't vote in the primaries, but also in the sense that Trump did not win the majority of the GOP primary vote). But once Trump was nominee, motivated reasoning kicked in and lots and lots of people talked themselves into voting for Trump.
After all, what else were they going to do? Vote for Hillary Clinton? Or, even if they abstained or voted third party, did they want to help the Democrat get elected?
This last point is important because partisanship not only helps create support for a candidate it also enhances opposition to the opposing candidate. I cannot stress enough to the importance that most political choices in the US are X and Y only. This makes changing partisan identification really difficult. Who wants to tell their family that they have become one of them?
And note, there is evidence that shows partisanship is influencing basic social bonds, like marriage (via QZ):
In 1973, the level of political agreement among relative recent newlyweds was 54%, according to Konitzer. By 2014, it had risen to 74%. This trend held true even in zip codes where political opinions were more diverse, suggesting that politics, not just proximity to like-minded partisans, is behind this sorting.
Note: there is a reason I frequently advocate for changes to our institutions that would induce multi-party democracy. It would help get us out of the zero-sum nature of binary party politics.
I am not saying any of this is a moral defense of voting for Trump. But is an analytical explanation of mass behavior. As a political scientist, my job is seeking analytical explanations for political behavior. Normative judgments can then result, but the main goal is analysis and explanation. And I have made rather clear over the years as to my normative (i.e., values-based) assessment of Donald J. Trump and his presidency.
I am also not saying that some of his base don't truly love him and his race-baiting, Know-Nothing approach to politics. Of course many clearly do.
I am also not saying that the moral implications of a Trump vote in 2020 aren't higher than one in 2016 because now we all know what kind of president he has been, and therefore will be.
But, and this is a big but, the choice is still binary. And partisan identities have not changed for most people and therefore, most people are going to behave the same way in 2020 as they did in 2016. They will rationalize their support for their party and their opposition to the other.
But when it is asserted that the GOP has become a "cult of personality" as if that is all we need to know or, as started this whole series of conversations, that Republicans are acting more like they are more in a religion than a political party, I balk as a political scientist. The bottom line is that the behavior of GOP voters in the aggregate is pretty much what we would expect.
And yes, as demonstrated above by opinions on the economy, Democrats are susceptible to partisan-based motivated thinking as well.
I don't want to get into a protracted counterfactual argument (indeed, I have made a pact with myself that I will not). But yes, if a Democratic president made a ridiculous claim akin to Trump's "powerful light" and disinfectant comments, some Democratic voters would believe him or her. Some pro-Democratic talking heads on TV would try to rationalize or explain it.
I would note: that is what happened with Republicans and Trump and those utterances: some Rs criticized him, most kind of pretended like he didn't say it, other accepted that he was "being sarcastic," and a few either rationalized it or even believed him.
Let's just hope that after Trump we won't have to test the hypothesis of how Democrats would respond to utter nonsense from a president of their own party. I will note that there were some Democrats who briefly flirted with the idea that Michael Avenatti would be a good nominee for the party, so let's not pretend like all Democrats are perfectly rational all the time.****
(If you think I am wrong on the notion that some Ds would act that way with one of their own in the WH, that's fine. But, I am not going to rehash it in the comments).
At any rate, even with this long of a post, there is a lot more that could be said. If you think I am full of it, cool (and thanks for reading this far). In terms of discussions, however, I am happy to answer clarifying questions and I don't mind further debate, but I am asking for some parameters to perhaps decrease both my frustration levels and those of the commenters:
I just spent a good chunk of the morning writing this (not to mention three other posts specifically on this topic, plus hundreds (probably thousands) of words in several comment sections–such as here and here.
I have spent approaching thirty years professionally studying politics. I have expertise in parties in elections (although I do not do public opinion research, I will admit).
I have priors at OTB for over a decade of being pro-democracy and critical of the GOP when it comes to things like voting rights as well as priors of three+ years of being opposed to Trump. Again: I think Trump is a major threat to American democracy and to the stable global order (that is not hyperbole). I am not excusing Trump nor those who vote for Trump (although I am willing to understand that it is more complicated than simply calling them all Cult45 and declaring QED).
All of that sums, I would argue, to giving me the benefit of the doubt as to what I am trying to accomplish here: to provide an analytical framework to understand mass political behavior. It also sums to: the odds that whatever you are going to dash off in the comments section almost certainly has less thought put into the topic than I have (although that may not be the case).
I may be risking a lot of resentment and fewer comments as a result of saying this, but the notion that we start these conversations as equals in terms of the subject matter simply isn't true. Some may see that as an arrogant comment, and I think, in fact, my saying something along those lines at the early stages of this discussion in a comment thread may have been the source of some of the pushback. This is not to say that I am right and can't be wrong. But it is to say that it is highly improbable a 75-word comment written in a couple of minutes is going to demonstrate my wrongness. I will state that I can, and do, learn from the interchanges (I have noted elsewhere that blogging–which I think of largely as thinking in public, has helped refine my views over time and has changed my thoughts and opinions in various ways).
Note that I don't expect anyone to change their minds today. If any of you do change your minds, I expect it won't be for some time, and it will be as part of a cumulative process that includes other evidence, information, and experiences. Minds typically change slowly (if they change at all).
And, it is certainly possible that my mind will change as well.
I will admit that I am hopeful that all these words will induce some thinking in those who read them. At a minimum, as the writers who read this site may can attest, the words were in my head and needed to get out regardless.
In conclusion, I actually would love it if people made all their political decisions based on reasoned evidence. I recognize functional democracy requires an informed electorate, and it is arguable that that doesn't actually exist the way we need it to. I remain convinced, however, that democracy is the worst form of government, except for all the others that have been tried.
---
*Gerber, Alan S., Gregory A. Huber, and Ebonya Washington. "Party Affiliation, Partisanship, and Political Beliefs: A Field Experiment" The American Political Science Review, Vol. 104, No. 4 (November 2010), pp. 720-744
**Enns, Peter K. and Gregory E. McAvoy. "The Role of Partisanship in Aggregate Opinion." Political Behavior, Vol. 34, No. 4 (December 2012), pp. 627-651
***Well, I started in the morning.
****At the time we got Chris Cillizza writing a piece art CNN.com called President Michael Avenatti? Never say never! and the following headlines from Politico: Avenatti quietly builds 2020 machine and Michael Avenatti Is Winning the 2020 Democratic Primary.