Americans Don't Support Trump's 'Space Force'
The American public is not sold on the idea of a 'Space Force.'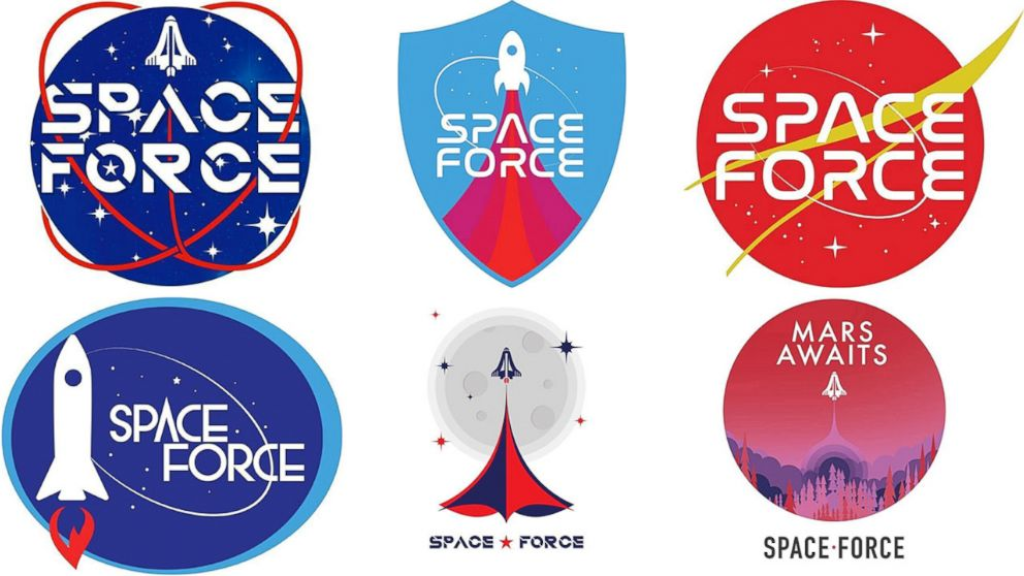 A new CNN Poll indicates that the American public is not sold on President Trump's idea of creating a new branch of the military to concentrate on space:
President Donald Trump called in June for creating a US Space Force, a new branch of the military designed to protect US assets in space. And he was serious. Vice President Mike Pence made the request official last week, although Congress will have to weigh in.

But according to CNN's latest polling, a majority of Americans (55%) say they don't support the new plans to establish a Space Force; only 37% said they do.

Pence endorsed the proposed expansion of military boundaries by calling for a Space Force by the year 2020. But not even Trump's supporters are strongly behind the expansion into the final frontier.

Even among Republicans, support is lukewarm. Exactly half of the party and half of those who approve of the job Trump is doing as President want a Space Force. But half is barely a majority, so it's clearly not extremely popular among his supporters considering their overwhelming support for other elements of his agenda.

Among veterans, 47% back it, 50% oppose it, even though overall, they're pretty positive toward the President (55% approve of Trump's handling of the presidency).

The subgroups showing the largest opposition to a Space Force include those who disapprove of Trump (67% shouldn't establish), college graduates (67%), and Democrats (65%).
Chris Cillizza comments:
Of all the proposals spit out by the Trump administration, none baffles me more than the Space Force.

It began, seemingly, as a joke back in March. But within days, President Donald Trump made clear he was serious.

"We may even have a Space Force, develop another one, Space Force," he said in a speech in Florida in May. "We have the Air Force. We'll have the Space Force. We have the Army, the Navy. I was saying it the other day because we're doing a tremendous amount of work in space. I said maybe we need a new force, we'll call it the Space Force. And I was not really serious. Then I said, 'What a great idea, maybe we'll have to do that.' "

And they did do just that! By June, Trump was directing Vice President Mike Pence to come up with an actual policy around his Space Force joke. "It is not enough to have an American presence in space, we must have American dominance in space," Trump said at the time. Earlier this month in a speech at the Pentagon, Pence proclaimed: "Just as we've done in ages past, the United States will meet the emerging threats on this new battlefield. … The time has come to establish the United States Space Force."

Apparently, the American public doesn't agree. Just more than 1 in 3 people (37%) in a new CNN national poll said America should establish a Space Force as a separate military branch "designed to protect US assets in space." Fully 55% percent opposed the construction of a Space Force.

While Democrats are predictably opposed to this oddest of Trumpian ideas, even Republicans — who tend to say they like whatever the President does — are skeptical; 50% approve of the building of a Space Force, while 44% disapprove.
As James Joyner noted when the President first announced this idea back in June, at which time it still seemed like something of a one-off joke on his part rather than a serious proposal, it does not seem self-evident at this point that we need a separate branch of the military to deal with military matters in space. As things stand, the primary responsibility for dealing with the military side of space travel and related issues falls under the rubric of the rather substantial Space Command that is part of the Department of the Air Force. The civilian side, of course, is principally handled by NASA and its related agencies, although a significant part of that is being sub-contracted to private companies such as SpaceX, Orbital Sciences, and Jeff Bezos's Blue Origin, all of which have competed to handle the launch of private, government-related, and even some military assets into space in recent years. There is no indication that this system isn't working or that anything of value will be created by making this "Space Force" a separate branch of the military complete with its own uniforms, military command and civilian staff, and a seat on the Joint Chiefs Of Staff. Indeed, creating a new branch of the military seems as though it would only result in the creation of a new cumbersome bureaucracy. As things stand, the responsibility for the nation's military mission in space seems as though it's being handled quite well by the Air Force and, indeed, extending the Air Force's mission into space seems like a natural extension of the mission it has been carrying out since its formation in 1947.
As the editors of The Washington Post note, there is an argument in favor of a more concerted military concentration on space, but that doesn't mean we need a separate branch of the military to do that:
[T]he Pentagon has hardly ignored space. Its 159 satellites represent the largest fleet of any single organization in the world. The Air Force's Space Command boasts a budget of $8.5 billion and 36,000 employees. Far more goes to the classified space operations that the intelligence community controls. More may be needed, but the Brookings Institution's Michael O'Hanlon pointed out that splitting the Air Force might not be the way to increase its or the new Space Force's pull in Congress. It would be simpler to promote officers who work on space issues to the highest levels of the Pentagon or centralize budgeting for military space operations. Moreover, it is far from clear that creating a new independent Pentagon fiefdom would promote any more integration with the Army or Navy. After its creation, the Air Force struggled for decades to cooperate with the other branches.

For now, it is unclear whether a big, new military reorganization would add anything useful to what the administration is already doing — setting up a joint space command, putting more emphasis on developing new space military technologies and pushing harder for the cultivation and promotion of space-oriented officers and specialists. The administration should step up these efforts, not inaugurate a massive bureaucratic overhaul that could for years prove a diversion and distraction.

It would be costly to stand up a brand-new branch of the military, with its own academy, uniforms and so forth. The burden is on advocates for a new service to show that the money would be well spent. They have yet to do so.
As with President Trump's desire for a military parade, which now seems to be on hold, this desire for a "Space Force" appears to be based as much in Trump and his ego as anything else. In both cases, we have a President who is utterly fascinated with the imagery of the military in the same sense that a child is, so it seems only natural that he'd jump on an idea like this regardless of whether or not it has any actual merit. Indeed, it seems as though Trump came up with this idea without consulting with either the civilian or military leadership at the Pentagon and. for what it's worth, there does not appear to be much enthusiasm for the idea there even among the military officials at the Air Force who would, presumably, receive promotions if the new military branch were created. The only significant arguments in favor of the idea seem to be coming from the aerospace industry, which would clearly benefit from the creation of a "Space Force," and which is probably why that industry has been heavily lobbying in favor of a separate "Space Force" for some time now. Additionally, while some members of the House and Senate have backed the idea in the past, there does not seem to be much enthusiasm for the idea, and that is likely to become an even bigger impediment to implementation of this seemingly unnecessary proposal if Republicans lose control of either or both houses of Congress. Given this poll and others, it would appear that the public wouldn't mind seeing this idea die.