Americans Say Civil Liberties Trump Terror Threats, Politicians Don't Care
The American people don't believe that liberty should be sacrificed in the name of security, but their leaders largely don't care.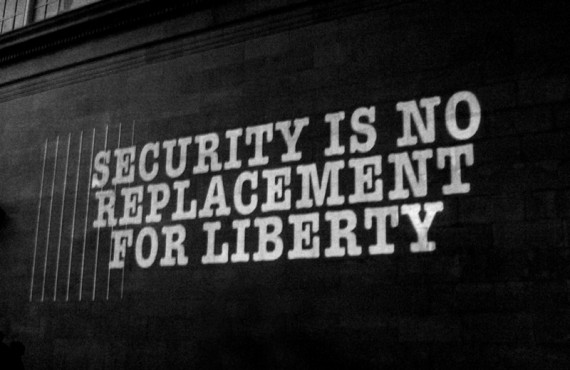 According to a one new poll, Americans believe that protecting civil liberties are important enough that the shouldn't be trumped by threats of terrorism:
Americans would appear to agree with Congress' latest efforts to limit the scope of its anti-terrorism efforts, with more than six in 10 saying that the federal government should take steps to prevent terrorism but not violate civil liberties, according to a Gallup poll released Wednesday.

Among all Americans surveyed, 65 percent prioritized civil liberties over counterterrorism efforts, compared with 30 percent who said that the government should take all steps necessary to prevent acts of terror, even if that infringes on civil liberties.

Gallup conducted the survey after the USA Freedom Act, which pulled back the government's ability to collect bulk communications data, was passed by Congress and signed into law by President Barack Obama.

Among those identifying as liberal, 48 percent said government efforts violate civil liberties, compared with 41 percent of moderates and 38 percent of conservatives.

On a partisan level, 40 percent of Democrats and leaners said those efforts run roughshod over their rights, compared with 42 percent of Republicans and leaners.

The results stand in contrast to those from January 2002, just four months after the 9/11 attacks. Even then, however, Americans were at most split over how the federal government should stop future attacks.

At that time, 47 percent of Americans said that government should prioritize anti-terrorism efforts, compared with 49 percent who still showed a greater concern for civil liberties.
For those of us who have been concerned about the extent to which civil liberties have been pushed to the wayside in the name of "security" in the fourteen years since the September 11th attacks, this is at least some good news. During that entire time period, the American people have been told by most of their political leaders that they have to accept everything from the warrantless wiretapping authorized by the Patriot Act and the mostly pointless intrusions that air travelers face from the TSA to the National Security Agency's metadata surveillance program that was only revealed when Edward Snowden went public. We must accept all of this, they claim, because of the supposed threats to our nation even though there's never been any evidence that, say, the powers granted to law enforcement under the Patriot Act have every actually stopped a terrorist attack.. In fact, the law has been used more in cases that have nothing to do with terrorism at all than it has in investigations that actually have anything to do with terrorist threats. Furthermore, there's the fact nearly all of the terror-related arrests in the past decade have involved people who were colluding with someone who turned out to be either an FBI agent or an FBI informant. None of this is to discount the idea that there are threats to the nation, of course. The September 11th attacks and the Boston Marthon bombing both show that there is. However, using that threat as an excuse to hand over more power to the government is the oldest excuse in the book, and it's at least somewhat heartening that, according to this poll at least, the American people have not fallen for it.
In reality, of course, the outcome of the 2016 election is likely to guarantee that the views of Americans who are concerned about civil liberties will largely be ignored. The only Republican candidate for President who has expressed even the slightest concern for the civil liberties implications of what has been done "for" us since the September 11th attacks is Rand Paul and he is unlikely to be the Republican Party's Presidential Nominee. On the Democratic side, Hillary Clinton is firmly in the same camp on these issues as President Obama has been, and his policy on these issues has been largely indistinguishable from his predecessor in that area. Perhaps at some point the American people will hold their politicians responsible for these actions, but don't expect it to happen any time soon.
Photo: By Steinman at en.wikipedia [FAL], from Wikimedia Commons