Poll Finds American Fearful Of Terrorism, Distrustful Of Obama And Syrian Refugees
A new poll taken in the wake of the Paris attacks finds Americans increasingly fearful of ISIS attacks in the U.S., opposed to the admission of Syrian refugees, and not very confident in President Obama's ability to deal with the ISIS threat.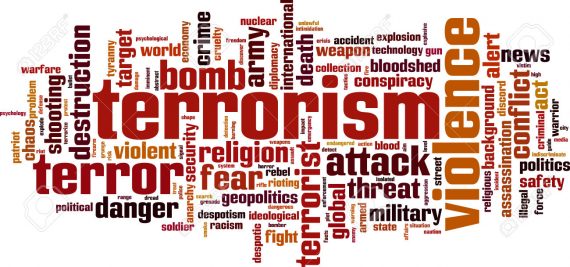 A new ABC News/Washington Post poll shows us that Americans fears of terrorism have ramped up significantly since the terrorist attacks in Paris, and confirms earlier polling that the public is opposed to letting Syrian refugees into the country:
Fears among Americans about terrorist attacks on U.S. soil have risen sharply a week after a major assault in Paris killed 130, according to a new Washington Post-ABC News poll, which finds a majority believing that the country is at war with "radical Islam."

Fully 83 percent of registered voters say they believe a terrorist attack in the United States resulting in large casualties is likely in the near future, rising from 73 percent in a Quinnipiac University poll earlier this month asking the same question. Forty percent say a major attack in the United States is "very likely," up eight percentage points since last week's attacks to match the record level of concern recorded after the 2005 subway bombings in Britain.

The Post-ABC poll finds that a majority of Americans want the United States to join a military response to the Paris attacks, including increasing airstrikes and sending ground troops to fight the Islamic State, which claimed responsibility for last week's mayhem.

But the poll also finds evidence of the public hesitation about a major military commitment, with more saying the United States should play a supporting role, and only one-third of all respondents supporting deployment of large numbers of ground forces.

The findings underscore the heightened anxiety many Americans feel after the Paris attacks, as well as a broader dissatisfaction with President Obama's approach to terrorism. They come as the House voted Thursday by a large majority — 289 to 137 — to restrict Syrian and Iraqi refugees from entering the United States, despite a White House veto threat, and as several Republican presidential candidates are urging stricter controls on admitting refugees and a deeper military involvement overseas. The poll finds that over half of adults oppose accepting refugees from Syria and other Middle Eastern countries, even if they are screened for security.

Rather than rally around the commander in chief, the public's ratings of Obama on dealing with terrorism have fallen to a record-low 40 percent, with a smaller 35 percent approving of his handling of the Islamic State. Obama's ratings on terrorism have fallen seven points since January, driven largely by a 20-point drop among political independents and an 11-point drop among moderates.

(…)

The Paris attacks also appear to have bolstered public support for circumventing civil liberties to pursue potential terrorists. A 72 percent majority say the federal government should investigate possible terrorist threats even if they intrude on personal privacy, rising nine percentage points since January to the highest level since 2010.

Still, some surveyed said that Obama was right to defend his refugee policy and that Americans need to be wary of overreacting to the prospect of a strike on U.S. soil.

Tracey Lessard, a 45-year-old from Haddonfield, N.J., who works at a start-up and lived in New York City at the time of the Sept. 11, 2001, attacks, said that while "there's a potential to have one" at any time, singling out immigrants from the region "is giving ISIS what they want; it's going to polarize Muslims versus us.

I want some of these people to be reminded where their families came from," she said of those calling for tighter immigration rules.

Fifty-nine percent of respondents say the United States is "at war with radical Islam," while 37 percent say it is not. Republicans have embraced the term and criticized Obama and former secretary of state Hillary Clinton for not using it. Clinton, the front-runner for the Democratic nomination for president, says "radical Islam" wrongly conflates Islamist jihadists with the teachings of Islam and Muslims more broadly, but fellow partisans do not appear to have such reservations. Fifty-two percent of Democrats say the nation is at war with radical Islam.

(…)

Concerns about government competence are also clear on the issue of refugees fleeing Syria. Americans lack confidence that the federal government could screen these applicants properly.

Fifty-four percent say the United States should not take refugees from Syria and other parts of the Middle East, even if they are screened for security. Only 13 percent of Americans are "very confident" that the United States could identify and keep out possible terrorists who could be intermixed. Thirty-four percent are "somewhat confident," while 52 percent have less confidence or none at all.
These numbers are largely reflected in a new CBS News poll on the subject:
Just over a week after the terrorist attacks in Paris, only 23 percent of Americans think President Barack Obama has a clear plan for dealing with the militant group ISIS, the lowest number yet recorded in the CBS News Poll. Sixty-six percent do not think he has a clear plan – a new high.

Large majorities of Republicans and independents say the President doesn't have a clear plan, and almost half of Democrats (40 percent) agree. More Democrats (45 percent) say he doesn't have a plan than say he does.

In considering military options, 50 percent of Americans now favor sending in U.S. ground troops to fight ISIS militants in Iraq and Syria, up four points from August. Support for sending ground troops rose to 57 percent in February in the immediate aftermath of the death of aid worker Kayla Mueller, but then dropped below 50 percent until now.

Two-thirds of Republicans favor using U.S. ground troops to fight ISIS, while about half of Democrats oppose that. Still, support for using ground troops has inched up among Americans across the political spectrum.

Most Americans (63 percent) think ground troops will be necessary to remove the threat from ISIS militants; just one in five thinks the threat from ISIS can be removed using airstrikes alone. Majorities of Republicans (73 percent), Democrats (59 percent), and independents (60 percent) think ground troops will be necessary. Views have changed little over the past year.

As large numbers of Syrians flee the violence in their country, Americans are split on whether the U.S. should allow Syrian refugees into the country. 47 percent say they should be allowed to enter as long as they go through a screening process, but slightly more -50 percent- say they should not be allowed to come to the U.S. at this time.

There is a stark partisan divide on this: 68 percent of Republicans say Syrian refugees should not be allowed into the country at this time, while 63 percent of Democrats think they should be allowed.
Since the evening of November 13th, the American public has been subjected to virtually non-stop coverage of the events in Paris on all three American cable news networks as well as the broadcast news and Internet news coverage. There have also been reports about ISIS threats against New York City and Washington, D.C. In the middle of the week, a soccer match in Germany became international news when it was canceled due to threats of an attack. On Friday, an international hotel in Mali, a nation I think it's fair to say most Americans are barely aware of, was the subject of a terror attack by a group linked to al Qaeda. Yesterday, large parts of Brussels were shut down due to what were claimed to be specific threats of terrorism and there were reports about alleged planned attacks at sports venues in the United States today. Given all of that, it's not surprising that the American public's anxiety about terrorism and just how imminent a threat it might actually be is at levels we haven't seen in quite some time.
Much the same could be said for the fact that yet another poll is showing us that the public remains largely opposed to the Administration's policy regarding Syrian war refugees. Even before the events in Paris, polling was showing that a majority opposed the plan that was announced in September to increase the number of refugees that would ultimately be accepted into the country. After Paris and the reports that at least one of the people involved in the attack may have gotten into the country with the flood of refugees arriving from Syria, it was inevitable that the debate over the issue would change significantly. At the same time that politicians were lining up to call for a halt to the program, temporary or otherwise, and Congress was voting to impose new limits on the program, initial polling confirmed the idea that public anxiety would increase opposition to refugee admission. These polls confirm that, and one suspects that any other polling we see on this issue in the near future will do so as well.
As we've learned since the September 11th attacks, though, logic and public opinion seldom go hand in hand. Much like September 11th itself and many of the subsequent attacks that we've seen in intervening years, such as the attacks in London and Madrid, the aborted attack in Times Square in 2010, and the Boston Marathon bombing in 2013, the attacks in Paris and the events that have followed have quite obviously increased public anxiety about terrorism. The fact that this same poll finds that the public also seems to lack confidence in the Obama Administration's response to the perceived threat posed by ISIS, and doubts about President Obama's leadership abilities in that area, just increases public anxiety. As time passes, these anxieties will likely diminish unless there are additional attacks and additional threats, in which case this is likely to be an ongoing political issue.
The big question, of course, is what poll numbers and public anxiety like this means for the race for President going forward. To be honest, it's hard to tell because it's impossible to know how long terrorism issues are going to be in the forefront of public opinion. This is something that could last for months, or it could be something that starts to fade from public memory if there are no more incidents as we head into the holiday season. Or, we could be looking at a turning point in the 2016 election cycle that brings national security into more direct focus than it has been to date. On the Democratic side, that would seem to inure to the clear benefit Hillary Clinton, who is obviously at an advantage on foreign policy issues over Bernie Sanders in a race that is effectively over in any case. What impact that will have on the Republican race is anyone's guess, although so far it doesn't seem to be having any impact on Donald Trump's dominance in the race notwithstanding the fact that he quite obviously has the understanding of the nuances of these issues usually found in a sports bar during the fourth quarter of a football game. Suffice it so say, though, that the American public is scared, and if they stay that way 2016 could be an interesting year.
Note: This post was updated to include information regarding the newly released CBS News poll.