The GOP Candidates And The Attacks In Paris
The initial responses of the Republican candidates for President to the attacks in Paris are about what you'd expect, but it's far too early to tell what impact the events of the weekend will have on the race for President here in the United States.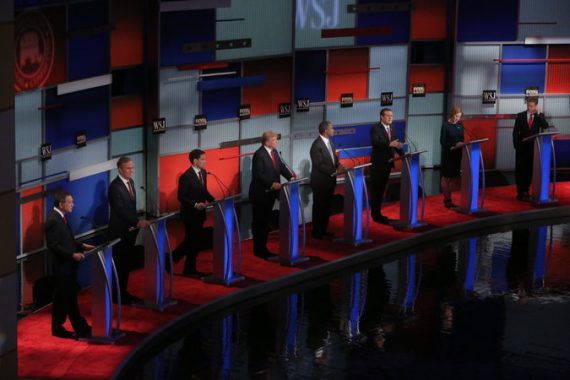 Steven Taylor has already asked how the Republican electorate, and by extension, the Republican candidates for President, and Republicans in Congress responsible for oversight of the armed forces and foreign affairs, would respond to Friday's attacks in Paris. While it has been less than forty-eight hours since the attacks as I type this, and some details such as the apparent link between at least some of the attackers and the refugees that have been flowing into Europe since the summer are just now becoming apparent, it's already at least becoming clear how the politicians are responding, and how voters react to that will be a good indication of what impact Friday's events and whatever might follow will have on the race for President going forward:
Visions of two Americas emerged from the 2016 presidential field on Saturday, at the Democratic debate and at Republican campaign events, as the candidates sought to project leadership after the Paris attacks and maneuver for political advantage in a rare moment when national security held voters' attention.

A dark portrait of a vulnerable homeland — impotent against Islamic State militants, susceptible against undocumented refugees and isolated in a world of fraying alliances — came into sharp relief as several Republicans seized on the crisis to try to elevate terrorism into a defining issue in the 2016 election.

Leading Republicans like Donald J. Trump, Ben Carson and Senator Ted Cruz of Texas called on the Obama administration to halt plans to accept 10,000 Syrian refugees next year. Senator Marco Rubio of Florida, warning that the Islamic State would leverage the Paris attacks to add recruits and raise money, said the United States needed to move immediately to assemble a stronger coalition to fight the militants. And former Gov. Jeb Bush of Florida urged Americans to recognize that "an organized effort to destroy Western civilization" is underway.

The Republicans also broadly agreed that the Paris attacks should be the catalyst for a new military strategy against the Islamic State, also known as ISIS or ISIL, which has claimed responsibility for the carnage on Friday. "This will be coming to America," Mr. Cruz warned grimly. "ISIS plans to bring these acts of terror to America."

(…)

Mr. Cruz, Mr. Graham and Gov. John R. Kasich of Ohio went to great lengths to describe elements of their counterterrorism plans in hopes that voters, alarmed and shaken by the terrorist attacks, would prefer experienced leaders at a time of crisis to government outsiders like Mr. Carson and Mr. Trump, who are leading in most public opinion polls.

Speaking to reporters in South Carolina on Saturday, Mr. Cruz used a question about Mr. Carson to turn back to the threat of terrorism and highlight "the need for a strong commander in chief to defeat it and to keep America safe."

The most striking aspect of the remarks by the Republicans were the ominous tones and foreboding language that emphasized a fortress-America outlook. Even candidates like Mr. Kasich tempered their previous support for accepting more refugees and migrants from Syria and other countries from the Middle East, reflecting fears that extremists would try to slip through any open door.

The toughest language came from Mr. Cruz, who is widely viewed as rising in the Republican field after a pair of well-received debate performances. He argued, for instance, that the United States must be willing to accept civilian deaths in Syria and Iraq in order to defeat the Islamic State through intensified airstrikes.

"It will not be deterred by targeted airstrikes with zero tolerance for civilian casualties, when the terrorists have such utter disregard for innocent life," Mr. Cruz said on Friday night. On Saturday, in an appearance on "Fox and Friends," he went on to castigate the president for not being willing, in his view, to go to every length to fight terrorists. "I recognize Barack Obama does not wish to defend this country."
It's not entirely surprising that the initial reaction of many of the candidates was to fall back on tough rhetoric about fighting terrorism in general and ISIS in particular. This is rhetoric that has been part of the stump speeches for many of these candidates from the beginning of their campaigns, and for many of them back to well before they were officially candidates for President. It's also not very dissimilar from the kind of rhetoric we've heard from most politicians on the right from the time of the September 11th attacks, and some of it is even reminiscent of the rhetoric we heard in the 1990s in the wake of events such as the first attack on the World Trade Center in 1993, the embassy bombings in Kenya and Tanzania in 1995, and the bombing of the USS Cole. Beyond the tough rhetoric, though, there isn't very much in the way of specifics yet even from the candidates best known for talking up foreign policy and military matters:
As much as the Republicans were adamant that Mr. Obama had not done enough in the fight against the Islamic State, most of them were still tentative about committing more American ground troops to that effort.

Mr. Rubio, asked in an interview if he would commit 5,000 or even 10,000 troops, said, "I wouldn't put a number on it," though he called for "a substantially increased commitment of special operators on the ground." Mr. Bush said defeating the Islamic State was "the war of our time," but refused to give a troop estimate. Mr. Cruz said he still believed that Kurdish fighters should lead ground forces.

Their remarks reflected a political reality seen in public opinion polls: A majority of American voters believe the United States should not take the leading role in trying to solve international conflicts, according to a New York Times/CBS News survey released on Thursday. The same poll showed that 72 percent of voters, including 68 percent of Democrats surveyed, believed the American fight against ISIS was going somewhat badly or very badly.

A free-floating sense of danger has led many Republican voters, and their candidates, to strongly support gun ownership as a means of self-protection. At a rally on Saturday in Beaumont, Tex., Mr. Trump said the outcome of the attacks would have been different if people there had been armed.

"You can say what you want, but if they had guns, if our people had guns, if they were allowed to carry, it would have been a much, much different situation," Mr. Trump said.
Outside the foreign policy sphere, several of the candidates have been saying in the hours since the attack that the events in Paris support their position on immigration and refugee policy:
ORLANDO, Fla. —The day after a series of terrorist attacks rocked Paris, Republican presidential candidates delivered a new message on immigration and border security: We told you so.

In the attacks — perpetrated by agents of the Islamic State, at least one of whom may have entered the European Union among a group of Syrian refugees — several Republican contenders saw vindication of their criticisms of President Obama on those issues. But the real target of their barbs was each other, as nearly every GOP candidate stressed their conservative bona fides on a topic that has fired up voters, powered the rise of Donald Trump and hobbled Jeb Bush's strategy of being willing to "lose the primary to win the general."

At the Sunshine Summit Republican gathering here, Chris Christie, Rand Paul and Bobby Jindal all tied the attacks to immigration on Saturday and raised the prospect that agents of ISIL had slipped into the United States already or could do so if the administration proceeds with plans to allow in Syrian refugees. On the campaign trail in Texas and South Carolina, Donald Trump and Ted Cruz did the same.

"President Obama and Hillary Clinton's idea that we should bring tens of thousands of Syrian Muslim refugees to America: it is nothing less than lunacy," Cruz told Fox News from the site of his campaign's "rally for religious liberty" in Greenville.

At a rally in Beaumont, Texas, Trump — who expressed support for taking in Syrian refugees in September but later reversed himself — called the administration's plan to admit thousands of them "insane."

"Our president wants to take in 250,000 from Syria," said Trump, inflating the actual figure, which is 10,000. "We all have heart, and we all want people taken care of and all that, but some of them are going to have problems, big problems."

Christie rewrote his entire speech at the Republican Party of Florida's Sunshine Summit in response to the attacks, beginning with his account of the morning of Sept. 11, 2001, when he lost contact with his wife Mary Pat for five hours as she evacuated her office at the World Trade Center in New York.

He said that the federal government's failure to secure America's borders had left the country vulnerable to terrorist infiltration. "On an afternoon like this afternoon we wouldn't be worried about ISIS slipping across our borders to commit unspeakable acts of violence" if the government had addressed the issue, he said.

Noting that French President François Hollande had ordered the emergency closure of France's borders in the immediate aftermath of Friday's attacks, Jindal suggested the United States should follow his lead. "It's time for us here in America to secure our borders and keep us safe as well from these radical evil terrorists," said the Louisiana governor.

Earlier at the summit, at a Friday evening post-speech press conference as the attacks were still unfolding, Carson said he opposed the admission of Syrian refugees into the country. If the administration does proceed with its plan to admit the refugees, Carson said, Islamic State leaders would be stupid not to try to plant terrorists among them. "That would almost be malpractice, you know?"

In his speech at the summit, Paul targeted his Republican rival Marco Rubio as he addressed border security in light of the attacks.

"I think one of the lessons we should learn from the tragedy in Paris is that we have to be very careful, and very cautious — extraordinarily cautious — about who comes to visit, who immigrates here and who studies here," he said.
These responses, as well as the others that Matt Ford details at The Atlantic, are similarly unsurprising, and it strikes me that the candidates are anticipating how the Republican base is going to react to what happened on Friday and that they're likely not very far off in anticipating where those voters are going to end up. Notwithstanding the fact that there has been some reluctance among Americans in general and Republican voters in particular to get behind new international commitments due to what seems like lingering wariness and war fatigue from the Iraq War and the continuing conflict in Afghanistan, an attack like what we saw in Paris on Friday tends to lead voters to become more willing to consider aggressive military measures than they otherwise might have been. As far as immigration goes, the rhetoric noted above in the immediate response to the attacks in Paris isn't really all that different from what we've been seeing since the start of the campaign. To a large degree then, what you're seeing from the candidates there is them pointing to what happened in Paris and basically saying saying 'See, I told you so.'  They are saying, in other words, that the arguments that candidates like Trump, and Cruz, and others have made in favor of an aggressive push against illegal immigrants, not letting in more refugees, and other matters are buttressed by the fact that ISIS has proven itself able to unleash a major attack in a major European city thousands of miles away from their center of power.
At least initially, then, you might expect that the events in Paris will benefit the candidates like Trump, Cruz, Carson, and others who have argued in favor of an aggressive foreign policy and restrictive immigration policy, at least in the short term. Further down the line, though, as we move beyond the initial emotional reactions to the tragedy in Paris, it's possible that this weekend's events could lead Republican voters to start giving more serious thought to who they actually want to put forward as their party's candidate for President in an era when it appears as though we're headed toward getting more involved in yet another conflict in the Middle East whether we want to or not. Perhaps, for example, this will cause voters to apply more of a "leadership" test to the prospective candidates and ask themselves which one of them would seem to be best able to sit behind the desk in the Oval Office and make the tough decisions that will likely be required going forward. Do they really want Donald Trump, who clearly deals more in emotion than fact, to be the one making those decisions? What about Ben Carson, who demonstrated astounding ignorance on foreign policy in last week's debate? Depending on how things proceed forward in the wake of the Paris attacks, it's possible that candidates such as Marco Rubio, Jeb Bush, and, to some extent, John Kasich and Chris Christie, all of whom have been emphasizing foreign policy bona fides and leadership skills from the start of the race will end up rising as voters start to realize that the current frontrunners are not the men they would want to see leading the country through a foreign policy crisis. If any candidate stands to lose the most outside of Trump and Carson, it's likely Kentucky Senator Rand Paul, whose less interventionst views on foreign policy began falling out of favor with Republicans when ISIS rose up as a threat during the summer of 2014.
It's far to early, really, to tell how the events of Friday night will impact the race for President. Partly, that's because we don't know what might come next, how the United States and the rest of the West will respond to it, and what response we might see from ISIS. At the very least, though, I think it's fair to say that the Paris attacks could end up being a "black swan" event that has a tremendous impact on the direction the race for the Republican race takes.