America's Inconvenient Constitution
With more than a little hyperbole, George Will declares "Obama's unconstitutional steps worse than Nixon's."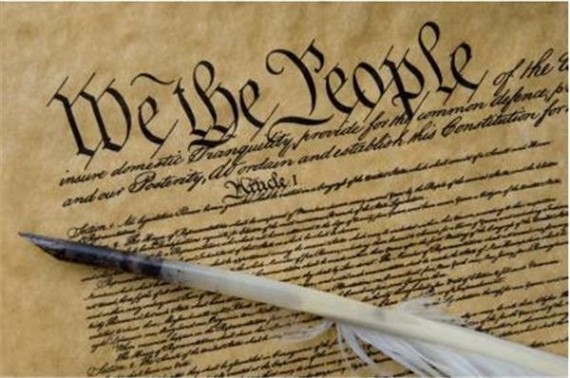 With more than a little hyperbole, George Will declares "Obama's unconstitutional steps worse than Nixon's." While inviting that comparison weakens his case, his larger argument is spot on.
Explaining his decision to unilaterally rewrite the Affordable Care Act (ACA), he said: "I didn't simply choose to" ignore the statutory requirement for beginning in 2014 the employer mandate to provide employees with health care. No, "this was in consultation with businesses."

He continued: "In a normal political environment, it would have been easier for me to simply call up the speaker and say, you know what, this is a tweak that doesn't go to the essence of the law. . . . It looks like there may be some better ways to do this, let's make a technical change to the law. That would be the normal thing that I would prefer to do. But we're not in a normal atmosphere around here when it comes to Obamacare. We did have the executive authority to do so, and we did so."

Serving as props in the scripted charade of White House news conferences, journalists did not ask the pertinent question: "Where does the Constitution confer upon presidents the 'executive authority' to ignore the separation of powers by revising laws?" The question could have elicited an Obama rarity: brevity. Because there is no such authority.

Obama's explanation began with an irrelevancy. He consulted with businesses before disregarding his constitutional duty to "take care that the laws be faithfully executed." That duty does not lapse when a president decides Washington's "political environment" is not "normal."

When was it "normal"? The 1850s? The 1950s? Washington has been the nation's capital for 213 years; Obama has been here less than nine. Even if he understood "normal" political environments here, the Constitution is not suspended when a president decides the "environment" is abnormal.

Neither does the Constitution confer on presidents the power to rewrite laws if they decide the change is a "tweak" not involving the law's "essence." Anyway, the employer mandate is essential to the ACA.
Earlier in the week, I chastised the Attorney General's selective enforcement of our drug laws, arguing that we should change bad laws through the legislative process, not ignore them. Many readers pushed back using language similar to Obama's: in essence, since Congressional Republicans are being remarkably uncooperative, the executive should be free to do what it thinks is right, separation of powers be damned.  As I noted in an update, to the post:
First, I'm not comfortable with the Executive deciding on its own authority which laws to ignore simply because it's frustrated with its inability to get the Legislature to go along. Even though I like the result here, it's a dangerous notion.

Second, the system hasn't failed in this instance; it hasn't been engaged. I would be more sanguine if this were a case where the House had approved the change after a national debate and there were 59 votes in the Senate but action was being thwarted by a petulant minority. Unless I've missed it, there has been ZERO attempt by this administration to use the system.
Now, where I differ from Will is that I don't see this as uniquely mendacious behavior on the part of the Obama administration. Rather, it's part of a long trend of executive power grabs. But Will's right that, for the most part, past presidents have grossly exceeded their Constitutional remit in matters of foreign and national security policy. Doing so on matters of routine domestic politics has less precedent.
It's shocking how little Congress is fighting any of this. The Framers assumed that the branches would jealously safeguard their Constitutional authority and push back hard any attempts by the other branches to encroach or usurp.  In recent years, they've barely seemed to notice.
Regardless, and this is more a fact than a prediction, future presidents, including the next Republican president—and, yes, there will be another and likely in the not-too-distant-future–will feel free to ignore inconvenient laws in the future, bolstered by the precedent.