An Excellent Question (The New Love for Assange)
What is the deal with the love-fest for Julian Assange?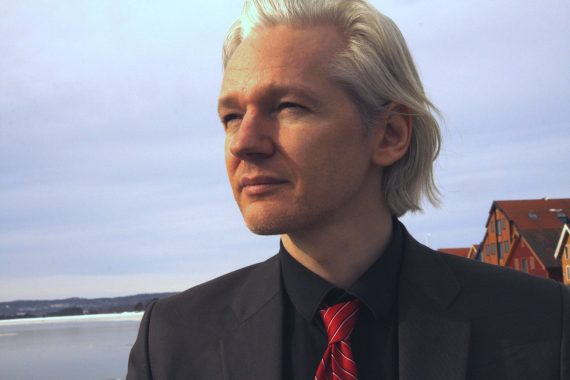 Emily Tamkin's Foreign Policy post asks:  Um, Since When Does the Right Wing Like Julian Assange?
This is an excellent question. The simple answer appears to be that for the president-elect whomever agrees with him is, by definition, correct and worthy of boosting.  This is, to put it mildly, a troubling characteristic for a president to have.  The answer for others (such as Sean Hannity and Sarah Palin) seems to be that they are sycophants who clearly want to kiss-up to the incoming president (and, as a bonus, want to keep attacking Hillary Clinton).
Writes Tamkin:
Trump has a long history of favoring those when they favor him.

[…]

Assange is personally vindicating Trump (and, in a way, Trump advisor Kellyanne Conway, who believes Americans should listen to Assange).

[…]

Why would Hannity and Palin — individuals who have branded themselves as strongly believing in a certain vision and version of America — start promoting and championing someone who has, according to them, threatened American security?

Because their beliefs are not what matters most to them. Their belonging is.

"American partisan identity formation is the most powerful force in the universe," Max Fisher, a writer and editor at the New York Times offered on Twitter, linking to the Palin post.
We are going to see a lot of interesting displays of partisanship in the coming years as some conservatives (both in government and in the media) will have to makes choices between ideology/philosophy and partisan loyalty.  Note that I am not saying only Republicans are partisan but, rather, that the Republican Party has created for itself a sort of experiment insofar as they have elected a president who deviates in many ways from the prevailing ideology of the party.  If ideology is what truly motivates actors, then there will be rifts in the party.  But, those actors primarily motivated by partisan identity will change (or ignore) previously held beliefs to adapt to Trump and the partisan power that emanates from the presidency.
The current love-fest for Julian Assange is quite bizarre to behold.  We have the president-elect of the US taking Assange's word over the analysis if the FBI and CIA (and, really, based on what?  Assange's public declarations?).  Then we have Sean Hannity treating him like a hero on his show and Sarah Palin took to Facebook this week to apologize to Assange. From the NYT piece on this story:
In 2010, Sarah Palin, the former governor of Alaska and Republican vice-presidential candidate, called Mr. Assange "an anti-American operative with blood on his hands" and asked why he was not "pursued with the same urgency we pursue Al Qaeda and Taliban leaders." Her ire was all the greater because WikiLeaks had published her hacked emails.

But after hearing Mr. Assange's latest Fox appearance, she wrote on Facebook, "Julian, I apologize," and urged her fans to watch the interview.
Assange is, it should be remembered, currently a fugitive taking refuge in the Ecuadoran embassy in London.  He is wanted on charges of sexual assault and rape by the Swedish government and his Wikileaks site published classified documents stolen by Bradley Manning.  The US government has, in the past, considered charges against Assange for his publication of the Manning documents (although such a prosecution is unlikely).   It cannot be dismissed that the Ecuadoran government, and its President Rafeal Correa, is to stick a finger in the US's eye.  As the NYT noted in a 2012 op-ed: "it is an attempt by Mr. Correa to settle old scores with the United States."
Still, what we have here is the President-elect of the United States siding with a fugitive and someone who has sought to do damage to the US government.  As another Foreign Policy piece noted in August of 2012:
Since 2010, however, it has been pretty hard to make the case that WikiLeaks is a neutral transmission system. Nearly all its major operations have targeted the U.S. government or American corporations. When WikiLeaks released U.S. government cables, its stated purpose was to reveal "the contradictions between the US's public persona and what it says behind closed doors."

[…]

The U.S. government might always have viewed Assange as a threat, but more Americans might have been willing to hear him out if he weren't so easy to paint as a purely anti-American figure. Even Americans who are highly critical of their government's foreign policy have a hard time getting on board with a man who promises to hasten "the total annihilation of the current U.S. regime."

Assange could have combated the charge of double standards by leaking some material about a government hostile to the United States, such as China or Russia. In October 2010, he promised in an interview with the Russian paper Izvestia, "We have [compromising materials] about Russia, about your government and businessmen…. But not as much as we'd like…. We will publish these materials soon…. We are helped by the Americans, who pass on a lot of material about Russia." But "Kremlingate" has never materialized, which suggests either that it wasn't a major priority for WikiLeaks or that Assange was bluffing.
Regardless of what one thinks about the charges against Assange or what views one has of the information that has been published at Wikileaks, this is not the type of person that we should expect the President to extol.  And it is also damning of Hannity and Palin, supposedly of the uber-patriotic set, to so easily treat the man as a hero because they find such praise to be of partisan value.  I am not a big fan of counter-factuals, but if Obama had sided with Assanage against the CIA, one can readily imagine the charges of treason and calls for impeachment from Hannity and Palin.
And please note:  I do not have a problem with some healthy, informed (and that word is key) skepticism about US intelligence.  I also think that the hacking issue has risen to the level of hysteria in some quarters and that it needs to be dialed back a bit (although I think it deserves ongoing attention).  But I fear what we are seeing here is yet even more evidence that Trump will be a dangerous president who will act capriciously and irresponsibly, and who will value having his ego stroked over pursuing the national interests of the United States. Further, there will be plenty of sycophants out there who will gladly jettison previously held positions to try and get in Trump's good graces (or, at a minimum, to profit off his supporters).
In conclusion, I would note that we here at OTB have noted Sarah Palin's vacuity for years, and some readers often rebelled against those critiques. However, I would argue her actions in this case underscore that our critiques were fully warranted.