An Observation about American Democracy
The ongoing Republican debacle and what it says about representative democracy in the US.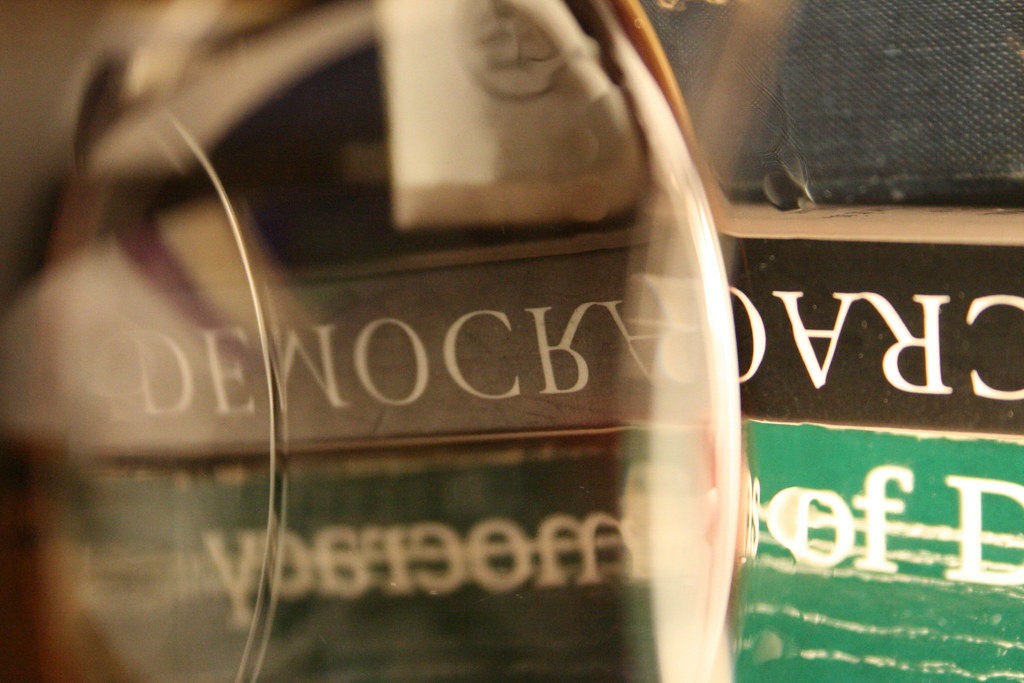 There are a variety of reasons to be unhappy with the current inability of the House Republican caucus to elect a Speaker of the House, including the rather obvious fact that electing a leader is one of the most fundamental legislative tasks for the majority party to perform. Indeed, it is a massive signal of the utter dysfunction of the party that they cannot organize themselves in this most basic of ways. In a rigid two-party system it is a national necessity that both parties be able to function at minimal levels at the very least. The lack of ability to cohere around a leader is made all the worse given a looming budget crisis and two international crises that require US attention, one of which emerged whilst party leadership (I use the term advisedly) continued to demonstrate an inability to count to 217.
I am disturbed not only by the general inability of the Republican Party to perform the minimal task of party existence, but on the macro level I also know that the likely democratic feedback needed to correct this behavior is going to be less efficacious than is we, as a country, need.
By this I mean, that if we had representative and competitive elections in the US, the chance that the GOP, especially some of its more problematic members would be exposed to having, at the very least, to explain themselves to the public as to why they can't elect a leader (I keep harping on this because it is so very basic–we aren't talking about fixing the tax code, addressing spending bills, or anything complicated here).
Indeed, they should have to explain how in the world they a) agreed to a plan that allowed a small minority of the party to blow up the chamber in the first place, and b) decided that a guy with practically no legislative accomplishment was chosen to be Speaker of the House designate (for a dew days, anyway).
Note this from WaPo a few days ago: Jim Jordan's remarkably thin legislative track record.
Critics of Rep. Jim Jordan (R-Ohio) have increasingly pointed to this — most notably the fact that he has yet to get a bill signed into law since being elected in 2006.

[…]

The most oft-cited data on legislative success comes from the Center for Effective Lawmaking, a joint project of Vanderbilt University and the University of Virginia.

[…]

CEL data have routinely ranked Jordan near the bottom of the House when it comes to his effectiveness. To wit:

Last Congress, only four lawmakers ranked below him.
He has ranked in the bottom five among House Republicans each of the past four Congresses.
He has ranked in the bottom quarter of House Republicans in every full Congress he served in.
Before this Congress, its data don't record any bills Jordan sponsored passing or receiving any action — whether in committee or on the floor.
Not to harp too much on Jordan, but not only does his legislative record somewhat explain his inability to get the needed votes for Speaker from his caucus (as well as the general folly of his approach to whip those votes) but it is a damning notion that the party tried (thrice!) to make a guy who barely legislates into the Speaker of the House, a job whose core job is moving legislation.*
Setting aside the specifics about Jordan (who hails from a super-safe Republican district, having won re-election by almost 40 points in 2022), the problem with all of the poor behavior by the party is that, as I frequently note (for example), electoral competition in the US is anemic at best.
Here's the breakdown (from Ballotpedia) of 2022.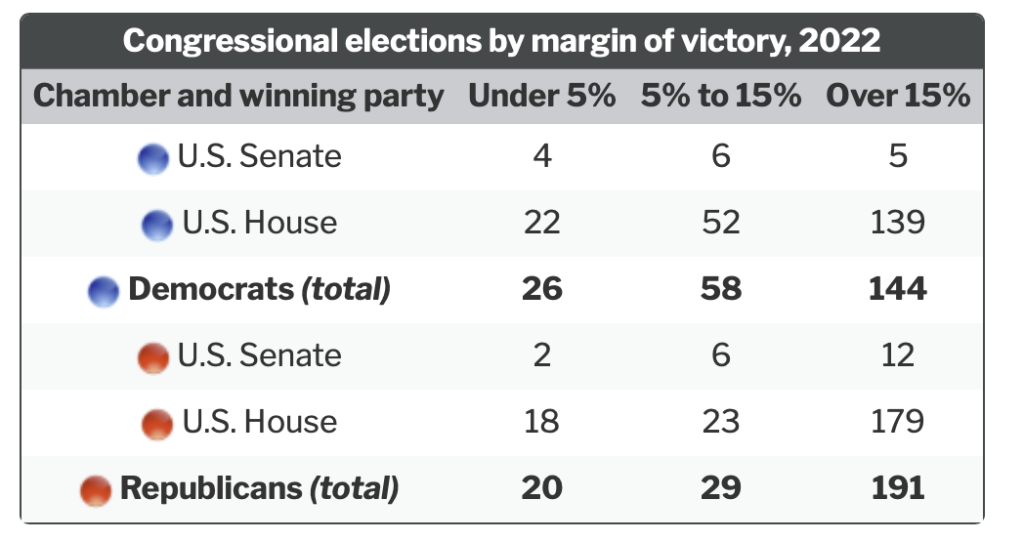 So, I don't think it is a coincidence that the breakdown of competitive vs. noncompetitive Republican seats does look all that different from the votes for Jordan as Speaker (via the NYT).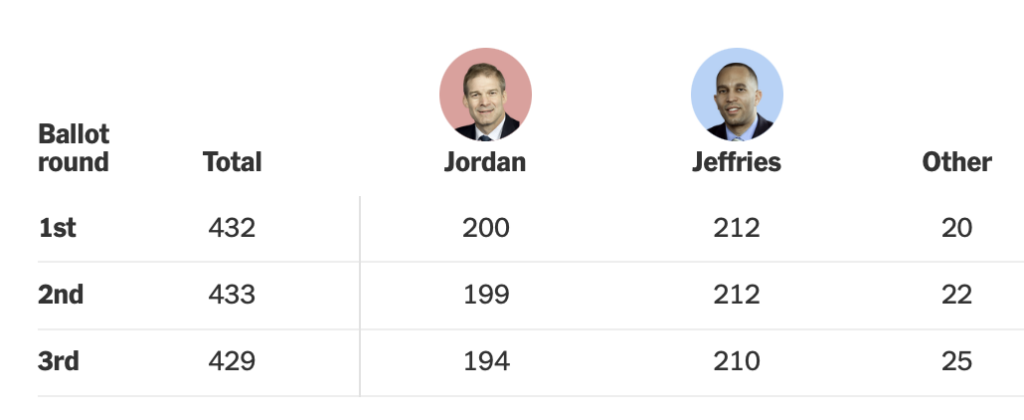 I will note, that the correlation of competitive seats to votes against Jordan is not perfect. For example, Lauren Boebert won re-election with only 0.17% of the vote, and yet she has been a pro-Jordan vote. But, of course, she is not going to go into 2024 by trying to moderate. Her brand is what it is and so no amount of electoral competition will get her to change her tune.
But, in looking at all members of the House who won their election by five points or fewer, I would note the following when looking at Republicans. Seven of the not-for-Jordan votes (more than needed to stop Jordan's acquisition of the speakership) were by Republican House members who won their seats by fewer than 5 percentage points. They also were from districts where Biden won in 2022 (and all but one was from a state Biden won). These are members who know that their re-election chances could very much be jeopardized by voting for a Speaker whom many/the majority of their constituents would likely view as unacceptable.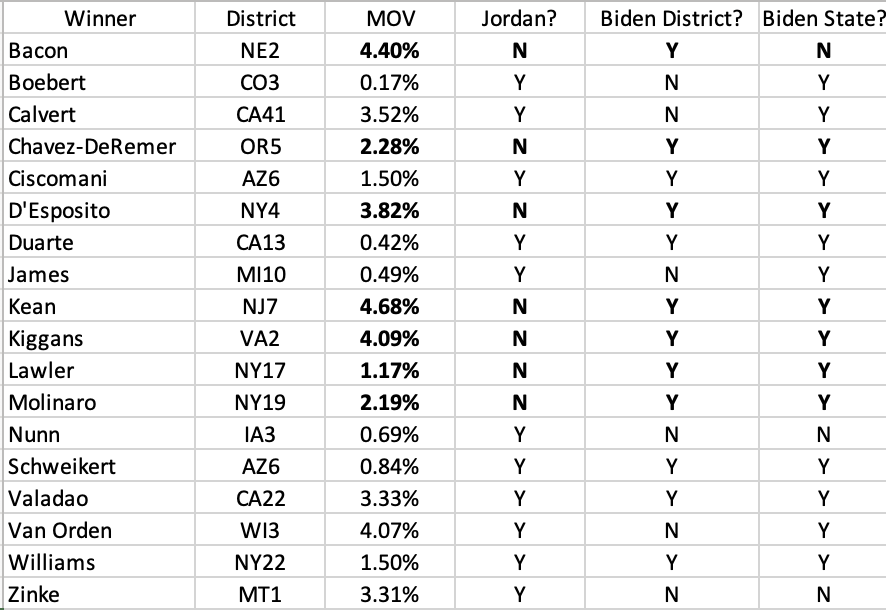 I would argue that these members, with clear electoral stakes affecting their calculations, formed the foundation for opposition to Jordan, which in turn allowed several other members of the caucus to also vote "no" knowing that he wasn't going to win (although I do think it is possible that some of them also voted no for any number of principled and/or political reasons).** There were two additional anit-Jordan votes from Republican members who represented Biden-winning districts (Fitzpatrick from PA01 and Lakota from NY01) although they both won their seats by large margins (each almost won 12%, which might be enough to give them some level of comfort).
No doubt some of the narrow winners in my table above voted for Jordan for ideological or other reasons (perhaps they fear being primaried).
So, the good news is that we can see here some level of democratic feedback in action. The bad news, however, is that all of this is affecting individual behavior and not the party as a collective whole. While some members of the Republican caucus can see a direct link between voters and their political careers, the party as a whole is largely insulated from such feedback (again, 191 of them won their seats by 15% or more). Indeed, not only do not they fear their district's electorates if they fear anyone it is the far smaller, and likely more radical, primary electorates in their districts. This is not a healthy democratic feedback loop.
At any rate, my overall point is that the general fear of electoral punishment for the party as a whole is low given the utter lack of competitiveness in most districts. This is owing to a combination of a too-small House, primaries, and the usage of single-seat districts to elect members (gerrymandering makes it worse, especially in some states, but it is not the main culprit).
A party that cannot perform basic functions should fear voter opprobrium, but there is nothing in our system that really would promote such correctives. Instead, we have to hope that the fortunes of a handful of members of Congress manage to send a message to the broader party. However since the system only sends signals primarily to individual members and not the collective whole, I am not sure if the right message will be sent.
And look, of course, there are plenty of Republican voters out there who are fine with the circus, not to mention a lot of voters writ large who don't really understand the depth of stupidity/incompetence on display by House Republicans at the moment. But it is inalterably true that our overall electoral system and governing structures do not provide any way to provide electoral accountability for this mess. At a minimum, if the president had to be won by the party that got the most national votes it would be a start as it would give voters some ability to reward or punish parties who can't get their basic act together.
But some form of proportional representation that allows for vote preferences to be truly registered in elections for the House is something we desperately need if we want real electoral accountability and parties that know they have to adapt to competition so as to win (this is key to healthy representative democracy). Further, we need a system that provides real incentives for new parties to form–especially since it is increasingly obvious that we have the basis for more than two parties. The Republican inability to coalesce around a leader demonstrates this fact pretty clearly.
---
* And I won't even get into the bizarre political move (IMHO) of nominating a guy for Speaker who has been accused of ignoring sexual abuse while a wrestling coach at Ohio after having had a Speaker (Dennis Hastert) who admitted to serial sexual abuse while he was a high school wrestling coach. Not only is it, in my view, morally problematic (to put it mildly) for Jordan to be in the House, let alone in a position of leadership, but from a purely political POV, it struck me as simply dumb for the Republicans to allow part of the story of the Speaker of the House to be about molestation.
**WaPo does a pretty good job of detailing and categorizing the group of GOPers who voted against Jordan: The surprising group of Republicans who kept Jim Jordan from becoming House speaker.