Jim Jordan Wrestling His Way to Speaker [Updated]
The crazies are this close to a complete takeover.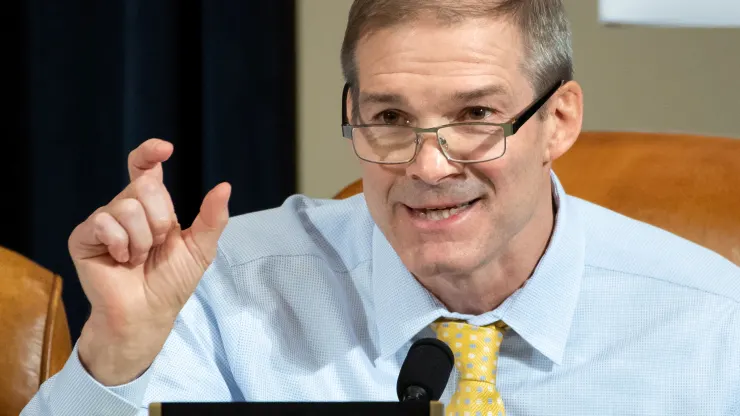 POLITICO Playbook ("Jim Jordan's day of reckoning"):
We can't believe we're writing this, but Washington is waking up this morning to the real possibility that it will end the day with Speaker JIM JORDAN wielding the House gavel.

It's by no means a sure thing, and we'll get into all that in a moment, but it's worth reflecting on the mere possibility that the conservative movement's most relentless brawler stands on the cusp of the speakership and all that it entails — a place in the presidential succession, Oval Office meetings, photo ops with global leaders, a portrait in the House lobby and real, undeniable power.

Should Jordan ascend into the speakership, it would mark the culmination of a near-decadelong power grab by the far right and the breaching of a new frontier for MAGA's reach inside the Capitol. It was Jordan who helped organize a band of misfit conservatives into the House Freedom Caucus, using their voting cards and the fire of the conservative grassroots to push GOP leadership to new ideological extremes, while setting their sights on committee seats, then chairmanships and leadership posts, and now the speaker's gavel itself.

That power was put on display yesterday, in a remarkable cascade of caving from mainstream House conservatives who have aired grave concerns with Jordan, who has spent his career in the partisan hothouses of the Judiciary and Oversight committees, not in the clubbier confines of Appropriations or Ways and Means, where angles are worked and deals are cut.

First went House Armed Services Chair MIKE ROGERS (R-Ala.), who was thought to be plotting with appropriators and other defense hawks to block Jordan from the gavel. Then Jordan flipped another big fish: Rep. ANN WAGNER (R-Mo.), who last week said she was a "hell no" after accusing Jordan of sabotaging her friend STEVE SCALISE's speakership bid.

So followed Reps. KEN CALVERT (R-Calif.), VERN BUCHANAN (R-Fla.), and DREW FERGUSON (R-Ga.) — all Jordan skeptics we'd been watching closely — and by the evening he'd even picked up a key frontliner, Rep. MARC MOLINARO (R-N.Y.), who declared, "We have to get back to governing."

To be sure, Jordan still has work to do. He didn't have the necessary 217 votes as of last night. Reps. CARLOS GIMENEZ (R-Fla.) and MIKE LAWLER say they'll call KEVIN McCARTHY name at the noon vote, while Reps. MARIO DIAZ-BALART (R-Fla.) and MIKE KELLY (R-Pa.) are planning to shout Scalise. Rep. DON BACON (R-Neb.) said he's "not budging," while Reps. KEN BUCK (R-Colo.) and JOHN RUTHERFORD (R-Fla.) said they're still in the no column.

Jordan can afford to lose only four Republicans, and many more are waiting to announce their intentions — with many of those bristling at the intense pressure campaign they're facing from Jordan's fans in the GOP base, some campaign donors and even media figures like GLENN BECK and SEAN HANNITY, who called the holdouts "sensitive little snowflakes" on his Fox News program last night.

Still, Jordan allies think they've got this. Some members might want to blow off steam on the initial vote, the thinking goes, denying him the honor of a first-ballot victory. But they are confident he'll get there eventually — and well before the 15th ballot. Most, though not all, closet Jordan critics privately told us much the same — they think he'll have the gavel tonight.
While this outcome seemed incredibly unlikely just 24 hours ago, it makes sense. The crazies have literally taken the caucus hostage:
But in making calls last night, we did pick up a note of high tension around how this whole thing has gone down. Conservatives have effectively taken the gavel hostage, refusing to give it to anyone except one of their own — tactics that should be plenty familiar to anyone who has followed Jordan's career.

As of last night, it seems as though many of his longtime critics are going to do what they've always done: fall in line while bitching privately about the hard right's antics.
When every vote matters, the craziest people have all the power. The normies need to get the Congress open for business to deal with things like passing a budget and funding support for Israel while the nuts are happy to let the whole thing burn down if they don't get their way.
But the cost of capitulating is high:
But if things do fall apart today, it will be that dynamic driving the backlash — you either stand up to minority-of-the-majority rule now, or never.

It's hard to underplay the stakes. Electing a Speaker Jordan would mean installing a firm DONALD TRUMP loyalist atop the House — one even more willing to embrace the former president's desires and tactics than McCarthy was, a "significant player" in the plan to undo JOE BIDEN's presidential victory.

It's easy to imagine the House moving appropriations bills that would defund DOJ's Trump probes or zero out various Biden Cabinet officials' salaries. Or voting to impeach Biden. Or shutting down the government over policy fights with Democrats.
None of that will get through the Senate, much less get President Biden's signature. But for those interested in performance and happy to wreak havoc, it's all in good fun.
Jordan has virtually no relationships with key leaders he would be negotiating with on a regular basis. In addition to leading attack after attack on Biden, he's led a cadre of conservatives that has long pummeled Senate Minority Leader MITCH McCONNELL as an establishment pushover. And he's had little to no dealings to speak of with HAKEEM JEFFRIES, the House's top Democrat.

That's to say nothing of the politics. Democrats are salivating over prospect of saddling vulnerable Republicans with Jordan's record — from his history opposing abortion rights and pushing entitlement cuts to his links to the Ohio State University sexual abuse scandal that he has figured into. Already the DCCC is blasting swing-district Republicans as "spineless" and kowtowing to "a Trump-endorsed extremist."

As Rep. DAN KILDEE (D-Mich.) quipped to us in the hallway yesterday, "There's probably only one Republican who could be worse for Republicans: GEORGE SANTOS."

All of this will be weighing on wavering Republicans as they vote today.
Some sort of coalition government that relies on Democrats voting "Present" would surely be a better outcome for the party—not to mention the country—than a Speaker Jordan. But it sure looks like we're going to find out.
UPDATE (1346): There are enough (20 at this moment) Republican votes for other-than-Jordan that he won't make it on the first ballot. Time will tell whether those folks cave in subsequent rounds or Jordan's bid is ultimately defeated.
Oddly, both Kevin McCarthy and Steve Scalise voted for Jordon, with the former not only predicting that he'll ultimately prevail but vowing, "I'm doing everything I can to help him."
Amusingly, if votes for Speaker were under the first-past-the-post rules used for many American offices, Hakeem Jeffries would have won since he got more votes than Jordan.
UPDATE (1402): Here's the final tally via NYT: