Could Kevin McCarthy's Replacement be . . . Kevin McCarthy?
One of the worst movies in memory may be getting a sequel.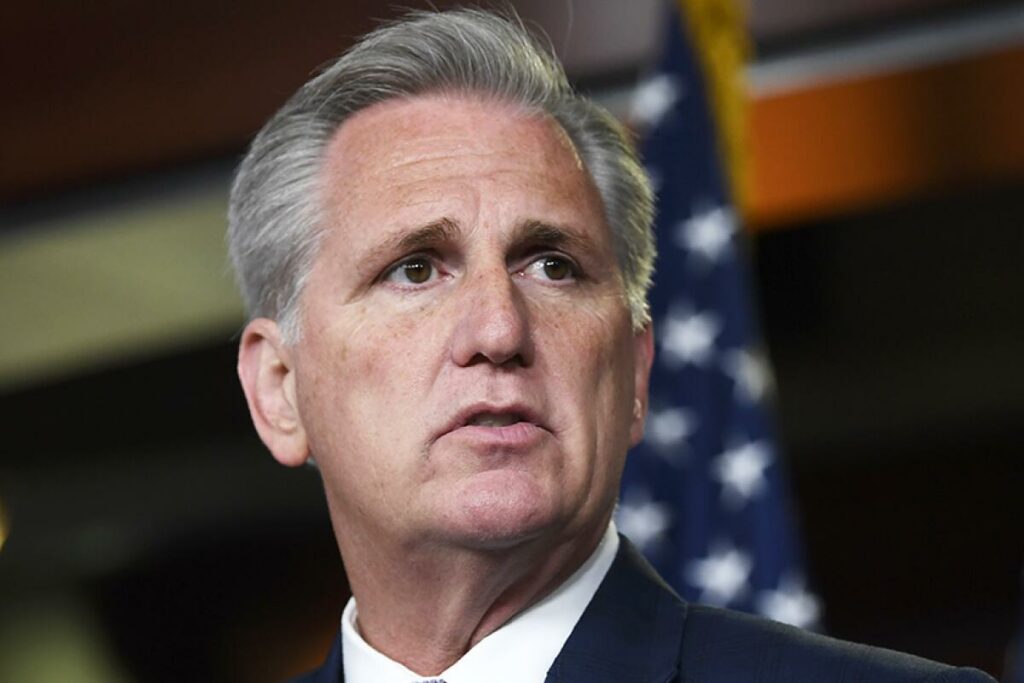 POLITICO ("McCarthy loyalists vow to draw out painful speakership battle"):
A bloc of Kevin McCarthy's most vocal GOP supporters, many of them centrists, are vowing to nominate the former speaker to return to the job and support him for as long as they can.

Three House Republicans involved in the effort to return the gavel to McCarthy — which is flaring up just a week after his historic ejection — say they expect dozens of colleagues to initially vote for the Californian during this week's internal conference debate over speaker candidates.

Their plans depend on whether McCarthy is nominated, as expected, and may prevent either of the declared candidates to replace him — Majority Leader Steve Scalise of Louisiana and Jim Jordan of Ohio — from garnering a majority on the first ballot.

Many McCarthy supporters haven't received instructions from the former speaker, such as an edict to stop their work on his behalf and throw their support behind Jordan. But some have back-channeled through Reps. Garret Graves (R-La.) and Brian Fitzpatrick (R-Pa.), two close McCarthy allies, as they push for his reinstatement as speaker.

"I believe that Kevin McCarthy will allow himself to be put on the ballot," said Rep. John Duarte (R-Calif.), who is among the pro-McCarthy stalwarts.

Republican lawmakers are scheduled to meet Tuesday evening for another forum on the internal speakership election that's expected to take place on Wednesday, though neither Scalise nor Jordan has the votes to win the speakership on the House floor — and, importantly, McCarthy does not have the votes he'd need either. That emotional limbo is particularly problematic for House Republicans who would otherwise welcome the chance to move quickly on helping Israel beat back weekend attacks by Hamas.

While the conference remains polarized, Duarte joined GOP Reps. Carlos Gimenez and John Rutherford of Florida in making their plans clear during a closed-door House GOP conference meeting Monday night, according to three GOP lawmakers.

Rutherford warned his fellow Republicans that he was prepared to keep voting for McCarthy over and over, suggesting that the former speaker's still livid supporters are ready to hold out for some time in order to undercut the other candidates.

Some centrist House Republicans have raised concerns about electing Jordan, an original cofounder of the ultraconservative Freedom Caucus, as speaker. But McCarthy supporters are especially wary of Scalise, a longtime rival of the former speaker, taking over the conference.

"It is clear McCarthy supporters feel Scalise undermined him and left him when he needed his help," said one centrist House Republican who was granted anonymity to discuss internal conference dynamics.

But supporters of the long-shot effort to reinstall McCarthy as speaker also know that no candidate, including their preferred choice, can win the job at this point.
POLITICO ("GOP holds emotional meeting on next speaker — but fails to unite on one"):
House Republicans huddled Monday for an emotional venting session over the party's leadership crisis. But two days before a planned vote, they appear nowhere near uniting behind a new speaker.

Multiple GOP lawmakers described it as a mostly civil, yet cathartic, meeting ahead of an intense week in which House Republicans are slated to crown their next GOP leader. One member called it a "therapy session." Yet some in the room made pointed comments at the eight members in their party responsible for ousting former Speaker Kevin McCarthy last week.

"There's definitely frustration toward those eight people," Rep. Marjorie Taylor Greene (R-Ga.) said after the two-plus hour meeting. "There were quite a few people who said they're not ready to move forward."

Republicans are facing steep pressure to choose their speaker quickly as the U.S. seeks to respond to the deadly attacks in Israel, as well as a looming government funding deadline next month. Several senior Republicans stood up to stress the urgency of various crises facing the U.S. — from the Israeli attacks to the border to inflation — as a plea for coming together as quickly as possible to elect a leader.
WaPo ("House Republicans brace for drawn-out speaker fight"):
Several moderate Republicans welcomed McCarthy's projected openness to returning to the speakership, stressing that he remains the only viable Republican who can lead during this time. Many echoed McCarthy, who said that he maintains the support of "96 percent" of the members of the House Republican Conference and that the remaining 4 percent who ousted him are "playing politics."

After McCarthy's news conference Monday, Rep. Nick LaLota (R-N.Y.) said on X, formerly known as Twitter, that the former speaker "is acting with class and confidence and in the best interests of America." Rep. Michael Lawler (R-N.Y.) said he believes McCarthy should be reinstated.

"Obviously, anything's possible in this place. But I think when I have spoken to my colleagues, the vast majority of people are angry. They're disgusted by what happened," Lawler told reporters. "As I said, it is the single most destructive thing I've ever seen in politics. And it doesn't even make sense."

McCarthy's comments come amid genuine concerns in the GOP conference that neither Scalise or Jordan can garner the necessary 217 votes to become speaker. Moderate Republicans, some of whom represent swing districts that President Biden won in 2020, remain skeptical that Scalise or Jordan would represent their interests if elected speaker, given that both are extremely conservative.

More-moderate Republicans who have served in Congress alongside Scalise say privately that he has not shown much openness in the past to legislating with their concerns in mind, according to several Republican lawmakers, who like others spoke on the condition of anonymity to discuss private conversations. Scalise also has co-sponsored many conservative bills, including several that are antiabortion, and those lawmakers worry he would put those bills on the floor, making for tough votes that could hurt their chances at reelection next year.
It's not obvious to me that any candidate will be able to get near-unanimous support from the Republican Caucus and there remains an unwillingness to get McCarthy or another candidate with 95% GOP support across the finish line with Democratic votes. But something has to give, soon, with multiple overlapping crises underway or on the horizon. Aside from the wars in Ukraine and Israel, there is the matter of a government shutdown on November 17 if either a budget or another CR isn't passed.
Alas, the ones that are less phased by catastrophe are the radicals who voted McCarthy out to begin with. It's hard to see how they turn around and vote for him to be re-installed—almost certainly under less onerous constraints than the first time.
The obvious workaround is a European-style coalition between Republican and Democratic moderates. But that strikes me as a pundit's fantasy or a West Wing script, not a realistic possibility.