Angle Attorney: Reid Intends to Steal Election
Sharron Angle's attorney is charging that "Harry Reid intends to steal this election if he can't win it outright." She touts various "shenanigans" in a fundraising letter.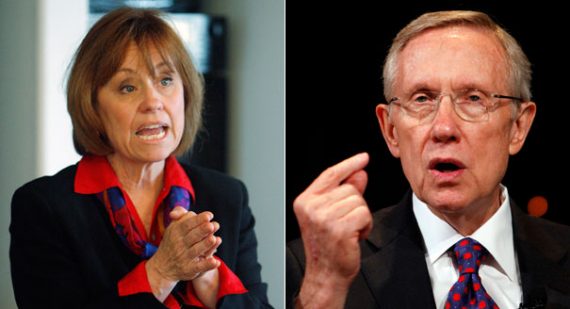 Sharron Angle's attorney is charging that "Harry Reid intends to steal this election if he can't win it outright."  She touts various "shenanigans" in a fundraising letter.  Combined with yesterday's charges that electronic voting machines are rigged to automatically vote for Reid, an already ugly race is getting uglier.
As Sharron Angle's campaign attorney, I am sorry to report that the Democrats and their cronies are up to their same old tricks, of trying to manipulate the election in hopes of skewing the results in their favor.

Two days ago, the Democratic Secretary of State announced that voters can be provided "free food" at "voter turnout events." Harry Reid has been offering free food and, according to other reports, some Democratic allies such as teachers' unions are offering gift cards in return for a vote for Reid.

Before we were even able to document the reported infractions to report to the authorities, the Democrat Secretary of State slammed the door shut on preventing this behavior and issued a public statement permitting these ACORN-style tactics. THESE are the kinds of shenanigans that can turn this race.

Harry Reid intends to steal this election if he can't win it outright. As a result, we need to deploy literally dozens of election law attorneys and poll watchers to combat these tactics at a cost of nearly $80,000. That's over and above our current budget. We need to raise $80,000 and we need to do it RIGHT NOW, because even as I am writing this, Harry Reid and his Machine are trying to steal this election. I'm sorry that we have to come to you yet again and ask for you to reach deep and contribute, but we must.

Understand, EVERYTHING we have worked for in the last year could be destroyed by dirty tricks and criminal acts in the next 8 days. As Sharron's first line of defense on these matters I am absolutely committed to making sure this won't happen.
Ross Miller, the Nevada Secretary of State, has issued an official statement encouraging "anyone with information regarding 'vote buying' to contact the Election Integrity Task Force" and insisting that "To date, no such complaint has been submitted to this office."    However, he notes that giving out free food, offering rides, giving time off for work, throwing parties, and the like are not violations of state law "so long as the activity is not corrupt in nature, meaning it is not connected to any specific candidate and does not compromise the will of the elector."
I'm not a fan of walking around money, free meals, and other aggressive get-out-the-vote efforts, which strike me as unseemly and counter to the spirit of elections in an advanced society.  But they're generally not illegal unless there's a quid pro quo.  That people who wouldn't have bothered to vote on their own might be more likely to vote for Harry Reid because they've been given $20 or a free meal by someone in a "Vote Harry Reid" t-shirt is on this side of "corrupt in nature" under the law.
MoJo's Suzy Khimm says,
Angle may the first major candidate to accuse her opponent of stealing the election outright this year, but it's unlikely that she'll be the last. A growing number of Republicans in tight races have taken up the crusade against voter fraud, including Mark Kirk, who's planning a large-scale operation to send poll watchers and lawyers on Election Day. In the meantime, it's also a good way to stoke the conservative base, which is already primed to believe that union thugs and New Black Panther wannabes will steal the election anyway.
It goes both ways.  Every cycle, Republicans charge Democrats with shady practices designed to get ineligible people to vote for their candidates while Democrats charge Republicans with trying to stop minorities from voting.    Aside from isolated incidents by overzealous low level campaign workers, these charges are always overblown but they have the desired effects of muddying the waters and stoking the base.
What's particularly odd in this case is that Angle has been favored to win this race for some time.  Despite holding only a very narrow lead in all the polls, the lead has been consistent. Nate Silver currently projects a 72.7% chance that Angle beats Reid.    If, however, Reid pulls an upset, the seeds have been sown for a bitter recount fight and charges of a stolen election.