Another Blow to Accountability in Government
Trump fires another Inspector General.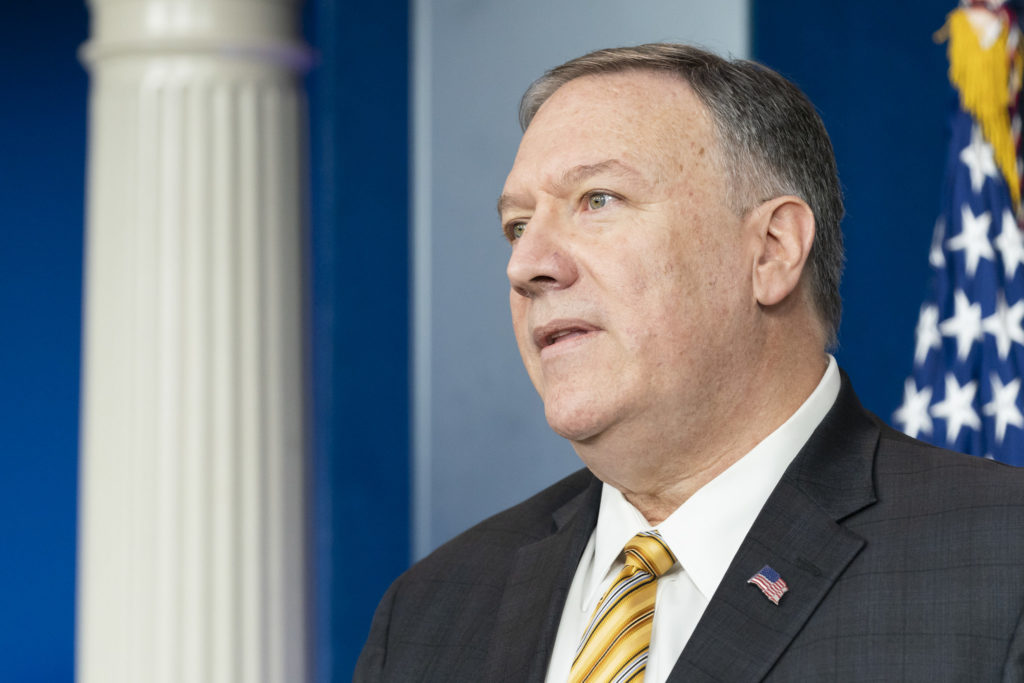 Via WaPo: Trump ramps up retaliatory purge with firing of State Department inspector general.
President Trump accelerated his retaliatory purge of public servants by firing the State Department's inspector general, who had played a minor role in the president's impeachment proceedings and was said to have begun investigating alleged misconduct by Secretary of State Mike Pompeo.

Acting on Pompeo's recommendation, Trump abruptly terminated Steve A. Linick late Friday night, again challenging established norms of American governance in his push to rid the federal bureaucracy of officials he considers insufficiently loyal to or protective of him and his administration. Trump replaced Linick with Stephen J. Akard, a trusted ally of Vice President Pence and the diplomat who directs the Office of Foreign Missions. He also replaced the acting inspector general at the Department of Transportation on Friday night.
Because, of course, what you want is for the target of a probe to be able to fire the person who is investigating them. Further, the idea of putting loyalists into these positions is simply corrupt. IGs exist to protect the people of the United States from corrupt actions within our government, not to ensure that the political appointees of the president are protected.
Inspectors general serve as internal government watchdogs conducting oversight of federal agencies — and although they technically are political appointees, their independence has long been protected. Trump's move — his fourth such firing during the coronavirus pandemic — drew swift condemnations from Democrats and at least one Republican on Capitol Hill.
The Republican was Romney:
Sen. Mitt Romney (R-Utah) wrote Saturday evening on Twitter: "The firings of multiple Inspectors General is unprecedented; doing so without good cause chills the independence essential to their purpose. It is a threat to accountable democracy and a fissure in the constitutional balance of power."
Indeed.
As to why this IG may have lost Trump's "confidence."
Some of Linick's recent investigations have been critical of the State Department's management and caused consternation among Trump's political appointees there. He has been perceived as a persistent thorn in the side of the administration under Pompeo.

Linick had recently launched an investigation into the use of a Schedule C employee by Pompeo and his wife to conduct personal activities, according to lawmakers and people familiar with the inspector general's office. A Schedule C employee is a non-career official working directly for a presidential appointee.
Trump has done serious damage to the career civil service and is leaving a huge mess that needs to be cleaned up but will be hard to easily fix. Four more years of a Trump administration and internal checks on political appointees may be wholly hollowed out. Anyone out there who claims to believe in limited government, or just basic rule of law, ought to be quite concerned about this.
Quite frankly, we need Congress to pass better protections against these kinds of actions, but expecting Congress to act in such a fashion is likely mere hopefulness. The Trump administration has clearly demonstrated that we need stronger laws governing control of the civil service, including stronger protections for whistleblowers and those charged with oversight powers. We definitely need improved rules about interim/acting replacements in various parts of government, both civil service positions and political appointments,
Linick's firing is the latest in a series of moves by Trump since the Senate voted in February to acquit him in his impeachment trial. The president has vowed repeatedly to destroy what he calls the "deep state" by removing government officials he believes conspired against him in the impeachment proceedings or are otherwise disloyal.

"I never knew the swamp was so bad," Trump said at the Conservative Political Action Conference on Feb. 29, about three weeks after his acquittal. "It's really bad. . . . A lot of dirty people. A lot of very bad people. A lot of bad people. And I think justice will be had."
Quite clearly "bad" and "dirty" means not loyal to Trump.
In recent weeks, Trump has ousted three other internal government watchdogs. The president fired the intelligence community's inspector general, Michael Atkinson, who had handled the explosive whistleblower complaint that led to his impeachment.

Trump also pushed out Glenn Fine, chairman of the federal panel Congress created to oversee his administration's management of the government's $2 trillion coronavirus stimulus package. And he removed Christi Grimm as principal deputy inspector general for the Department of Health and Human Services, after Grimm's office criticized the administration's response to the pandemic.

Trump also made a change at the Department of Transportation.
More details at the link.
Note:
There is no modern precedent for so many firings of inspectors general in such a compressed time period. Obama fired one inspector general, citing job performance issues. President Ronald Reagan tried to remove several but reversed himself after aides told him that watchdogs are not political appointees in the traditional sense.
Let that sink in and compare to what is cited above.
All of this sends a signal: if an IG seeks to actually do their job in a way that runs afoul of the administration, they will lose their job. And while otherwise moral individuals might seek to do their jobs to the best of their abilities even under those pressures, that kind of environment will clearly cause people to second guess themselves. With mortgages and college tuition payments on their minds, how many will simply hunker down and not pursue corrupt actions under such conditions?
We want to incentivize appropriate investigations of wrong-doing, not disincentivize them.
This is moral rot within our government, plain and simple. And it is one of the numerous reasons why electing an immoral huckster to the presidency is a really terrible idea.
To many, this is probably a boring story about the boring bureaucracy (I mean, who likes bureaucrats anyway?). But this kind of erosion of the basic functioning of government is hugely important. We need a functioning civil service and we especially need non-political entities keeping track of corrupt practices by those in positions of power. It is basic rule of law stuff.