Another Republican Demographic Problem: The Gay Vote
Republican opposition to same-sex marriage is costing it yet another demographic group.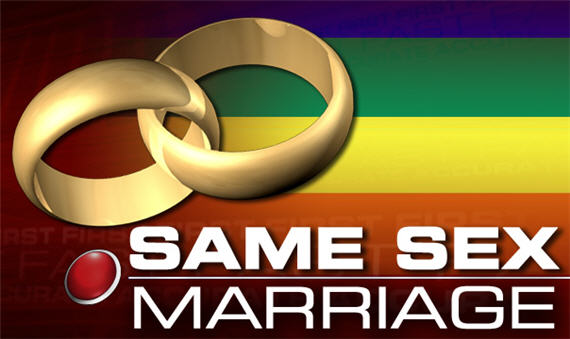 We've heard much in the past week about the importance of various demographic groups toward President Obama's re-election victory, ranging from Latinos, to African-Americans, to women, to Asian Americans. Today, The New York Times' Micah Cohen notes that there's another group of voters that played a crucial role in President Obama's victory, and it's one among which the Republican Party has a tremendous disadvantage:
While President Obama's lopsided support among Latino and other minority voters has been a focus of post-election analysis, the overwhelming support he received from another growing demographic group — Americans who identify as gay, lesbian or bisexual — has received much less attention.

But the backing Mr. Obama received from gay voters also has a claim on having been decisive. Mitt Romney and Mr. Obama won roughly an equal number of votes among straight voters nationwide, exit polls showed. And, a new study argues, Mr. Romney appears to have won a narrow victory among straight voters in the swing states of Ohio and Florida.

Mr. Obama's more than three-to-one edge in exit polls among the 5 percent of voters who identified as gay, lesbian or bisexual was more than enough to give him the ultimate advantage, according to the study, by Gary J. Gates of the Williams Institute at the U.C.L.A. School of Law, in conjunction with Gallup. The results are consistent with earlier research on the size and political beliefs of gay voters.

Gay voters are another demographic group — along with African-Americans, Latinos, Asian-Americans and Jews — in which Democrats have been winning big victories over Republicans. Some of the groups are small, but together they make up about one-third of the electorate, forcing Republicans to win large victories among the remaining two-thirds of voters to win elections. By comparison, white evangelical voters, who vote overwhelmingly for Republicans, make up about one-fourth of the electorate and are not growing as rapidly.

As with Latinos and Asian-Americans, the number of voters who identify as gay appears to be growing. Only 1.9 percent of Americans over 65 identify as gay, lesbian or bisexual, according to the Gallup survey, while 3.2 percent of those between 30 and 49 and 6.4 percent of those between 18 and 29 do.

"In the younger population, there is a much wider range in the geography and ethnicity of those who are identifying as L.G.B.T.," Dr. Gates said, using a common term for lesbian, gay, bisexual or transgender. That range now extends well beyond major cities and into multiple swing states.

As Republicans plan to reach out to Hispanic and Asian-American voters, another question is whether they would also help themselves by improving their standing among gay voters. Some analysts say Republicans should try to do so, in part to win over some moderate straight voters, while others see any such effort as having more risk than upside.

Research by Patrick J. Egan, a professor of politics and public policy at New York University, suggests that gay voters may prove difficult to bring into the Republican tent. Many gay voters "aren't swingable because they have liberal positions on a whole bunch of issues besides gay rights," Dr. Egan said.

Exit polls showed that 76 percent of voters who identified as gay supported Mr. Obama last week, and that 22 percent supported Mr. Romney. Among straight voters, each candidate received 49 percent of the vote.
Christopher Barron, co-founder of the gay conservative group GOProud had this comment about the report:
Mitt Romney won a majority of straight voters in Ohio and Florida but LOST both states because of the gay vote, which went to President Obama by a 76% to 22% margin. The Republican Party must deal with modern political realities, and one of those realities is that LGBT voters make up 5% of the electorate. We can not continue to take a beating among gay voters if we hope to win.
Of course, this will require some significant changes in policy on the right if they are even going to make an effort to try to attract gay, lesbian, and bisexual voters who might be sympathetic to conservative arguments in the economic field. Quite obviously, the opposition to same-sex marriage is going to have to go first off all. Given the fact that support for marriage equality is now the majority position in the United States, though, this would seem to be smart politics as much as anything else. In addition to being a necessary prerequisite for even beginning to open a bridge to the gay community, it's also something that the GOP is going to have to do if it is going to have any hope at all of becoming relevant among younger voters, for whom support for same-sex marriage is as axiomatic as the sun rising in the morning.  We're likely even past the time where the federalism argument — that each state should be allowed to decide whether same-sex marriage should be legal — isn't going to be enough for the GOP anymore. After all, why should Americans in Alabama not be entitled to the same rights as Americans in New York, Maine, Iowa, or any of the other states where same-sex marriage has been legalized? Intellectual conservatives will come up with a dozen arguments to answer that question, but I doubt that a single one of them would sell in a political context. Face it Republicans, we've crossed the Rubicon. Same-sex marriage is going to be the law of the land sooner or later, and you can either try to stand in the middle of the creek trying to stop the flood that's approaching you, or you can accept reality.
A policy shift like this is going to be difficult for the Republican Party. The history of opposition to same-sex marriage, while relatively recent in an historical context, is fairly well ingrained in party orthodoxy and any change in that policy is going to be hard for Evangelicals and social conservatives to accept. In the end, though, the GOP is going to have to accept simple political reality. The war against same-sex marriage is over, and the opposition has lost. The final surrender may still be years away, but it is going to come, and there's no rational reason for a national political party to be on the losing side of this debate. Besides which, Republicans can't really afford to piss off any more demographic groups at this point.