Are Special Forces Special Enough?
US Army Special Forces are the best we have at working with far-flung villagers. Are they good enough?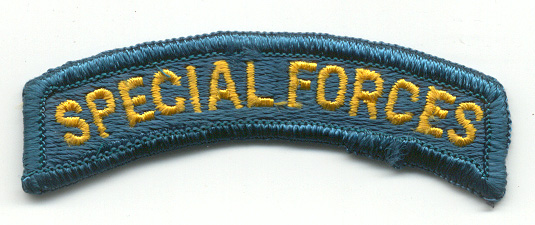 In a World Politics Review column titled, "Special Forces, or the Danger of Even a Lot of Knowledge," former Army Ranger and current Middle East policy expert Andrew Exum argues persuasively that special operations forces have far less regional and cultural knowledge than they're given credit for. This is important, Exum explains, because it's easy to assume that a crash course in the local language and mores combined with some time in country allow people to make more nuanced judgments than they're truly qualified to make.
Driving his point home, though, I believe Exum takes it too far:
The more time an outsider spends in a complex environment like Yemen, though, the more he or she is humble about what he or she can know. The best Yemen analysts I know — men and women who have spent years in the country and additional years spent learning Arabic — are among the most cautious when it comes to proclamations about the country's people, tribes and politics. So when special operations commanders assure me their subordinate commanders, who might not speak Arabic fluently and most likely have not spent years in the country, really get a place like Yemen, I get nervous.

After I left the U.S. Army in 2004, I moved to Lebanon, where I spent most of the next five years earning a master's degree from the American University of Beirut, studying Arabic and doing the bulk of the field work for my doctoral dissertation on Hezbollah and the fighting in southern Lebanon during the 1990s. To this day, the more time I spend in Lebanon — and the more I get to know the real experts on the country — the less confident I grow in my own ability to "know" Lebanese politics, peoples and norms.

Each semester, I teach a block of instruction on insurgency and counterinsurgency in Afghanistan to U.S. military officers who, having volunteered to serve in Afghanistan and Pakistan as part of the "Af-Pak Hands" program, are learning Urdu, Dari and Pashto. And I always conclude with a warning: If these soldiers had been immersed in two years of intensive language training and an additional four years of education in the people, tribes, history and cultures of Afghanistan, at the end of those six years, they would still have only a fraction of the local knowledge of an illiterate subsistence farmer native to the region. [emphasis mine]
Having spent years teaching the basics of American politics to relatively bright American college freshmen, I'm highly dubious of this assertion. Despite having spent eighteen years living in America, twelve of them in the American school system, very few of these students had even a basic understanding of how our system worked before the class began. They had similar deficits about American history, US political economy, or American cultural norms outside of their local niche group. And these people were all functionally literate and well above the 50th percentile in intellectual capability.
The fact of the matter is that most people–even most intelligent and literate people–pay very little attention to larger issues of politics, economics, and culture. They simply have no interest in these things and don't bother to ask even basic questions about them.
Ex is probably right that the illiterate Afghan farmer will have more "local knowledge" if one defines "local" in the narrowest of terms. He'll have relationships with and more intimate familiarity with others in the tribe or village than some newbie Green Beret. He'll even have more command of the local dialects and idiom. But that young special operator will almost surely be more knowledgeable about the issues related to local government and economics even at the provincial level, much less in relation to Afghanistan or the region as a whole. If the mission is building an effective central government and security infrastructure, that knowledge is quite important.
But is it enough? Ex argues otherwise:
For the purposes of illustration, let us consider Yemen, where the U.S. military is today waging war both directly against militant groups associated with al-Qaida as well as indirectly through the security forces of the Yemeni government. As part of that effort, U.S. Special Forces "A teams" teach, train and mentor soldiers and units within the Yemeni military, and I have heard U.S. special operations commanders express confidence that U.S. Special Forces officers "get" the country's tribal and political dynamics. These commanders have faith that their young A-team leaders can intelligently navigate the minefield that is local Yemeni politics in a way that secures U.S. interests without distorting local balances of power or incentive structures. Even when a team leader is particularly callow, they assure me, more-experienced team sergeants and warrant officers stand close by ready to assist him.
I'm not sure that knowledge is the key ingredient here so much as relationships and the trust that comes with them. Someone with extensive cultural and linguistic training could presumably pick up on the social dynamics in relatively short order. While there are some nuances unique to every situation, broad expertise can help provide a roadmap for navigating the minefields while feeling one's way around.
Ultimately, though, Ex is essentially arguing that outside intervention in tribal conflicts is absurdly complex and perilous. We simply don't have anyone more suited to these tasks than regionally specialized US Army Special Forces teams working with their counterparts in US Army Civil Affairs units and various ad hoc groupings of State Department personnel, Provincial Reconstruction Teams, and the like.
If they can't do it, I don't know who can. Most likely, the answer is: Nobody. Unless we're prepared to spend decades learning the local culture and building trust with the tribal leaders–and even the investment of decades is no sure thing, as most Western colonial powers learned–it may simply be impossible to master the nuances and necessary to transform these societies.