Are Tea Party PACs Scamming Their Donors?
Purity for profit on display.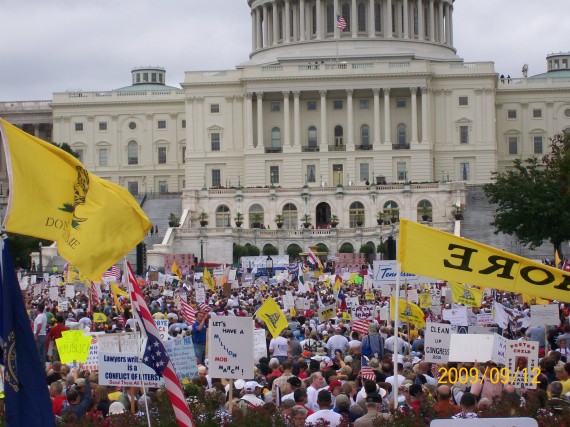 As they were in 2010 and 2012, Tea Party related groups are quite active in backing insurgent candidates in Senate and House races around the country and they raise money from their supporters based on their support for these candidates. As it turns out, though, they aren't really spending much money on behalf of these candidates:
When the Tea Party Patriots threw its support last month behind Matt Bevin, the underdog conservative challenger trying to unseat top Senate Republican Mitch McConnell, President Jenny Beth Martin vowed the group would be "putting our money where our mouth is."

So far, its super PAC has mustered just $56,000 worth of mailers in Kentucky on Bevin's behalf — less than half the amount it has paid Martin in consulting fees since July.

The Tea Party Patriots Citizens Fund, which blew through nearly $2 million on expenses such as fundraising, polling and consultants in the first three months of this year, is not alone in its meager spending on candidates.

A Washington Post analysis found that some of the top national tea party groups engaged in this year's midterm elections have put just a tiny fraction of their money directly into boosting the candidates they've endorsed.

The practice is not unusual in the freewheeling world of big-money political groups, but it runs counter to the ethos of the tea party movement, which sprouted five years ago amid anger on the right over wasteful government spending. And it contrasts with the urgent appeals tea party groups have made to their base of small donors, many of whom repeatedly contribute after being promised that their money will help elect conservative politicians.

Out of the $37.5 million spent so far by the PACs of six major tea party organizations, less than $7 million has been devoted to directly helping candidates, according to the analysis, which was based on campaign finance data provided by the Sunlight Foundation.

Roughly half of the money — nearly $18 million — has gone to pay for fundraising and direct mail, largely provided by Washington-area firms. Meanwhile, tea party leaders and their family members have been paid hundreds of thousands of dollars in consulting fees, while their groups have doled out large sums for airfare, a retirement plan and even interior decorating.

The lavish spending underscores how the protest movement has gone professional, with national groups transforming themselves into multimillion-dollar organizations run by activists collecting six-figure salaries.

Three well-known groups — the Tea Party Patriots, the Tea Party Express and the Madison Project — have spent 5 percent or less of their money directly on election-related activity during this election cycle. Two other prominent tea party groups, the Senate Conservatives Fund and FreedomWorks, have devoted about 40 percent of their money to direct candidate support such as ads and yard signs.
This isn't entirely new. Last year, Buzzfeed published a story about Freedomworks that received a lot of attention at the time. Among other things revealed by that reported were such expenditures as $8,000 for a hotel bill for Matt Kibbe, the organization's President and CEO, staff dining at fancy D.C. restaurants, at least $1,000,000 invested in the organization's partnership with Glenn Beck's The Blaze, and a microbrew bar at the organization's headquarters. All of this was paid out of funds donated by the public, but what it had to do with advancing the organization's agenda or supporting the candidates it was backing is entirely unclear. Additionally, Tom Dougherty wrote a detailed post regarding the spending habits of the Senate Conservatives Fund, the PAC founded by Jim DeMint which last year played a prominent role in bringing about the politically disastrous government shutdown. The only conclusion one can reach from Doughterty's analysis of SCF's spending patterns is that the groups mission has nothing to do with advancing Republican candidates:
Returning to the purity for profit concept and the new direction of the Senate Conservatives Fund there clearly can be a case made that politics of any nature is slipping into the back seat, while raising more money to attack more Republicans whom the SCF just doesn't like is sliding behind the wheel.

If that is the new mission of the Senate Conservatives Fund then they are entitled to it by all means in a capitalist world but they might do well to consider the greater ramifications, and they might also fully consider the impact of their primary beneficiary, Sen. Ted Cruz, stating he will not participate in Republican primary battles.

Nobody or no group within the Republican Party is going to get everything they want but spending millions on bashing fellow Republicans will do nothing but help the Democrats maintain the majority in the Senate, and if you don't win you can't legislate.
This "purity for profit" model seems to be prevalent throughout the Tea Party movement. Rather than acting to bring about real legislative change, or advocating positions that will lead to the kind of electoral victories that the Tea Party would actually need to accomplish anything, they specialize in stirring up outrage, whether its over the Affordable Care Act, the Debt Ceiling, or even something as trivial as light bulbs, and then fundraising off that outrage. During election cycles, they seem to specialize more attacking Republican candidates for perceived deviations from orthodoxy than anything else. Behavior like like this suggests that these groups arent' really interested in winning any of these ideological battles, but in keeping the outrage going because it helps with their fundraising. That becomes even more apparent when these groups end up backing candidates that obviously can't win General Elections, such as Christine O'Donnell, Sharron Angle, Joe Miller, or Matt Bevin many of whom seem to be fund raising vehicles rather than actual serious candidates.  The question that remains is when the donors sending them money are going to figure the scam out and stop sending them checks.