Are The Russians About To Outsmart Obama And Kerry On Syria?
A throwaway comment by John Kerry in London has led to some interesting diplomatic developments.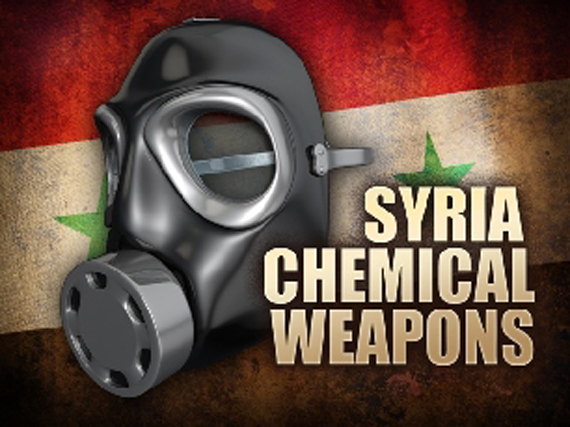 Earlier today, Secretary of State Kerry seemed offer an alternative to military action in Syria during a joint appearance with British Foreign Secretary William Hague:
Asked if there were steps the Syrian president could take to avert an American-led attack, Mr. Kerry said, "Sure, he could turn over every single bit of his chemical weapons to the international community in the next week — turn it over, all of it, without delay and allow the full and total accounting."

In a joint news conference with William Hague, Britain's foreign secretary, Mr. Kerry also sought to downplay the magnitude of any American military strike directed at the forces of President Assad.
On it's face this appeared to be Kerry offering an alternative to the plan that the Administration has been putting forward. Indeed, his proposal is remarkably similar to one being proposed by two Democratic Senators under which Assad would be given up to 45 days to turn over his chemical weapons after which point the President would be authorized to use force if necessary. Very quickly after Kerry said this, the backpedaling began:
Mr. Kerry said his suggestion was more of a debating point than a serious ultimatum. He added that he did not believe Mr. Assad would take such action, and expressed doubt about whether it was even feasible as a civil war rages in Syria. "But he isn't about to do it, and it can't be done," Mr. Kerry said.

"Secretary Kerry was making a rhetorical argument about the impossibility and unlikelihood of Assad turning over chemical weapons he has denied he used," Jen Psaki, the State Department spokeswoman, said in an e-mail to reporters after Mr. Kerry's comments. "His point was that this brutal dictator with a history of playing fast and loose with the facts cannot be trusted to turn over chemical weapons, otherwise he would have done so long ago. That's why the world faces this moment."

Obama administration officials have discussed the idea of presenting Mr. Assad with an ultimatum. But officials are wary of giving the Syrian leader an opportunity to play for time, and carrying out inspections to make sure the Syrian government has not retained hidden stocks of poison gas as fighting rages appeared to be a near impossibility.
However, Kerry's comments were out there, and it didn't take long for the Russians to jump on them:
In Moscow, Russia's foreign minister, Sergey V. Lavrov, who was meeting with Syria's foreign minister, Walid al-Moallem, said in response to Mr. Kerry's remarks that Russia would join any effort to put Syria's stockpile of chemical weapons under international control and ultimately destroy them.

Mr. Lavrov appeared at a previously unscheduled briefing only hours after Mr. Kerry made his statement in London. Although Mr. Kerry appeared to treat the idea that Syria would give up its stockpile as improbable, Mr. Lavrov seized on it as a possible compromise that Russia was prepared to propose to the Syrians.

"We don't know whether Syria will agree with this, but if the establishment of international control over chemical weapons in the country will prevent attacks, then we will immediately begin work with Damascus," Mr. Lavrov said at the Foreign Ministry. "And we call on the Syrian leadership to not only agree to setting the chemical weapons storage sites under international control, but also to their subsequent destruction."

Earlier, before Mr. Kerry had spoken in London, and during a joint appearance at the Ministry of Foreign Affairs, both Mr. Lavrov and Mr. Moallem excoriated the United States for rushing to launch military strikes.

But the shift in tone between Mr. Lavrov's two appearances was striking. Mr. Lavrov said he made the proposal to put Syria's weapons under international control directly to Mr. Moallem, who remained in Moscow.

Mr. Moallem said later in a statement that his government welcomed the Russian proposal, Russia's Interfax News Agency reported, in what appeared to be the first acknowledgment by the Syrian government that it even possesses chemical weapons. The Syrian government historically has neither confirmed nor denied possessing such weapons.

Mr. Lavrov went into more detail than Mr. Kerry's suggestion — which Mr. Kerry's own spokeswoman described as a rhetorical exercise rather than a proposal.

Mr. Lavrov said Russia was proposing that Syria join the international Convention on Chemical Weapons, which bars the manufacture, stockpiling and use of poison gas.
And the Syrians seemed to jump in as well, at least rhetorically:
Syria's Foreign Minister Walid al-Muallem, who met with Lavrov in Moscow earlier in the day, responded almost immediately.

"The Syrian Arab Republic welcomed the Russian initiative, based on the concerns of the Russian leadership for the lives of our citizens and the security of our country," Muallem told reporters, according to Russia's Interfax news agency.

Muallem said Syria agreed to the move because of its "trust in the wisdom of the Russian leadership, which is trying to prevent the American aggression against our people."
As with all things diplomatic, it's hard to figure out exactly what's going on here. Kerry apparently didn't intend his comments in London to be a serious proposal and, indeed, they have not been part of the Administration's talking points on Syria at all. It's likely he made the comment as the throwaway line on the belief that Assad would never agree to surrender his chemical weapons or place them in the hands of a third party. The Russians, on the other hand, likely saw the Kerry comments has an excellent opportunity to undermine the American position on Syria with both the international community and, most importantly, with the American public and with Congress. The same, no doubt, is true of the Syrians. So, it's unclear if this a serious proposal by the Russians or if we're just watching them take advantage of a Kerry slip-up.
Moreover, it's unclear just how something like this could be implemented right now. Securing and neutralizing chemical weapons is a laborious process even under the best of circumstances. After the fall of the Soviet Union, the Russians cooperated with the U.S. in the neutralizing of their stockpiles, and that process took several years. Here, we're talking about a nation in the middle of a bloody civil war. It's unclear if the weapons themselves are even in secure locations, or if they could be transported safely without risk of falling into the hands of other parties. One supposes that the Russian naval base in northwestern Syria could potentially be a safe storage location, but the logistics of getting them there may be easier said than done.
Nonetheless, it may not even matter if this Russian proposal is all that serious. The President's request for authorization to use force is already in perilous trouble in Congress and even members of his own party are having a hard time getting in line behind him. If there's a proposal sitting out there that could potentially avoid military action, which the Syrians have seemingly expressed a willingness to consider seriously, then it strikes me that it's going to become all the more difficult to convince reluctant Members of Congress to get behind the President. The President has already said on more than one occasion that there is no imminent threat to the United States from Syria's chemical weapons and that the attack that he has in mind can essentially be delayed indefinitely. He conceded that much by submitting the matter to Congress while at the same time insisting it was not an urgent enough matter that they needed to reconvene early. Indeed, it's already been nearly three weeks since the attack which is supposedly the basis for the attack. If it was okay to wait this long, the reluctant legislator is likely to ask, then why not wait a little longer to see if this proposal pans out?
Andrew Sullivan sees this as another example of what he consider's Kerry's incompetence in handling the Syria matter:
I'd have thought a pretty basic qualification for being secretary of state is not to air hypothetical ideas in a public forum that the US does not intend to pursue. But Kerry, who is already doing a huge amount to make Hillary Clinton's tenure at Foggy Bottom look magisterial, winged it.

(…)

Wow. So we have the possibility of two things: that Russia might actually act decisively to rein Assad in, and also support the only viable policy to accomplish what Obama wants – protecting the world from these vile weapons. I have no idea whether this is a serious move by Lavrov – but it sure seems so, and it presents a fascinating non-binary option. It would manage to bring Russia in to solving this problem, without its having to acquiesce to what Putin regards as American grand-standing. And it would surely have some traction at the UN.
Indeed, that's probably exactly why the Russians have done what they did today. If they keep it up, then it's going to become even more difficult for this President to convince a reluctant Congress to give him what he wants. In that sense, it doesn't matter if this is a serious proposal or not. If it has the impact on Congress that I described, then it will have succeeded quite nicely.
Update: We've gotten a response to the Russian proposal from the State Department:
WASHINGTON — U.S. officials say they will take a "hard look" at a proposal for Syria to surrender its chemical weapons to international control to avoid a military strike.

State Department spokeswoman Marie Harf said Monday the U.S. would consider the proposal floated by the foreign ministers of Russia and Syria with "serious skepticism" because it might be a stalling tactic. She said Syria had consistently refused to destroy its chemical weapons in the past.
We got a similar statement from the White House just now at the Daily Press Briefing. Now, I guess, we see where it goes from here.