Are We Overprotecting Our Kids?
How did we survive without all the molly-codding kids today get?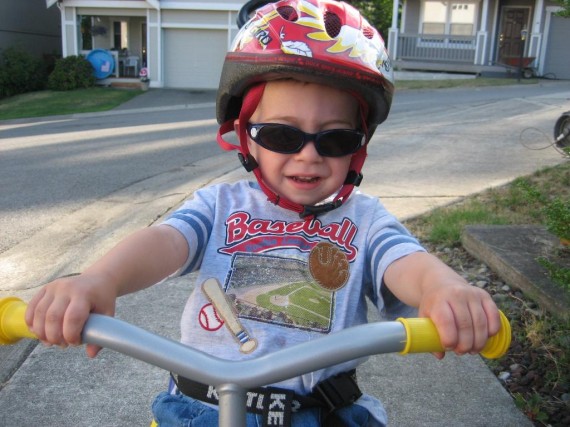 Doug Ross laments the loss of freedom that has come from a culture that over-protects its children.
I am one of the baby boomers, born between 1946 and 1964. I sometimes wonder how we survived our childhoods. Consider:

Our mothers smoked and/or drank while pregnant.

They took aspirin, ate blue cheese dressing, tuna from a can and didn't get tested for diabetes.

Then after that trauma, we were put to sleep on our tummies in baby cribs covered with brightly colored, lead-based paints.

There were no childproof lids on medicine or special locks on cabinet doors.

We we rode bikes, we wore baseball caps, not specially engineered helmets.

As infants, we rode in cars without car seats or booster seats, no seat belts and no air bags. Sometimes, as tots, we rode in small moving boxes packed with blankets and toys.

We rode in the back of pickup trucks and no one was arrested or cited.

We drank water from garden hoses, not from plastic bottles.

We shared a single bottle of Coca-Cola with three friends — and no one died.

We ate cupcakes with food coloring, white bread, real butter and bacon. In fact, we drank Kool-Aid mixed with tablespoons of real sugar.

Yet we weren't overweight, because we were always outside playing.

We would leave home in the morning and play all day, as long as we were back when dusk fell. And no one was able to reach us all day. And: we were okay.

We'd spend hours in the forest with Daisy rifles, or building go-carts without brakes, or sledding with wooden and steel monstrosities that could sever a limb.

We did not have Playstations, Nintendo's and X-Boxes. There were no video games, no cable television, no DVD players. There were no computers, no web, no Facebook, no Twitter.

We had friends and we went outside and found them… without cell phones or text messages.

We fell out of trees, got cut, broke bones and teeth and there were no lawsuits resulting from these accidents. We ate worms and mud pies made from dirt, and the worms did not live in us forever.

We were given BB guns and knives for our birthdays, made up games with sticks and tennis balls, played lawn darts and, although we were told it would happen, we did not put out many eyes.

We rode bikes or walked to a friend's house and knocked on the door or rang the bell, or just walked in and talked to them.

Little League had tryouts and not everyone made the team. Those who didn't had to learn to deal with disappointment.

The boomers and their parents have produced some of the best risk-takers, problem solvers, inventors and entrepreneurs ever.

The last 50 years have seen an explosion of innovation and new ideas.

We had freedom, failure, success and responsibility, and we learned how to deal with it all.

We had the good fortune to grow up as kids in America, before the government regulated so much of our lives "for our own good".

Give thanks, for such an age will never occur again.
I'm at the front end of Generation X, born in 1965, and have often made similar observations. As a kid in the 1970s, there were no bicycle helmets, car booster seats, or parent-organized-and-supervised play dates. Almost all of the changes Doug alludes to came after I reached adulthood.
Because of media saturation and sensationalism, every tragedy that befalls every kid in America becomes national news. That skews our sense of reality, making people think the world is much more dangerous than it really is. In most neighborhoods, letting your kids go out and play is just as safe as it was when Doug and I were growing up.
Like Doug, I worry that we're coddling our kids, robbing them of the joys of childhood as well as the earned confidence that comes with taking risks and succeeding.
Yet, while I lament the Nanny State more than the next guy, we shouldn't kid ourselves, either. The cost of the more carefree existence of that bygone age was more than some cuts, bruises, and chipped teeth. More kids died, were permanently maimed and paralyzed, and had birth defects when Doug and I were growing up than now.
It's true that women routinely smoked and consumed alcohol while pregnant. My mother did both and I turned out fine! But that doesn't mean there's no risk.The American Congress of Obstetricians and Gynecologists ("Tobacco, Alcohol, Drugs, and Pregnancy"):
If a woman smokes when she is pregnant, her baby is exposed to harmful chemicals such as tar, nicotine, and carbon monoxide. Nicotine causes blood vessels to constrict, so less oxygen and nutrients reach the fetus. Carbon monoxide lowers the amount of oxygen the baby receives. Also, women who smoke during pregnancy are more likely to have certain problems:

An ectopic pregnancy
Vaginal bleeding
Problems with the way the placenta attaches to the uterus
A stillbirth
A low-birth-weight baby (weighing less than 5 ½ pounds)

[…]

When a pregnant woman drinks alcohol, it quickly reaches her fetus. The same amount of alcohol that is in her blood is in her baby's blood. In an adult, the liver breaks down the alcohol. But a baby's liver is not yet able to do this. Thus, alcohol is much more harmful to a fetus than it is to an adult. The more a pregnant woman drinks, the greater the danger to her baby.

[…]

Drinking at any time during pregnancy can cause problems. Alcohol increases the chance of having a miscarriage or a preterm baby. Alcohol abuse during pregnancy is a leading cause of mental retardation.

Heavy drinking during pregnancy can cause fetal alcohol syndrome. This is a pattern of major physical, mental, and behavior problems in babies who were exposed to alcohol during pregnancy.
Similarly, I didn't ride in a car seat, much less a booster seat. And I rode in the front seat from a very early age when just one parent was in the car. And I emerged unscathed! Does that mean car seats are a bad idea? Some statistics from the National Highway Transportation Safety Agency ("Traffic Safety Facts – 2008 Data" PDF):
Among passenger vehicle occupants over age 4, seat belts saved an estimated 13,250 lives in 2008. If all passenger vehicle occupants over age 4 had worn seat belts, 17,402 lives (that is an additional 4,152) could have been saved in 2008.
Research on the effectiveness of child safety seats has found them to reduce fatal injury by 71 percent for infants (younger than 1 year old) and by 54 percent for toddlers (1 to 4 years old) in passenger cars. For infants and toddlers in light trucks, the corresponding reductions are 58 percent and 59 percent, respectively
From 1975 through 2008, an estimated 8,959 lives were saved by child restraints (child safety seats or adult seat belts).
A couple of graphs from the same report: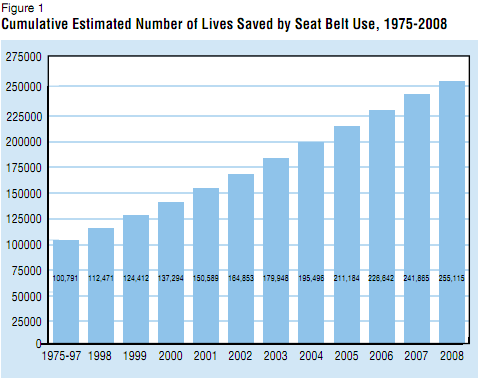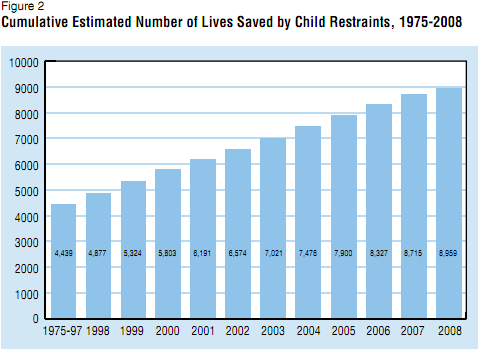 We can't live in a world without risks. And every incremental increase in safety isn't necessarily worth the trade-offs in cost, convenience, freedom, and enjoyment. It's perfectly reasonable to do cost-benefit analysis.
My oldest is 2-1/2 and an adventurous kid with remarkably little fear. Her mom and I let her run and jump and fall. She's got a ridiculous number of scratches, bumps, and bruises but we figure it's part of being a kid and gaining the confidence that will serve her well later in life. But we also do our best to protect her from the things that could seriously injure her.
Steven Levitt of Freakonomics fame, for example, provides "Evidence that Seat Belts Are as Effective as Child Safety Seats in Preventing Death for Children Aged Two and Up." So, maybe putting your kid in a booster seat until he's 4 foot 9 is excessive. Given the relatively low burden it imposes, though, my two girls will be in them until they reach whatever the recommended height is then.
I wear a seatbelt whenever I drive and did even when it wasn't legally required that I do so. Then again, I commute to work in a 2-door convertible, prioritizing guaranteed enjoyment over minimizing potential risk. I'd certainly be marginal safer in, say, a Volvo sedan. But my kids can't make those sort of choices for themselves. So they're in a mini-van with every form of airbag known to man in the best child seats that money can buy.