Argentine Presidential Elections Start Today
The first of a potential three rounds.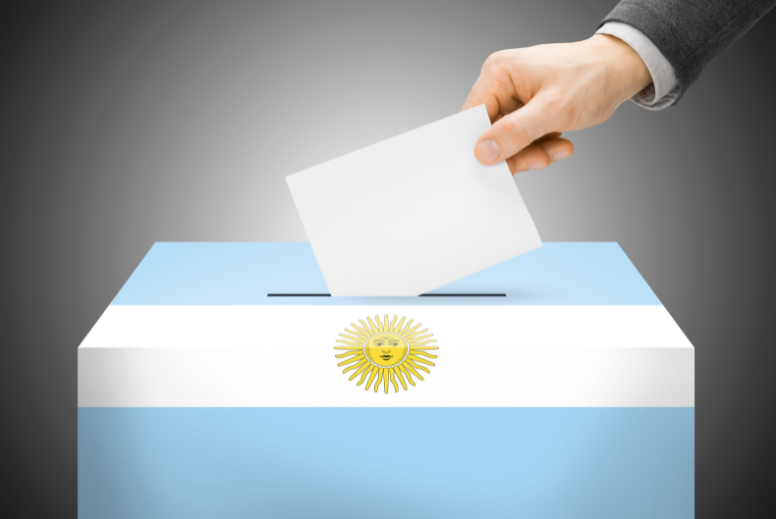 Today, Argentine moves down the road towards choosing its next president in what is nominally a primary but really would be better understood as round one of a possible three-round process. The first round is called the PASO (see below) and it is a combination candidate selection (for some parties/coalitions) and winnowing process in advance of the actual elections in October.
The Buenos Aires Times provides a succinct definition (Ahttps://www.batimes.com.ar/news/argentina/argentinas-paso-primaries-what-you-need-to-know.phtmlrgentina's PASO primaries: What you need to know):
PASO is an acronym of Primarias Abiertas Simultáneas y Obligatorias, as the vote is called in Spanish. It is obligatory for all citizens aged over 18 born in Argentina or those who are nationalised Argentines. Those aged over 70 are not obliged to take part and, since 2012, those aged 16 and 17 can vote if they wish. The ballot is open to all citizens – individuals do not have to be affiliated to a party to participate.
So, it should be noted that most of the coalitions running today only have one candidate, so what this process does is confirm basic levels of support, rather than actually choosing candidates. Also, if a given party/coalition does not get at least 1.5% of the overall PASO vote, they do not advance to the next round.
Because I have seen the notion of obligatory voting show up in several discussion threads of late, I would note that the PASO is obligatory, and there is the option to cast a blank vote. Nonetheless, we will likely see plenty of non-participation as enforcing obligatory voting is not so easy.
It should be noted that if a candidate wins 40% or more of the vote in the next round, there will not be a third round.
Since the two largest coalitions are contested, there is some room for drama this cycle. See AS/COA, What Are Argentina's PASO Presidential Primaries and Who's Running?
The most competitive primary in the PASO will take place within United for Change between former Security Minister Patricia Bullrich and current Mayor of Buenos Aires Horacio Rodríguez Larreta.

So far, the rivalry between Bullrich and Larreta is tense. Larreta called Bullrich's governance approach "failed." Bullrich said Larreta is "an opportunist." In 19 of 24 provinces, Larreta and Bullrich are presenting different lists for legislatures. Coalition unity is not guaranteed after the PASO. According to pollster Poliarquía, about 30 percent of the supporters of both Bullrich or Larreta will not support the other candidate in a general election.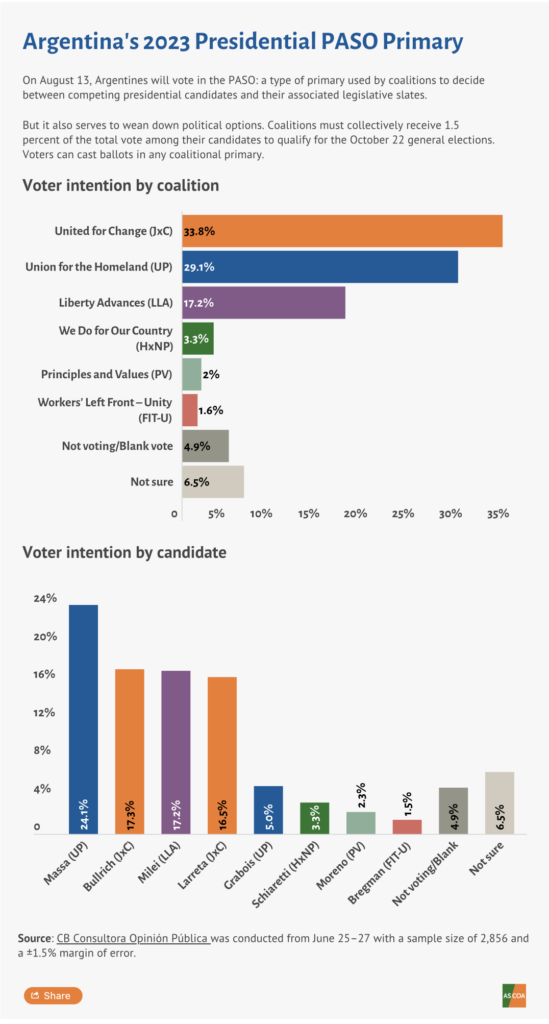 The PASO is also used for congressional elections. The system as noted above is relatively new (having become law in 2009). I have never systematically studied it, so I have no deep assessment to provide. Still, there is a lot that is fascinating here, including the fact that the division within the JxC is reflected at the legislative and presidential levels and the questions of what a post-PASO voter configuration looks like after the internal fight in the JxC is settled today (and how it is settled).
More here via Reuters: Argentines start voting in primaries set to test political mood.