Arnold Schwarzenegger Was Considered For Cabinet Post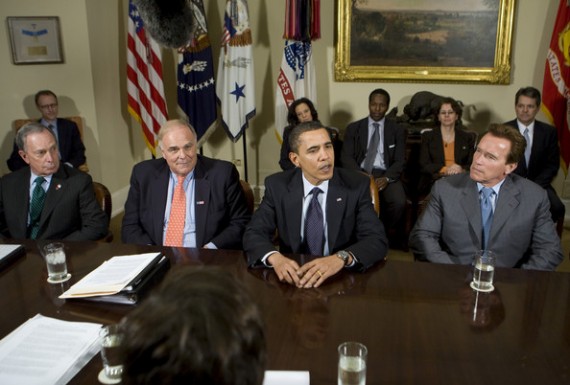 Via The Wall Street Journal comes news that former California Governor Arnold Schwarzenegger was nearly offered a position in President Obama's Cabinet:
Former California Gov. Arnold Schwarzenegger is getting back into the movie business with a lineup of six film projects-but at one point, things might have gone a very different way.

Mr. Schwarzenegger was approached by White House officials about a cabinet position around the time he left office in January 2011, according to people familiar with the matter.

The entreaty to the centrist Republican governor wasn't completely out of the blue.

Mr. Schwarzenegger, who was in office for more than seven years and continues to promote his vision of "post-partisanship," acknowledged earlier in his career that he'd welcome a cabinet post.

In July 2008, on ABC's "This Week" with George Stephanopoulos, Mr. Schwarzenegger was asked whether he'd consider an energy-related cabinet position with the Obama administration, were Barack Obama, then a candidate, to win the presidency.

Mr. Schwarzenegger said he would, replying: "I'd take his call now, and I'd take his call when he's president, anytime."
Considering that it was four months after this conversation that Schwarzenegger separated from wife Maria Shriver due to what we later learned was a love child he had fathered with a former household employee, I'm sure someone in the White House is happy this never materialized.