Attack on France Is an Attack on the United States
We are legally, morally, and practically obligated to respond. Let's not do so stupidly.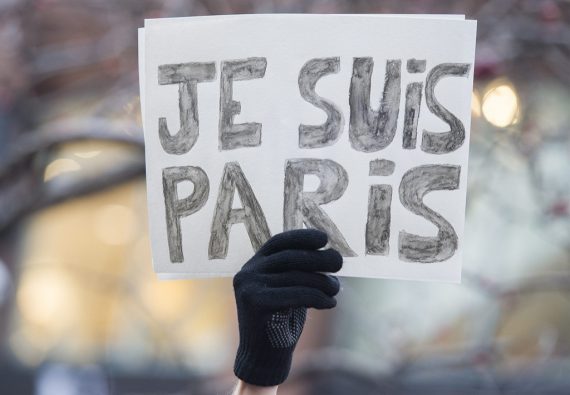 French President François Hollande has declared Friday's attacks, which killed at least 129 and wounded 352 others, "an act of war that was committed by a terrorist army, a jihadist army, Daesh, against France."  He reiterated that, "It is an act of war that was prepared, organized and planned from abroad, with complicity from the inside, which the investigation will help establish" and vowed to "be unforgiving with the barbarians from Daesh," adding that France would act within the law but with "all the necessary means, and on all terrains, inside and outside, in coordination with our allies, who are, themselves, targeted by this terrorist threat."
President Obama immediately pronounced the attacks "an outrageous attempt to terrorize innocent civilians," adding "This is an attack on all of humanity and the universal values we share." More importantly, he declared, "We stand prepared and ready to provide whatever assistance the people of France need to respond."
As has happened so often when outrageous acts occur abroad, Americans are changing their social media profiles in an empty show of solidarity and some are carrying around placards declaring "Je Suis Paris." In this case, however, we actually are. While I share my co-blogger Dave Schuler's skepticism that humanity shares universal values, we are legally, morally, and practically obligated to respond to this attack on our French allies.
Article 5 of the Washington Treaty, which established the North Atlantic Treaty Organization (NATO) in 1949, states, "The Parties agree that an armed attack against one or more of them in Europe or North America shall be considered an attack against them all and consequently they agree that, if such an armed attack occurs, each of them, in exercise of the right of individual or collective self-defence recognised by Article 51 of the Charter of the United Nations, will assist the Party or Parties so attacked by taking forthwith, individually and in concert with the other Parties, such action as it deems necessary, including the use of armed force, to restore and maintain the security of the North Atlantic area."
NATO's original purpose was to deter Soviet aggression into Western Europe by committing the United States to action. Article 5 was thankfully never invoked in that cause. The Soviet Union collapsed in 1991, rendering NATO's original purpose moot. But the organization has continued on with expanded membership and an expanded, if controversial, role in the aftermath of the Cold War.
Ironically, the first and thus far only time Article 5 was invoked was on September 12, 2001 in response to al Qaeda's attacks on the United States. Rather than the United States coming to the aid of her allies, the reverse happened.
Now it's our turn.
We're legally obligated to assist France here to restore and maintain security against an ongoing threat. In light of France's participation in the fight in Afghanistan in the wake of 9/11, that's compounded with a moral obligation. And, practically speaking, the attacks in Paris demonstrate that ISIL is not longer a threat localized to Iraq and Syria but one capable of and interested in carrying out violence in the West.
That we have no choice but to act doesn't mean that we're required to act stupidly.
As Steven Taylor has noted, ISIL emerged in the aftermath of our invasion of Iraq and destruction of the security situation there. And our decision to wash our hands of Libya althogether after our decapitation of the Gaddafy government left a regional mess.
Jim Stavridis, former Supreme Allied Commander and current dean of the Fletcher School, calls for ISIL's "eradication." While a laudable goal, it strikes me as unachievable through the application of armed force. But Stavridis' plan nonetheless seems prudent.  He calls for:
Assigning the mission to "Allied Joint Force Command in Naples, Italy. This is the command that conducted the intervention in Libya and is one that has significant planning and operational experience, as well as deep connections to coalition partners from the region — the United Arab Emirates, Jordan, Qatar, and others. NATO's military planners should aim to include not only the alliance's official members, but also its many coalition partners, including Sweden, Finland, and other regional actors."
"NATO Special Operations Headquarters in Casteau, Belgium, should take the lead in organizing intelligence-sharing among member states; it should also prepare the alliance's joint special forces to be deployed on the ground in Syria to train and motivate anti-Islamic State fighters, gather firsthand intelligence, conduct raids, and serve as spotters for NATO and coalition aircraft."
"[T]he current U.S.-led bombing campaign in Syria and Iraq should come under NATO leadership. NATO could then increase the assets deployed in that mission by contributing additional aircraft, troops, ordnance, and AWACS aircraft, whose powerful radar provide 360-degree coverage of air battle space."
"NATO should emphasize that it is building an 'open coalition,' one that can not only include the forces of traditional allies, but also those of NATO's traditional adversary, Russia. The Russian government claims to want to defeat the Islamic State, and it should have no lack of motivation, given the over 200 dead citizens — including many women and children — who seem to have been massacred by the Islamic State in the downing of a civilian aircraft just two weeks ago."
But all of this is but a somewhat larger and more internationalized version of what we're already doing.
While the US was "leading from behind" in another crisis, then-"Daily Show" host Jon Stewart quipped that "the U.S. handing Libya over to NATO is like Beyoncé saying she's ceding control to Sasha Fierce." While the outrageous attacks in Paris will certainly motivate the French and hopefully energize some of our other allies to take their security more seriously, the fact of the matter is that most of what NATO can bring to the table against ISIL is at the disposal of the United States.
People more expert than me on the nuances of the Syrian civil war and the regional dynamics spawned by the combination of that calamity and the spread of ISIL's so-called caliphate will need to come up with a plausible plan of action. A full-scale ground invasion strikes me as not only off the table politically but likely to do more harm than good. But it's also rather obvious that what we're doing now isn't enough.