Bachmann and the Soviet Union
Does Bachmann think the USSR is on the rise? I expect not, but her defense and fiscal policy skills still need some work.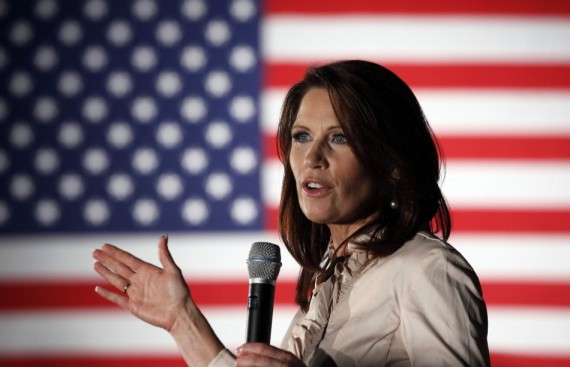 The blog Right Wing Watch caught Bachmann making the following statement on the Jay Sekulow Live radio show:
But what people recognize is that there's a fear that the United States is in an unstoppable decline. They see the rise of China, the rise of India, the rise of the Soviet Union and our loss militarily going forward. And especially with this very bad debt ceiling bill, what we have done is given a favor to President Obama and the first thing he'll whack is five hundred billion out of the military defense at a time when we're fighting three wars. People recognize that.
Lest there be any confusion, the Soviet Union ceased to be at the beginning of the 1990s.  S0, obviously, the Soviet Union is not on the rise.  I assume that she meant "Russia" and just made a verbal error.  As a child of the Cold War, there is little doubt that in her mind there area strong associations between the words "Russia" and "the Soviet Union" (kind like the way I have been known to, on occasion, call our current cat by the name of one that died ten years ago).  This is not dissimilar to Obama's deployment of "Czechloslovakia" a while back.
So, no, I do not think that Bachmann either a) doesn't know the USSR dissolved roughly twenty years ago, or b) that she thinks it is re-forming.  One would need a bit more evidence than one verbal gaffe to leap to either conclusion.
However, the statement above is still problematic, but for other (and more important) reasons.
First, I must confess that I am not sure why the "rise of India" should be considered a security threat to the U.S.   For that matter, there are positives from the rise of China, given that they are helping finance our debt and they make a lot of stuff that American consumers like to buy.  Even Russia, while clearly interested in exerting influence (like any other country) in the international system hardly rises to the level of major threat.
This underscores one of the major problems with our politics in general, and especially within some segments (most?) of the GOP:  the notion that there are threats everywhere.  As dangerous as the world no doubt is, and recognizing that there are real national security issues that require attention, the notion that we are on the brink of some major new existential threat is problematic and leads to bad policy.
A second and related point is the notion that we are so threatened that we cannot cut the defense budget.  Such assertions ought to make Representative Bachmann's head explode, as she has steadfastly stuck to the notion that we should not have raised the debt ceiling (and that there would have been no ill effects from failing to do so)–a position that is founded in the notion that we have to cut spending, and we have to do so drastically.  As James Joyner noted yesterday (and a Dan Drezner has also pointed out on numerous occasions), there are good reason to believe we could scale back and still have a more than sufficient ability to both defend ourselves and to project power.
So, to recap:  I think she made a verbal error.  However, I think when it comes to substance of policy she is overly alarmist, underestimates US capability (even after budget cuts), and holds an utterly incoherent view of fiscal policy.