Bachmann Preparing To Hit Perry On Social Security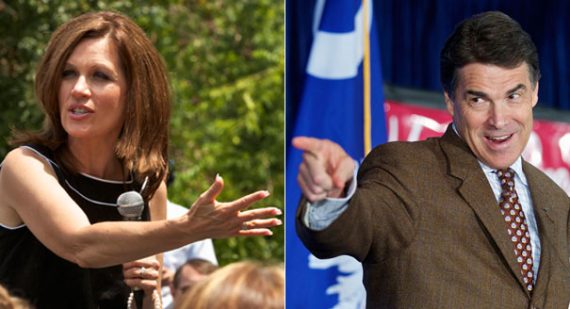 Byron York is reporting today that tomorrow's Republican debate in Florida is likely to see Michele Bachmann hitting Rick Perry big time over his stance on Social Security:
Mitt Romney and his advisers have been pushing hard against Rick Perry over the Texas governor's description of Social Security as a "Ponzi scheme."  Now, another Republican rival, Michele Bachmann, is preparing to hit Perry on the same issue.

"Bernie Madoff deals with Ponzi schemes, not the grandparents of America," says a Bachmann adviser.  "Clearly she feels differently about the value of Social Security than Gov. Perry does.  She believes Social Security needs to be saved, that it's an important safety net for Americans who have paid into it all their lives."

Bachmann is in Florida for private meetings and to prepare for Monday night's GOP debate in Tampa.  It's no secret the Bachmann camp was unhappy with the moderators of last Wednesday's Republican debate at the Reagan Library, a debate which began as a Perry-Romney showdown and gave less time to other candidates.  This time, in Tampa, it seems safe to predict that moderators will ask at least some other candidates whether they agree with Perry's characterization of Social Security.

"Certainly not," the adviser says.  "She strongly disagrees with his position on that, and it's clearly not something that's going to sit well with the people of Florida and Iowa and South Carolina and many of the early states, where there is a large population of seniors who rely heavily on Social Security.  For [Perry] to scare them is wrong."
It's inevitable that the CNN moderators are going to ask the Social Security question, probably of all the candidates or at least the major ones. It was the dominant take-away from last Wednesday's debate, for one thing. For another, this is Florida. In fact, the story is likely to stay in the news cycle for some time. The next debate after Monday is on September 22nd, also in Florida and, we're already seeing down ballot candidates using Perry's rhetoric in their own campaigns such as this web ad from Tim Kaine in Virginia. Whether all of this hurts Perry is a question we'll have to wait for the next round of polling to answer.