Bannon and Associates Arrested
The best people.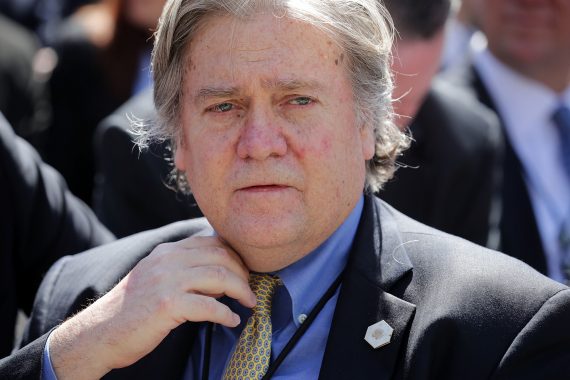 Via WaPo: Stephen Bannon, three others charged with defrauding donors to online fundraising campaign for border wall
Federal prosecutors in New York on Thursday unsealed criminal charges against Stephen K. Bannon, President Trump's former chief strategist, and three other men they alleged defrauded hundreds of thousands of donors using an online crowdfunding campaign that was advertised as raising money to build a wall on the U.S. border with Mexico.

[…]

Prosecutors alleged that Bannon and Kolfage along with two others — Andrew Badolato and Timothy Shea — routed payments from the crowdfunding campaign through the nonprofit and another shell company and disguised them with fake invoices to help keep their personal pay secret. All four were arrested Thursday and are expected to make court appearances later in the day
Who possibly could have foreseen that a crowdfunded wall-building fund would be fraudulent?
And, really, who could have seen Steve Bannon being in the middle of such a scheme?
In a 23-page indictment, prosecutors described how he and others in December 2018 launched the wall-building fundraising campaign to immediate success, raising almost $17 million in the first week — money they claimed would be given to the federal government. But with success came scrutiny, and GoFundMe, the site the group had been using to collect funds, suspended the campaign and warned Kolfage the donations would be refunded if he could not identify a legitimate nonprofit to which they would be transferred.
It is grifters all the way down with this crowd (although as the article has Trump and the White House distancing themselves).
I commented on the GoFundMe attempt back in December: Numeracy and the Wall.