Basic Math and Representative Blackburn
Lack of understanding or basic dishonesty?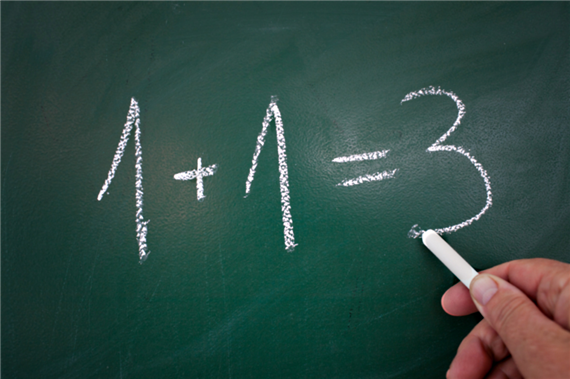 Ok, I watched the interchange between Bill Nye and Representative Marsha Blackburn (R-TN/Vice Chair, Energy and Commerce Committee) on MTP today.  As such "debates" go, it was pretty typical.  I was struck, however, by two things.  One was general and one was very specific.
First, Blackburn's main argue (so to speak) was (and Nye noted this) to simply sow doubt. Not to provide evidence or argument, but rather to simply state things like the following:
"there is not agreement around the fact of exactly what is causing this."

[…]

"there is not consensus"

[…]

"we have to look at is the fact that you don't make good laws, sustainable laws when you're making them on hypotheses or theories or unproven sciences."
This is all designed to make it sound as if we (in general) do not really know anything about this topic.  I am no climate scientist, certainly.  However, I do know what a basic scientific consensus looks like, and there is a pretty strong one on climate change.  And while I do not know what the proper policy prescriptions should be, I am to the point where I find the utter denial of the situation to be borderline farcical, if not plain dishonest.  I can understand skepticism about specific polices.  However, I am well past the point where I find the skeptics as a group that can be taken seriously (at least when they "argue" like Rep. Blackburn).
Second, the bit of data that she did share was as follows:
REP. BLACKBURN: Well, I think that what you have to do is look at what that warming is. And when you look at the fact that we have gone from 320 parts per million 0.032, to 0.040 four hundred parts per million, what you do is realize it's very slight.
This refers to the amount of C02 in the atmosphere.
Rhetorically she was clearly trying to minimize the numbers by going the "zero point zero three two" route because it sounds smaller that "three hundred and twenty."
More importantly, however, she either willfully ignores the percentage because she wants to avoid it or because she doesn't understand the implication.
Going from 320 to 400 parts per million is a 25% increase.  That is a significant increase.  In simple terms, 25% more of something is a lot.
A 25% raise?  Awesome!
A 25% larger slice of that delicious cake?  Yes, please.
A 25% increase in the fuel efficiency of my care?  Bring it on.
25% more cancer?  No, thank you.
25% interest on my purchases?  No way.
Now, it may well be that 25% more CO2 in the atmosphere does not matter (although the evidence suggests otherwise).  Maybe the climate is unaffected by such a change, but it is not a number that can be dismissed as "slight" in an of itself.  A 25% increase is not "very slight" and one would like to think that someone who is the Vice Chair, Energy and Commerce Committee would know that.
Beyond the percentage change is the general trend line and then what questions one begins to ask and answer after that (you know, science).
By way of counter-example, if the Denver Broncos had scored 25% more points in the Super Bowl, that would not have made any difference on the outcome.  But to know that one, has to know how many points the Seahawks scored.  In other words, it requires some additional data and research.
Nye did respond, noting the following:
MR. NYE: […]  When you said you asserted, congresswoman, that a change from 320 to 400 parts per million is insignificant? My goodness, that's– that's 30 percent. I mean that's an enormous change, and it's changing the world. And that's just over the last few decades. You go back to 1750 with the invention of the steam engine– I mean, everybody's been over this a lot– but it's gone from 250 to 400.
Again:  it is theoretically possible that a 25% increase in C02 concentration is no big deal (although then again, it very well might be), but to either a) not understand the basic math, or b) willfully try to obfuscate it means that one is not adequately equipped to even attempt to discuss the matter.
This is depressing, if unsurprising, situation for someone in an important position in the US government.
Update:  Put another way, the Representative does not appear to understand the difference between absolute change and percentage change.