Beating the Dead Horse Once More: Looking at the Numbers if we Don't Raise the Debt Ceiling
Some things are worth repeating.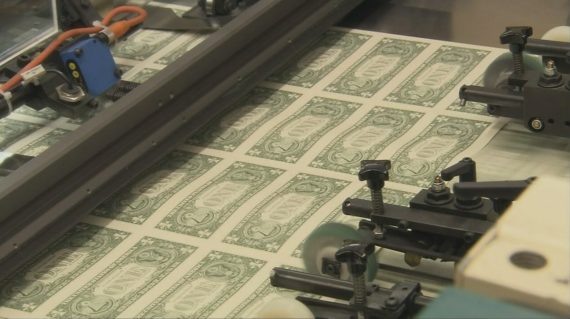 One of the things that I am finding in various discussions about the debt ceiling debate is that a lot of people, including those who are intelligent and well-informed, simply do not know (or have not thought about) the immediate effects on federal spending (and their wider consequences) if the government is no longer able to borrow.  I speaking here of the scenario that many are promoting that we can not raise the debt ceiling and still not default on the debt.  This is technically true, but it not as simple as that, either.  Even if we keep making interest payments, there are other very serious problems that will occur.  Doug Mataconis tried to point this out the other day (and again, here), noting specifically a piece by David Frum.  I would further suggest a piece by Megan McArdle.  I would recommend all of the linked pieces.
And today, we can add Kevin Drum to the list of those who have done some back of the envelope calculations:
Let's take a brief look at the numbers. The federal government is scheduled to spend about $300 billion in August. Something like $125 billion of that is debt. So if the debt ceiling doesn't get raised, the government can only spend about $175 billion. Very roughly, here's spending for the month of August in the areas Nan Hayworth says are off limits:

Social Security = $60 billion
Veterans benefits = $10 billion
Medicare/Medicaid = $70 billion
Interest payments = $20 billion
Military pay = $15 billion

Total = $175 billion
Which means:
There's not a single dollar left for any other function of government. Not defense spending, not the FBI, not foreign embassies, not the court system, not prisons, not disaster relief, not unemployment insurance, not the border patrol, not TSA or the FAA, not roadbuilding, not maintenance of any kind, not national parks, and not pensions for retired federal workers. Not anything. And aside from military personnel, every single employee of the federal government will have to be furloughed.
And, of course, if every employee is furloughed, I am not sure who it is that is managing the SS, veteran's checks, etc.
I bring this up yet again because I really do think that a lot of people who are well-meaning simply do not understand the stakes.  I have had private conversations with such people who are sincerely concerned about our long-term fiscal situation and yet really had no idea as to the consequences of not raising the debt limit.  When I was interviewed on a Florida talk radio program a few weeks back, the host repeatedly argued that we should not raise the debt ceiling and that the consequences would be manageable.  However, I do not know how one can look at the numbers and think that this is the case.
Now, the consequences are sufficiently dire (and this doesn't even get into the financial markets and the potential for Great Recession II) that surely a deal of some sort will be made.  But the rhetoric and behavior out of Washington makes me wonder, I will confess.
I can understand why one might want a specific compromise to emerge from these negotiations.  I can understand why one might might have a specific view on taxes or spending.  I cannot understand, however, any arguments that we can actually get away with not raising the debt ceiling without dire consequences.
Indeed, all of these underscores the utterly ridiculous nature of this law and why I would get rid of it if I could.  As has been noted on numerous times, this is an almost unique legal requirement:
Only Denmark has a fixed debt limit comparable to that of the U.S. There, the debt limit is raised through legislation in a separate action from the annual budget process. In Denmark, however, the debt limit is set at a level so high that the ability of debt managers to issue payments is not inhibited.

The congresses of other countries such as Canada and Sweden approve borrowing authority, but it is in connection with the approval of annual budget decisions.

The United Kingdom, New Zealand, and other countries delegate even broader authority to their treasury departments to borrow in the public interest. But because these countries have parliamentary systems of government, issues such as borrowing money to fund the government usually require significantly less deliberation.
Really, since the Congress sets spending, it has already declared via law whether we are going to have to borrow or not.  The debt ceiling is an artificial impediment to the overall process.
Further, it doesn't even function as designed.  See Sarah Binder (an expert on the Congress) over at the Monkey Cage for some background:  Why do we have a debt ceiling?
So, I am curious:  who thinks that it would be a good idea to not raise the debt ceiling?