Belief in God Low Among Young Americans
A third of Americans under the age of 30 doubt the existence of God, compared to 14 percent 25 years ago.
While all cohorts of Americans have a relatively strong belief in the existence of God, that belief has plummeted among the Millennial Generation, according to the American Values Survey conducted by the Pew Research Center.
TPM's Sahil Kapur has created a much more useful visualization of the data: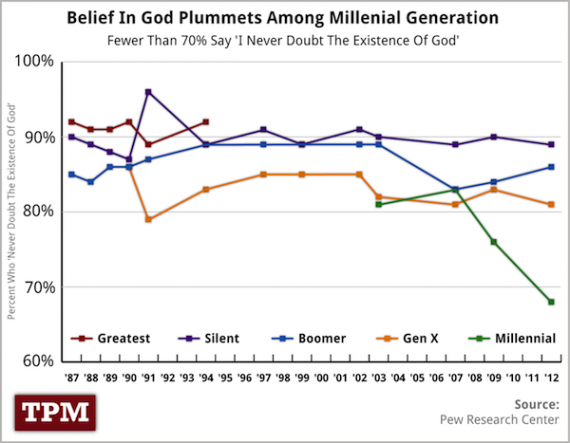 Her assessment:
Young Americans are abandoning God in droves.

A new survey by the Pew Research Center finds that belief in the existence of God has dropped 15 points in the last five years among Americans 30 and under.

Pew, which has been studying the trend for 25 years, finds that just 68 percent of millenials in 2012 agree with the statement "I never doubt the existence of God." That's down from 76 percent in 2009 and 83 percent in 2007.

Among other generations, belief in God is high and has seen few changes over the last few decades. Between 81 and 89 percent of older generations say they never doubt the existence of God, although the older the generation, the more likely they are to believe in God.
Now, given that a full 68 percent of the millennials claim to never doubt the existence of God, "abandoning God in droves" is a bit hyperbolic.
Still, something interesting is going on. It's not simply that young people are less religious by nature. Here's a look at that question broken down by age group, not generation: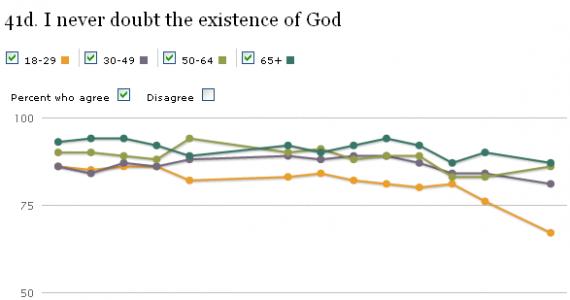 To be clear, this is a look at the responses by age group at the time of the survey–a moving target–rather than by generational cohort. In the early days of the survey, the 18 to 29 and 30 to 49 groups were at the bottom in terms of their belief but the spread between those two groups was modest and not consistently directional. Further, the gap with even the oldest group was pretty small.
In 1987, the lowest faith groups had 86 percent claiming they never doubted God's existence while the highest faith group was at 93 percent. Jump ahead a quarter century and the highest faith group (those over 65) were down modestly to 87 percent. The next group (50 to 64) is clustered so closely that the interactive chart doesn't function; call it 86 percent. My own cohort goes down to 81 percent. The under-30s, though, are at a mere 67 percent.
My hypothesis is that it's a rejection of the social value system taught by Christianity, particularly its more fundamentalist strains. Looking at the crosstabs gives some evidence for this.
On the question "I have old-fashioned values about family and marriage," those who agree increase with each generation.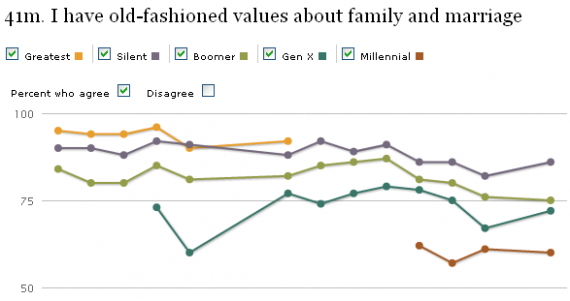 Ditto the question, "School boards ought to have the right to fire teachers who are known homosexuals."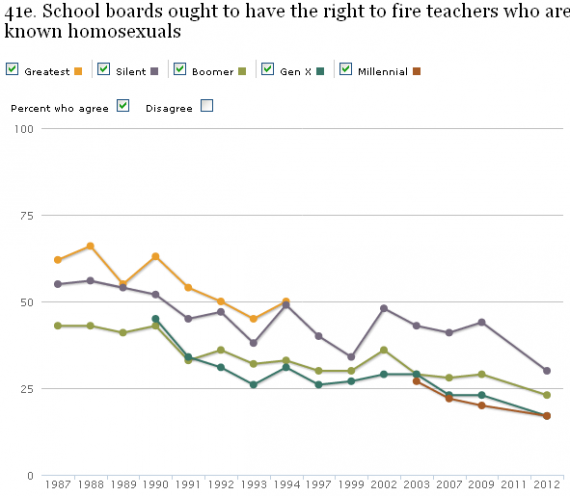 What's interesting on this question, though, is that, over the past decade, even the Silents (born 1925-45) and Boomers (1946-1964) have come to disagree with this notion. In 1987, when I was in my senior year in college and this survey was first taken, a majority of all Americans agreed, as did more than a quarter of college graduates.  Now, less than a quarter of all Americans believe it and only 30 percent of even the Silents buy off on it.
My strong guess is that the declining belief in God among the younger generations is a sheer function of the older generations being more comfortable with cognitive dissonance. Americans are, on the whole, much more religious than our counterparts in Europe and other developed societies. But our attitudes on such issues as divorce, premarital sex, the role of women in society, and homosexuality is nonetheless evolved or evolving at a rapid clip.
Baby Boomers and other older Americans–whose attitudes on those social issues lags those of the Millennials and Generation X'ers–have taken a belief in God for granted for so long that they simply convince themselves that their new attitudes on things that were considered major sins in recent memory is somehow reconcilable with their religious beliefs. Younger folks are simply more likely to figure that, if their religion is teaching them things that they believe to be silly–such as that homosexuality is wrong–then their religion must be silly, too.