Ben Bernanke: GOP Spending Cuts Will Not Harm Economic Growth
Speaking before Congress yesterday, Fed Chairman Ben Bernanke debunked the assertion that the GOP's relatively modest $61 billion spending cut package would significantly harm economic growth.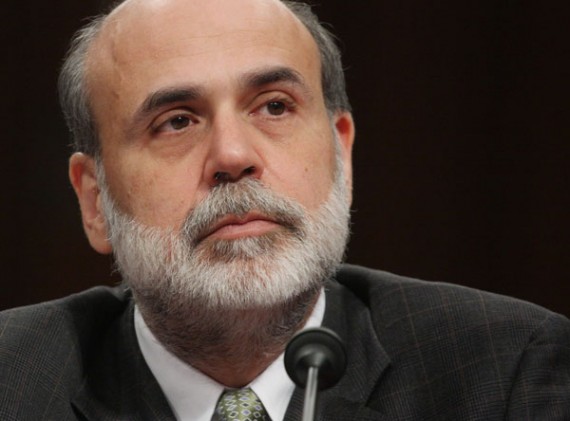 Responding to reports, including a Moody's analysis that Alex Knapp wrote about the other day, Fed Chairman Ben Bernanke testified yesterday that the GOP's proposed package of $61 billion in spending cuts would not have a significant impact on economic growth:
Federal Reserve Chairman Ben Bernanke says a plan from House Republicans to cut $61 billion in spending this year would not harm economic growth.

The GOP's proposed spending cuts, passed as part of a continuing resolution, would probably reduce "growth on the margins" and lower gross domestic product by only one- or two-tenths of a percent, Bernanke told the Senate Banking Committee.

(…)

"Two percent [reduction in growth] is enormous and would be based on $300 billion in cuts," Bernanke told the panel in his semiannual report to Congress. "SixBer

ty billion to $100 billion isn't sufficient to create that kind of effect."

Although Bernanke didn't provide a projection of possible jobs losses from the spending bill, he said the proposed spending cuts aren't likely to lead to the 700,000 job losses predicted by Moody's Analytics chief economist Mark Zandi.

He reiterated previous statements that, while the debt and deficits are major issues for the nation, Congress needs to tackle the issue of long-term budget imbalances.

"Sixty billion won't have much impact on the long run," he said. "Congress needs to address the budget deficit over a 5- to 10-year window."

Bernanke said he would like to see the nation's structural budget deficit reduced by 2 to 3 percentage points in the next decade.
Bernanke's analysis is similar to that of economist John Taylor in his own dismantling of the argument that reduced government spending is a bad thing:
The analysis in this Goldman-Sachs report is based on the same type of "large multiplier" theory that predicted that the stimulus package of 2009 would stimulate economic growth. Research by me and my colleague John Cogan finds that more up-to-date theories, which bring important incentive and expectations effects into account, show far smaller multipliers. In these models a reduction in the growth of spending will immediately crowd in private investment. Moreover, by following the stimulus money, we found that in actuality the stimulus package of 2009 had no material positive effect on economic growth or employment. The same economic theory which said the stimulus would increase economic growth in the past two years, says that reversing that spending will reduce growth now. It was wrong in the past and it is highly likely to be wrong again.

As I have written before, the old-style Keynesian approach used by Zandi has many of the same flaws that are found in the Goldman Sachs approach: excessively large multipliers, inaccurate predictions of the effect of the 2009 stimulus, failure to recognize that reducing uncertainty about the debt can have positive effects, especially if it is done in a credible way by reducing spending growth now, not postponing it to a date uncertain in the future. After stating that "too much cutting too soon would be counterproductive," Zandi claims that this is what the "House Republicans want" and what their budget does. But it's simply not credible to say that a budget that has government spending increasing at 6.7 percent per year cuts spending too much too soon.

In sum, there is no convincing evidence that H.R. 1 will reduce economic growth or total employment. To the contrary, there is more reason to expect that it will increase economic growth and employment as the federal government begins to put its fiscal house in order and encourage job-producing private sector investment.
The Goldman-Sachs report that Taylor refers comes to conclusions very similar to the Zandi report in that it claims that the GOP cuts would have a significant impact on economic growth It's also worth noting that Zandi was the architect of the Administration's dubious stimulus package, which ended up costing at least $228,000 per job "saved or created," and which fell far short of the economic impact that Zandi and others were claiming that it would at the time that it was being considered by Congress As a general rule, an economic forecasters who was so spectacularly wrong on his signature political achievement ought be doubted when he's commenting on someone else's work.
We've already tried the ideas that Zandi and his ilk put forward and it's resulted in a sluggish economy and massive debt. Feeding the government pig isn't working, it's time to try something new