Ben Carson, Not A Serious Candidate, Still Equates America To Nazi Germany
Ben Carson is not a serious candidate for President, but he's likely to get a lot of support from the GOP's Tea Party wing.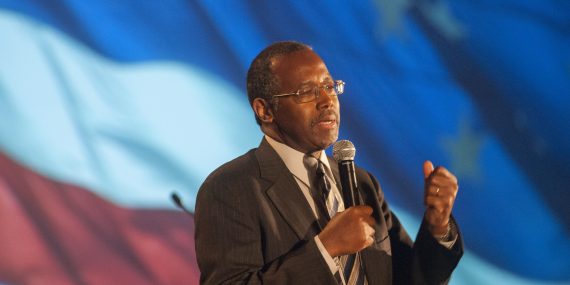 Several times over the past couple years, Baltimore neurosurgeon Ben Carson, who has become something of a celebrity on the right thanks to his incindiary comments about President Obama, has made direct analogies between the policies of the Obama Administration and either slavery or Nazi Germany. Indeed, it is rhetoric like this that has no doubt made him so popular among the Fox News/talk radio crowd and led to the speculation about him running for President. Most recently, Carson has hinted that there was a "strong likelihood" that he would run for the Republican nomination in 2016 and, immediately after the election in November, he released a video that many saw as the start of that bid although it did not constitute a formal announcement of any kind. That move led to Carson and Fox News cutting ties, which is usually a sign that someone is on track to run for office. More recently, Carson finished quite strongly in a new CNN/ORC poll of potential candidates, garnering the support of 10% of the respondents, putting him in second place behind Mitt Romney and ahead of all the other potential candidates.
Yesterday, Carson had what probably qualifies as his first serious press interview in an appearance on CNN with Wolf Blitzer, and he refused to back down from his previous comments:
Neurosurgeon Ben Carson stood by his controversial comparison of the United States to Nazi Germany in an interview with CNN's Wolf Blitzer on Wednesday.

Asked by Blitzer whether he would amend or take back his comments, Carson said "Absolutely not."

Carson made the comments during a March interview with conservative news outlet Breitbart.com. He noted that the Third Reich was "using its tools to intimidate the population," and said that "we now live in a society where people are afraid to say what they actually believe."

In elaborating on those comments Wednesday, he again suggested that the U.S. "government is using instruments of government, like the IRS, to punish its opponents."

Pressed by Blitzer on whether the comparison was appropriate, Carson argued his focus on the specific words was "part of the problem."

"What you were doing is allowing words to affect you more than listening to what was actually being said. And that's part of the problem," he said.

"You are just focusing on the words 'Nazi Germany' and completely missing the point of what is being said," he added.

He was also asked about comments that Obamacare was the "worst thing" that's happened in the U.S. "since slavery." Carson said whether the health care reform law was worse than other crises that have gripped the nation, like the terrorist attacks on Sept. 11 or the Great Depression, is "not the point."

"The point of what I'm saying…is a major fundamental shift of power has occurred," from the people to the government, and "if we continue down that road the United States of America becomes something very different than it was intended to be."
Rhetoric like this will no doubt play well with the base of the Republican Party. Indeed, the things Carson has said that most people would consider "controversial" are commonly repeated among the Tea Party wing of the GOP and largely considered not controversial at all. If anything, equating Obamacare with Nazism, slavery, and the September 11th attacks is likely to help enhance Carson's profile with GOP base voters rather than detract from it. Obviously, that says something about what's going on the with the GOP base, but all it really does in reinforce what we've already known about that segment of the Republican Party, which four years ago was backing candidates like Herman Cain and Michelle Bachmann and in recent years has rallied around people like Ted Cruz and causes like a scheme to "defund" Obamacare" that was doomed from the start. Obviously, comparing the Affordable Care Act to examples of some of the worst events of recent human history, even thought it is ridiculously over the top, is going to appeal to them. I suspect that Carson knows this and is using the rhetoric deliberately for precisely that purpose.
Perhaps the more interesting part of the interview, though, came later when it seemed like Carson was wondering why anyone would want to be President:
Ben Carson, a potential contender for the GOP presidential nomination, said that running for president "has not been a goal" and called the position "horrible and stressful."

"I'm not sure that anybody wants to put themselves in that kind of horrible and stressful situation, that has never been a goal of mine," Carson told CNN's Wolf Blitzer on Wednesday.

He continued, "However, I do recognize that the direction of our country is not a good one…many Americans have been indicating that they want me to [run], so whether I want to do it or not, I do feel an obligation to at least very seriously consider the possibility."
As Jazz Shaw notes, at some point every potential candidate faces the "Why do you want to be President?" question, and if you're going to be a serious candidate you've got to come up with some kind of a serious answer to that question. Perhaps most famously, the late Senator Ted Kennedy pretty much doomed his 1980 bid for the office when Kennedy flubbed his answer to that question in an interview with Roger Mudd. Carson's answer is even stranger than Kennedy's because he's basically saying why would anyone want that stupid job? Well, Dr. Carson if that's how you feel about it, then why would you run for it? In the end, I doubt that the true believers that might be inclined to support him are going to care one way or the other.
Much like Herman Cain, Ben Carson is not going to be a serious candidate for the Republican nomination in the sense that he has no realistic chance of actually winning the nomination. At the same time, like Cain, it is quite likely that Carson will garner something of a cult following during the course of the campaign, and that's likely to lead to more press coverage. This will especially be true of he continues making ridiculous analogies to Nazis and slavery. Not only will that rhetoric gain him support among the hardcore basis, though, it will also force more serious candidates to respond to questions about whether or not they agree with him, just as candidates like Romney were put on the spot to respond when candidates like Bachmann and Cain made ridiculous statements during the 2012 campaign. That won't be helpful to efforts by the serious candidates for the nomination to navigate that always tricky path between being conservative enough to win the GOP election but not so far to the right that they poison the well should they end up winning the nomination and have to campaign in the General Election against a Democratic candidate who will obviously use their words in the primary campaign against them. That's the real danger that novelty candidates like Carson, who in the end is running for reasons that have nothing to do with being the nominee, pose in races like this, and why it would be in the interest of the more serious candidates to neutralize them as much as possible by taking measures such as limiting the number of multi-candidate debates, a step that the Republican National Committee is hoping to implement in 2016. The success of those efforts could go a long way toward deciding the GOP's fate in 2016.