Ben Carson Says He Can't Quit The Race For The Republican Nomination
Yes you can Ben, yes you can.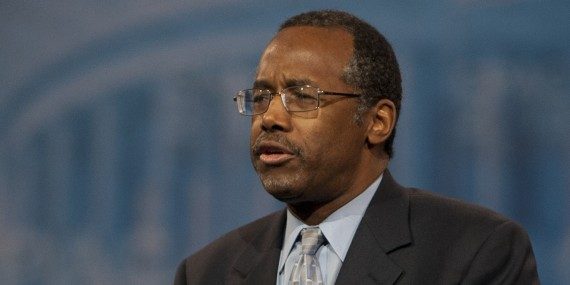 While Carly Fiorina and Chris Christie have seen the light and ended their quixotic Presidential bids in the wake of disappointing performances in New Hampshire, Ben Carson is saying that he can't leave the race:
Ben Carson said Wednesday he will be staying in the Republican race, despite a poor showing in New Hampshire, and is hoping to win big in South Carolina.
"I'm not getting any pressure from our millions of supporters (to leave the race). I'm getting a lot of pressure to make sure I stay in the race," Carson told CNN's Jake Tapper on "The Lead." "You know, they're reminding me that I'm here because I responded to their imploring me to get involved. And I respect that and I'm not just going to walk away from the millions of people who are supporting me."

Carson came in second-to-last place Tuesday night, beating only former Virginia Gov. Jim Gilmore. His decision to stick in the race comes even as two candidates who beat him there, Carly Fiorina and Chris Christie, announced Wednesday they were ending their bids.

But Carson, who at one point attracted strong support from evangelical voters, said he expected to do well in South Carolina.

"I think I can win South Carolina. We're going to be putting a lot of time resources and effort here," Carson said.
In reality, of course, there is absolutely nothing keeping Ben Carson from leaving the race for the White House at any moment whatsoever if that's what he so chooses. The fact that he isn't doing so, and that he appears to believe that that he has anything resembling a viable path to the nomination, would suggest to some that he is somehow delusional, or that he views his Presidential campaign as a path toward carving out a future career as a public speaker at conservative events or perhaps as a media pundit. The latter is certainly, possible, of course, but the manner in which Carson answered Jake Tapper's question suggests another possibility. Even before Carson ran for President, it's long been suspected among many conservative pundits that Carson is surrounded by a group of "advisers" and friends who have been using his fame as a physician and public speaker, and now his Presidential bid, to enrich themselves. It's also been suggested that Carson feel some sense of personal loyalty to these people for the role they've played in getting him to where he is today. While proving such a hypothesis is next to impossible, the fact that Carson's campaign seems to spend money at a faster rate than anyone else running for President certainly seems to suggest that something like this, which is likely completely legal, could be going on. It would explain why Carson continues even though his campaign is effectively dead.
As for Carson's suggestion that he can win South Carolina, that contention can be easily dismissed. Prior to the start of the voting season, he was averaging 8.7% in the Palmetto State, which put him at fifth place. When new polling comes out in the coming days, one suspects that his numbers will drop considerably as votes leave him behind in search of a candidate who actually has a chance of winning the nomination. Nationally, Carson isn't faring much better with a 7.8% average that seems as though it will likely drop precipitously now that the race has winnowed significant to just a handful of serious candidates. It's probable that these numbers are somehow working to convince Carson that he can stay in the race, and as long as he has supporters who continue to send his campaign money then there really won't be any reason for him to get out.