Ben Carson's Sham Campaign Has Him Tied With Hillary Clinton
The juxtaposition of two headlines at memeorandum is amusing.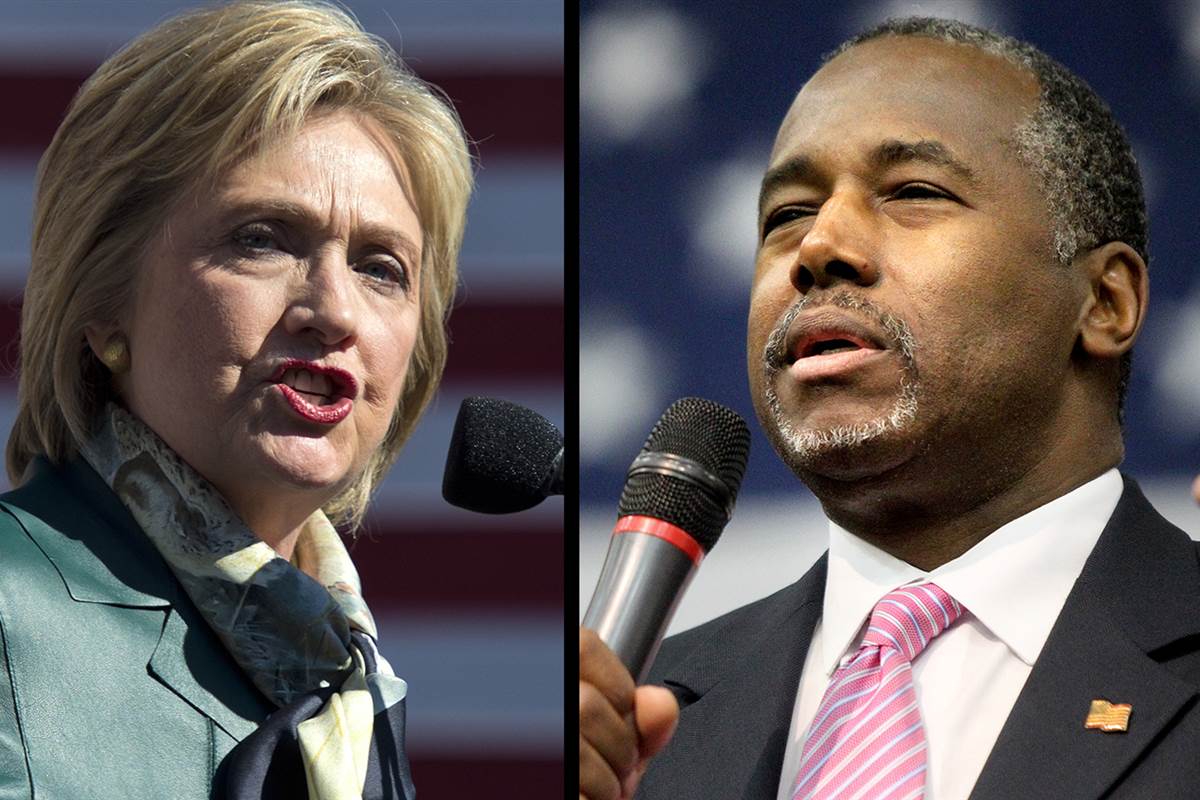 The juxtaposition of two headlines at memeorandum is amusing: "Is Ben Carson Running for President?" and "Poll: Clinton Ties Carson in '16 Matchup, but Tops Other GOP Candidates."
The first, by Jonathan Chait, is one to which I'm sympathetic:
On February 7, 2013, Ben Carson appeared at a National Prayer Breakfast, where he visibly annoyed President Obama by delivering a right-wing speech denouncing Obamacare and cultural liberalism, and calling for a flat tax based on the biblical tithe. Conservatives, still devastated by Obama's reelection, took delight in the appearance on the scene of a surprising new presidential antagonist, who until that point had no political profile. "Finally, a self-reliant conservative decided to make this every bit as political as Obama does," tweeted conservative pundit David Limbaugh. The Wall Street Journal celebrated Carson's remarks in a short editorial, headlined "Ben Carson for President." The headline was obviously hyperbolic; nothing in the text that followed proposed that Carson run for public office.

But now Carson actually is running for president. Or is he? It is hard to tell. Conservative politics are so closely intermingled with a lucrative entertainment complex that it is frequently impossible to distinguish between a political project (that is, something designed to result in policy change) and a money-making venture. Declaring yourself a presidential candidate gives you access to millions of dollars' worth of free media attention that can build a valuable brand. So the mere fact that Carson calls himself a presidential candidate does not prove he is actually running for president rather than taking advantage of the opportunity to build his brand. Indeed, it is possible to be actually leading the polls without seriously trying to win the presidency.

And the notion that Carson could be president is preposterous. The problem is not only that he has never run for elected office. He has never managed a large organization; he has not worked in and around public policy, and he lacks a competent grasp of issues. His stance on health care, the closest thing to an issue with which his professional experience has brought him into contact, is gibberish. He mostly thrills audiences by scoffing at evolution and insisting Muslims be barred from the presidency, stances he cannot even defend coherently.

It is possible that Carson has come to genuinely believe that he is qualified to serve as president. (As a follower of the conspiracy theorist W. Cleon Skousen, Carson seems to subscribe in earnest to a series of completely fantastical beliefs.) It is also possible that Carson is being manipulated by staffers who stand to profit off their association with him. But the most likely explanation for his behavior is that Carson himself is in this thing to make a lot of money.
Chait goes on to make a compelling argument that Carson is doing all sorts of things that make no sense if one is trying to get elected president but are shrewd as hell if one is just raising one's brand awareness as a right-wing shill.
But, of course, Carson is not only soaring in the polls but actually leading some of them. Moreover, inexplicable as it may be to Chait or Joyner, the NBC/WSJ poll has Carson not only leading the Republican field but tied with the Democratic frontrunner:
Clinton is ahead of Republican Donald Trump by eight points among registered voters, 50 percent to 42 percent.

She leads former Florida Gov. Jeb Bush by four points, 47 percent to 43 percent.

And Clinton holds a three-point advantage over Sen. Marco Rubio, 47 percent to 44 percent, though that's well within the poll's margin of error of plus-minus 3.4 percentage points.

But against Ben Carson, who is now leading the GOP horserace in the NBC/WSJ poll, Clinton finds herself in a tied contest, 47 percent to 47 percent.
It's just one poll, albeit a reputable one, and one conducted a year out from the actual election. But Carson is clearly tapping into something real and widespread.
I've been quite interested in politics and international affairs going back to the Iran hostage crisis and the 1980 election. I've voted Republican for president in every election since I've been eligible, going back to 1984. And yet I'd happily vote for Martin O'Malley over Carson, Donald Trump, or Ted Cruz. Hell, I'd vote for Bernie Sanders over any of them.
Clinton being the almost-inevitable Democratic nominee makes it more challenging, given my strong distaste for her going back to her emergence on the national stage 25 years ago. She's obviously much more qualified by experience for the job than Carson or Trump. And Carson is sufficiently extreme on the issues that I'm likely closer to Clinton. But she also has many of the negative character traits that repel me from Trump and Cruz.
The belief that the rigorous and prolonged nomination fight will burst the Trump and Carson bubbles continues to sustain my hopes that I won't be left with Clinton as the least awful outcome.