Bernie Sanders Sweeps Western Caucuses, But Hillary Controls The Race For Delgates
Bernie Sanders swept the Western Caucuses on Saturday, but Hillary Clinton remains in control in the delegate count.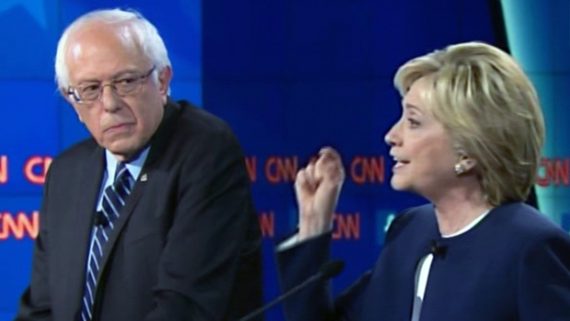 In a seemingly unusually scheduled set of contests on the Saturday before Easter, Bernie Sanders swept Hillary Clinton in contests in Alaska, Hawaii, and Washington State, but Clinton continues inch forward in the delegate count toward a seemingly inevitable victory:
Senator Bernie Sanders routed Hillary Clinton in all three Democratic presidential contests on Saturday, infusing his underdog campaign with critical momentum and bolstering his argument that the race for the nomination is not a foregone conclusion.

Mr. Sanders found a welcome tableau in the largely white and liberal electorates of the Pacific Northwest, where just days after resoundingly beating Mrs. Clinton in Idaho he repeated the feat in the Washington caucuses, winning 73 percent of the vote. He did even better in Alaska, winning 82 percent of the vote, and in Hawaii, he had 71 percent with a few precincts still be counted, according to The Associated Press.

Washington, the largest prize Saturday with 101 delegates in play, was a vital state for Mr. Sanders, whose prospects of capturing the nomination dimmed after double-digit losses to Mrs. Clinton across the South and weak showings in delegate-rich Ohio, Florida and North Carolina this month. As of Saturday evening, Mrs. Clinton had roughly 280 more pledged delegates, who are awarded based on voting, and 440 more superdelegates — party leaders and elected officials — than Mr. Sanders.

At a rally in Madison, Wis., late Saturday afternoon, Mr. Sanders assured supporters that his victories had cleared a viable path to the nomination. "We knew from day one that politically we were going to have a hard time in the Deep South," Mr. Sanders said. "But we knew things were going to improve when we headed west."

Noting the "huge" voter turnout — in Washington, party officials estimated more than 200,000 people participated on Saturday, close to the record set in 2008 — he told the crowd, "We are making significant inroads into Secretary Clinton's lead."

The victories on Saturday only slightly narrowed the gulf with Mrs. Clinton in the quest for the 2,382 delegates needed to clinch the Democratic nomination.

But the wins are likely to bestow on the Sanders campaign a surge of online donations with which to buy advertising in the expensive media markets of New York and Pennsylvania, which hold primaries next month. The victory will also embolden Mr. Sanders to stay in the race and continue challenging Mrs. Clinton on her ties to Wall Street and her foreign policy record.

Republicans did not hold any contests on Saturday. The next nominating battle for both parties will be the April 5 primaries in Wisconsin, followed by the April 9 Democratic caucuses in Wyoming, another contest that plays to Mr. Sanders's strengths.

His victories on Saturday were not unexpected. All three states have relatively low percentages of the black and the Latino voters who have bolstered Mrs. Clinton's campaign, and Washington and Alaska held caucuses, the type of voting in which he has done well.

Yet the results also highlighted the uphill climb Mrs. Clinton would face in winning over the young and liberal voters who have flocked to the Vermont senator, and who often express concerns about her fund-raising and speechmaking practices.

On Saturday morning, the auditorium at Eckstein Middle School in North Seattle burst with more than 1,400 caucusgoers holding lattes, pushing strollers and wearing "H" or "Bernie" lapel pins. Bleachers were set up onstage to accommodate the crowd. "This is what democracy looks like," Janet Miller, the caucus organizer, said from the auditorium's stage.

Mr. Sanders won that precinct on Saturday, and many others. "I appreciate Bernie's fervor and honesty," said Ian Forrester, 25, a barista and rock musician who caucused for Mr. Sanders. "We've all seen the poor and the middle class suffer during this economic downfall, and we need someone who cares about them, not about corporations."

The Sanders campaign blanketed Washington with $1 million in ads. Mr. Sanders found a sweet spot of support among Seattle's young voters. A video clip of his rally on Friday, just over the state line in Portland, Ore., went viral after a delicate songbird perched on his podium, inspiring the Twitter hashtag #BirdieSanders. "I think there may be some symbolism here," Mr. Sanders said to a roar of applause.

Mrs. Clinton will have a chance to regain momentum, and a wash of delegates, when the Democratic primary moves to her adoptive home state, New York, on April 19. Her national campaign headquarters is in Brooklyn; on Saturday, Mr. Sanders opened an office in the borough's Gowanus neighborhood, just a few miles from where he grew up.

Lately on the campaign trail, Mrs. Clinton, bracing for some losses in the caucus states, seemed to have grown annoyed by the commentary from political rivals that Mr. Sanders's campaign has drawn far more enthusiastic supporters. "I totally respect the passion of my opponent's supporters, absolutely respect it," Mrs. Clinton said while campaigning on Tuesday in Washington.
Given the fact that Sanders has been successful in caucus states, and in states with low minority populations, it's not entirely surprising that he did as well in these western states as he did. To a large degree, all three of them are perfectly suited to him and the arguments he's making, and the fact that they are caucuses rather than primaries means that a relatively small group of organized and committed people can have an outsized impact on the outcome of a contest. That being said, it would be a mistake to simply dismiss Sanders' wins here as completely meaningless. At the very least, Sanders continued ability to keep his candidacy alive with wins like this shows that there is a sizable portion of the Democratic Party that is not completely sold on the idea of Hillary Clinton as their party's nominee, or at least not sold on the idea that she will take up the banner of the ideas that Sanders is talking about when she does win the nomination. For that reason, these voters continue to rally around Sanders and give him victories like the ones he garnered this weekend.
Notwithstanding Sanders good week, the delegate count remains decidedly in Clinton's favor and there is little reason to think that the likelihood of her being the nominee has diminished in any appreciable respect. First of all, Sanders has yet to get the full benefit of his wins over the weekend due to the fact that many of the delegates in Washington State most especially will not be assigned until the State Party Convention, a factor which means that Clinton could end up doing better in the Washington delegate count than the outcome of the vote might suggest. Second, as has been the case all along, Sanders meager gains in delegates from wins like this are doing little to slow Clinton's momentum. As of today, Clinton has scored 1,712 delegates, which puts her just 670 delegates short of victory on a first ballot. Sanders, on the other hand, has 1,004 delegates and needs 1,378 delegates to get to the majority of 2,382 needed for a first ballot majority. Additionally, Sanders greatest successes have been in caucus states, but there are only two of those left on the Democratic calendar and the turn to the Mid-Atlantic states in April makes it harder for Sanders to pull off the kinds of wins he did over the weekend. So, while Sanders is once again doing well in the short term, the long term outlook continues to indicate a Clinton victory in the end.