Hillary Clinton Scores Decisive Super Tuesday Wins, Moves One Step Closer To Nomination
As expected, Hillary Clinton won big last night while Bernie Sanders largely floundered, thus going further toward making Clinton's victory inevitable.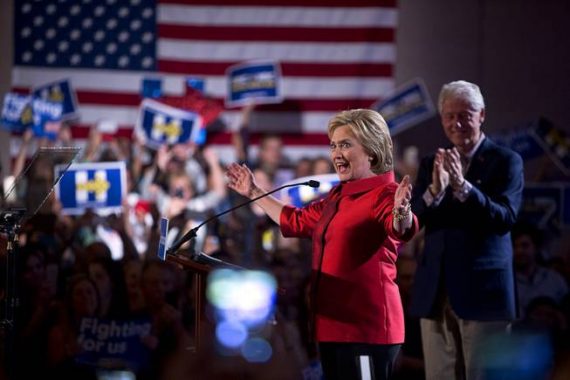 As largely expected, Hillary Clinton dominated the Democratic contests on Super Tuesday thanks in no small part to her strong base of support among minority voters and other traditionally heavily Democratic demographic groups, keeping her firmly on track to becoming the presumptive Democratic nominee for President:
Hillary Clinton took full command of the Democratic presidential race on Tuesday as she rolled to major victories over Bernie Sanders in Texas, Virginia and across the South and proved for the first time that she could build a national coalition of racially diverse voters that would be crucial in the November election.

Based on results from Democratic primaries and caucuses in 11 states, Mrs. Clinton succeeded in containing Mr. Sanders to states he was expected to win, like Vermont and Oklahoma, and overpowering him in predominantly black and Hispanic areas that were rich in delegates needed for the Democratic nomination.

Mrs. Clinton, who also won Massachusetts and showed notable strength among Southern white voters, came away with a strong delegate lead over Mr. Sanders — notably larger than the one that Barack Obama had over her at this point in the 2008 presidential race.

"What a super Tuesday!" Mrs. Clinton declared to cheers at a victory rally in Miami. In her recent signature line mocking Donald J. Trump's slogan, she said: "America never stopped being great. We have to make America whole — fill in what's been hollowed out."

"The rhetoric we're hearing on the other side has never been lower," she added. "Trying to divide America between us and them is wrong, and we're not going to let it work." As the crowd broke out in chants of "U.S.A.," she said, "Whether we like it or not, we're all in this together, my friends, and we all have to do our part."

The contests on Tuesday were well suited to Mrs. Clinton's strengths: her popularity with minority voters, her political kinship with Southern Democrats from her two decades in Arkansas, and her success in delegate-rich Texas in 2008. She won sizable victories in Arkansas as well as Alabama, Georgia and Tennessee, with especially big margins in counties with many blacks.

Mr. Sanders's advisers, in turn, described Tuesday as their candidate's most difficult moment on the primary calendar, given the diverse electorate, the relative lack of states with huge liberal populations, and the dearth of caucuses — a format that Mr. Sanders believes favors him. He won the caucuses in Colorado and Minnesota on Tuesday; Mrs. Clinton won earlier caucuses in Iowa and Nevada.

While even the poorest showing would not drive Mr. Sanders from the presidential race, his advisers said, Mrs. Clinton was already looking past her party rival on Tuesday to the leading Republican candidate, Mr. Trump, saying she was "very disappointed" that he initially refused to disavow support from David Duke, the former Ku Klux Klan leader.

"We can't let organizations and individuals that hold deplorable views about what it means to be an American be given any credence at all," Mrs. Clinton told reporters while campaigning at a coffee shop in Minnesota. "I'm going to continue to speak out about bigotry wherever I see it or hear about it."

Mr. Sanders, who has also criticized Mr. Trump over the Duke endorsement, cast his ballot in the Vermont primary on Tuesday and held avictory party shortly after he was declared the winner there at 7 p.m. Choosing not to wait and see the results in other states, Mr. Sanders sounded defiant at times and philosophical at others as he spoke to a hometown crowd of cheering admirers near Burlington.

"I know Secretary Clinton and many of the establishment people think I'm looking and thinking too big," Mr. Sanders said of his proposals for free public college and Medicare for all. "I don't think so!"

"By the end of tonight, we are going to win many hundreds of delegates," he predicted. "We have come a very long way in 10 months."

The closest race of the night was in Massachusetts, where Mr. Sanders campaigned aggressively and where many liberals shared his politics and had elected his ideological ally, Senator Elizabeth Warren. But Mrs. Clinton, buoyed by strong support in the greater Boston area and working-class towns like Lowell, New Bedford and Springfield, edged out Mr. Sanders, who fared best in western Massachusetts and towns bordering Vermont and New Hampshire.

Mrs. Clinton, who won Massachusetts comfortably in 2008, visited on Monday, and former President Bill Clinton held events that night and on Tuesday.

(…)

Mrs. Clinton won about six in 10 white voters in Alabama and Arkansas, and she performed strongly in white rural parts of Virginia, Tennessee and Georgia — results that her advisers highlighted as evidence that she could do well with working-class white voters in Ohio, Michigan and other states. These voters were a key part of her base in 2008 but are now being targeted by Mr. Sanders as well as Mr. Trump.

"We have the makings of a broad-based diverse coalition that could not just power her to the nomination but make for a winning coalition in a general election," said Brian Fallon, a Clinton spokesman. "But having said that, I think we have room to grow in certain areas."

Mrs. Clinton herself signaled that she would be more focused on the working-class white voters who have flocked to Mr. Trump. At her Miami rally, she vowed to help lift up "struggling Rust Belt communities and small Appalachian towns that have been hollowed out" by the loss of jobs and opportunities. Exit polls by Edison Research on Tuesday night showed that Mrs. Clinton performed strongly with blacks in Virginia and Hispanics in Texas, the most powerful Democratic forces in those states, and leading with men, women and white voters.

In 2008, by contrast, Mrs. Clinton did well with white voters and had success in some states with Hispanics, but she repeatedly lost the black vote to Mr. Obama and was never able to demonstrate that she could attract a winning coalition of racially and ethnically mixed voters nationwide.

In that 2008 race, Mr. Obama narrowly beat Mrs. Clinton in delegates on Super Tuesday, which unfolded in 22 states including New York and New Jersey and featured more caucuses than this year's contests. Mr. Obama did not secure his impregnable 100-delegate lead over Mrs. Clinton until an 11-state winning streak after Super Tuesday; Mrs. Clinton, in other words, is better positioned than Mr. Obama was to make Super Tuesday a turning point when she solidifies a huge lead over Mr. Sanders.

"We've always said March was a critical month," said Joel Benenson, Mrs. Clinton's chief strategist. "You've got more than 20 percent of the delegates decided tonight. Tonight was the night when the delegate count will become more paramount and will continue to be what people focus on going forward."

Tad Devine, a senior adviser to Mr. Sanders, said the campaign stopped polling in Super Tuesday states last week to husband resources because the Sanders team did not need polls to tell them that they were facing a rough patch on Tuesday. He said that campaign advisers would huddle on Wednesday to develop strategy on the most politically advantageous states and areas to spend money in hopes of rebounding in the delegate race.

"Michigan, Washington State, Wisconsin, even New York are good terrain for Bernie's message and for us to execute our strategy to keep competing," Mr. Devine said of the coming contests. "And we have good terrain coming up in Kansas and Nebraska. And I think we have a real, real good shot in Maine," which holds Democratic caucuses this Saturday but has only 30 delegates at stake.

With 11 more states behind them, Clinton advisers say her most urgent — and trickiest — task will not be to tear down Mr. Sanders, but to show him respect so that his legions of young voters and lower-income white supporters will ultimately embrace her candidacy.
Given the large numbers of southern states included in Super Tuesday this year, all of which have significant African-American populations, the scope of Clinton's victories last night is entirely unsurprising. We already saw with her decisive win in South Carolina that Clinton clearly has this particularly important for Democrats demographic group firmly on her side, while Senator Sanders has barely managed to make a dent into Clinton's support in these communities. This suggests that Clinton will continue to see this level of success as we head into northern and other states that are also more demographically diverse, and which have long been areas where Democrats have been successful. This includes delegate rich states like Michigan, Ohio, and Illinois, as well as Pennsylvania, Florida, and California. Clinton can also be expected to do very well in the remaining southern states such as Mississippi, North Carolina, and Maryland. Sanders, meanwhile, is likely to see his victories going forward, to the extent he has any, to states that are largely white and states where delegates are selected by caucus rather than by primary. Given the way the delegate counts work out in these states, this means that Clinton's victory at this point is a matter of when rather than if and that Sanders will only continue to fall further behind in a race that, in all honesty, he never really had a chance of winning in the first place.
Turning to the delegate count, current estimates show that Clinton is well on her way to becoming the presumptive nominee. To date, RealClearPolitics estimates that Clinton has 543 delegates to 349 won by Sanders. Adding in the 457 superdelegates who have pledged their support to Clinton, this gives her 1,000 of the 2,382 delegates needed to win the nomination, meaning she is just under the 50% needed to nomination outright. Sanders, meanwhile, has won the support of just 22 superdelegates meaning he has 371 total delegates, or just over one-third of the amount Clinton has won or pledged to her. This gap is only likely to become larger as the coming weeks go along and Clinton continues to grab up the majority of wins and the majority of delegates. More importantly, as Nate Cohn notes, Sanders has no plausible path to victory at this point:
Mr. Sanders has big weaknesses among key blocs of nonblack voters: Hispanics; white voters in the South; affluent white voters; and older white voters. It would be very hard for Mr. Sanders to win nonblack voters by more than 20 points while facing resistance from any of these groups.

None of this means that the race ends quickly. Democratic delegates are awarded proportionally, so Mrs. Clinton would need time to clinch a majority of pledged delegates. Mr. Sanders has a loyal base of supporters who could easily fund an insurgent campaign well past the point when it is even plausible to suggest he could win the nomination.

But if the race continues as it has to date, Mr. Sanders will suffer serious losses over the next two weeks. Mrs. Clinton could approach or exceed 80 percent of the vote in Mississippi and Louisiana. She could win 60 percent of the vote in Michigan, a state where black voters represent an above-average share of the electorate. Mrs. Clinton would be poised for a clean and decisive sweep on March 15, when five big states with large numbers of black voters — Illinois, Missouri, Florida, North Carolina and Ohio — cast ballots.

Even then, Mrs. Clinton will not have a majority of pledged delegates. Only half will have been awarded. But Mr. Sanders would need to win by around 20 points from that point on to catch up.

The results tonight show that outcome is highly unlikely. There is no progressive majority for a "political revolution" in the Democratic Partywithout the support of black voters.
All of this suggests that, at some point, Sanders is going to have to ask himself if he wants to continue a race that is effectively over, or claim a victory to the extent that his presence in the race has forced the discussion of economic inequality and other issues that he got into this race to promote and work toward mending fences with Clinton with an eye toward getting a prominent speaking role at the Democratic convention.
Looking forward, the schedule remains very favorable for Clinton with primaries in Michigan, Florida, and Ohio, as well as Illinois, Missouri, and North Carolina. All of these are states that she should win easily. Sanders, meanwhile, seems to be at a decided disadvantage based on the current calendar given that, once again, many of the biggest states that will be contested are ones where minority voters will play a prominent role in the primaries. Once again, Sanders' utter failure to resonate with any of these groups will likely prove fatal to his campaign. No matter how positively his campaign tries to spin the last two weeks, the losses Sanders suffered indicate that he can't even seem to attract a small degree of interest among these groups. As long as that's the case, and it seems unlikely to change, the outcome of races in those states is self-evident and Sanders' fate is inevitable and sealed.