Biden and Putin to Talk Ukraine
Russia may invade Ukraine again. The United States would prefer otherwise.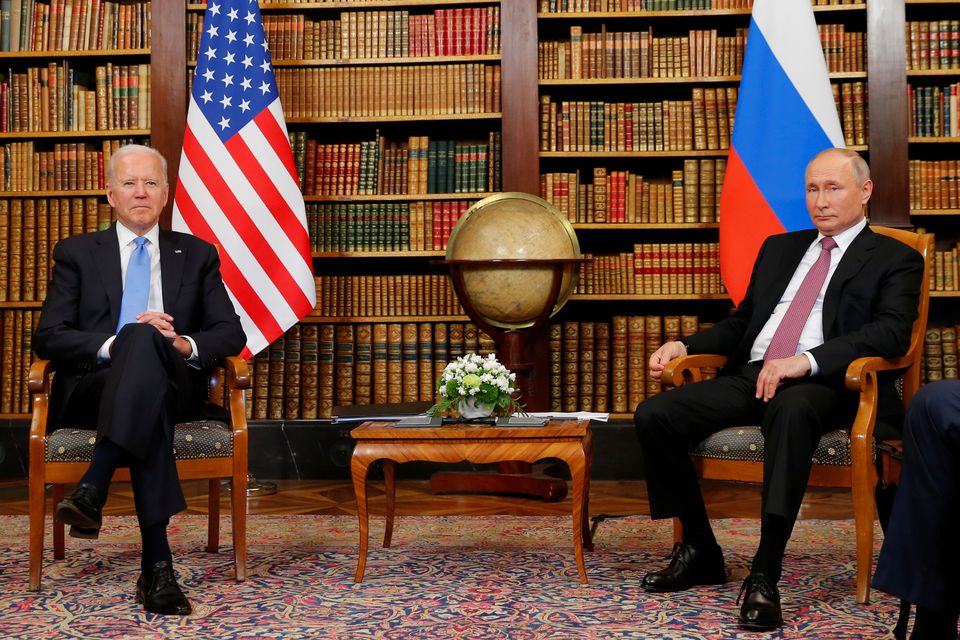 Reuters ("Biden and Putin set to talk about Ukraine in video call on Tuesday"):
U.S. President Joe Biden and Russian President Vladimir Putin will hold a video call on Tuesday, with the two leaders set to discuss the tense situation in Ukraine.

"Biden will underscore U.S. concerns with Russian military activities on the border with Ukraine and reaffirm the United States' support for the sovereignty and territorial integrity of Ukraine," White House spokesperson Jen Psaki said in a statement.

She said other topics would include "strategic stability, cyber and regional issues."

The two will also talk about bilateral ties and the implementation of agreements reached at their Geneva summit in June, the Kremlin said on Saturday.

"The conversation will indeed take place on Tuesday," Kremlin spokesman Dmitry Peskov told Reuters. "Bilateral relations, of course Ukraine and the realization of the agreements reached in Geneva are the main (items) on the agenda," he said.

The exact timing of the call was not disclosed.

More than 94,000 Russian troops are believed to be massed near Ukraine's borders. Ukraine Defense Minister Oleksii Reznikov said on Friday that Moscow may be planning a large-scale military offensive at the end of January, citing intelligence reports. U.S. officials have come to similar conclusions, they said.

Biden, meanwhile, has rejected Russian demands for security guarantees in the region.

"My expectation is we're going to have a long discussion with Putin," Biden told reporters on Friday as he departed for a weekend trip to Camp David. "I don't accept anybody's red lines," he said.

The U.S. president said he and his advisers were preparing a comprehensive set of initiatives aimed at deterring Putin from an invasion. He did not give further details, but the administration has discussed partnering with European allies to impose more sanctions on Russia.

U.S. Defense Secretary Lloyd Austin separately said that Washington was committed to ensuring that Ukraine had what it needed to protect its territory.
The Obama administration, rightly in my view, did very little when Russian "little green men" invaded Crimea. It did only a little more a few months later when Russia annexed Crimea after a sham referendum. It did very little about the continuing Russian activities in the Donbas region of Ukraine proper (what Wikipedia calls an ongoing Russo-Ukrainian War). And, naturally, neither did the Trump administration. It's been nothing but cheap talk and painful but livable sanctions.
And, again, I think this is the correct policy. Ukraine is not a NATO ally or even a historic partner. Indeed, it was part of the Soviet Union and Russia for most of its existence. It has been an independent country in modern times for only the last 30 years. And, like it or not—and I don't—Crimea is once again a de facto part of Russia and will likely continue to be long after Joe Biden has shuffled from this mortal coil.
Putin's actions have not been cost-free. He's an international pariah. Russia has been expelled from the G-7 and is widely considered a joke of a country, "great power" or no. But, like it or not, Russia continues to have a massive military and a huge stockpile of nuclear weapons. We're simply not going to risk World War III over Ukraine. Hell, most Americans haven't stopped calling it "the Ukraine," the name it held as a Soviet Republic.
I get not wanting to "accept anybody's red lines." We're the planet's most powerful country. But, to paraphrase the SEC advertising campaign, Ukraine just means more to Russia than it does to US. We don't have to like that. But going to war to stop an invasion is in nobody's interest and threatening to do so would be foolish.
Now, we can make things harder for Putin. We can certainly provide arms and intelligence and logistical support to Ukraine. I presume we're already doing so, in fact. But Ukraine would be an outgunned proxy in a fight with Russia; our assistance would just prolong the inevitable, probably at great cost in Ukrainian blood.