Biden Less Popular Than Worst President Ever
He's underwater and not going to take it anymore.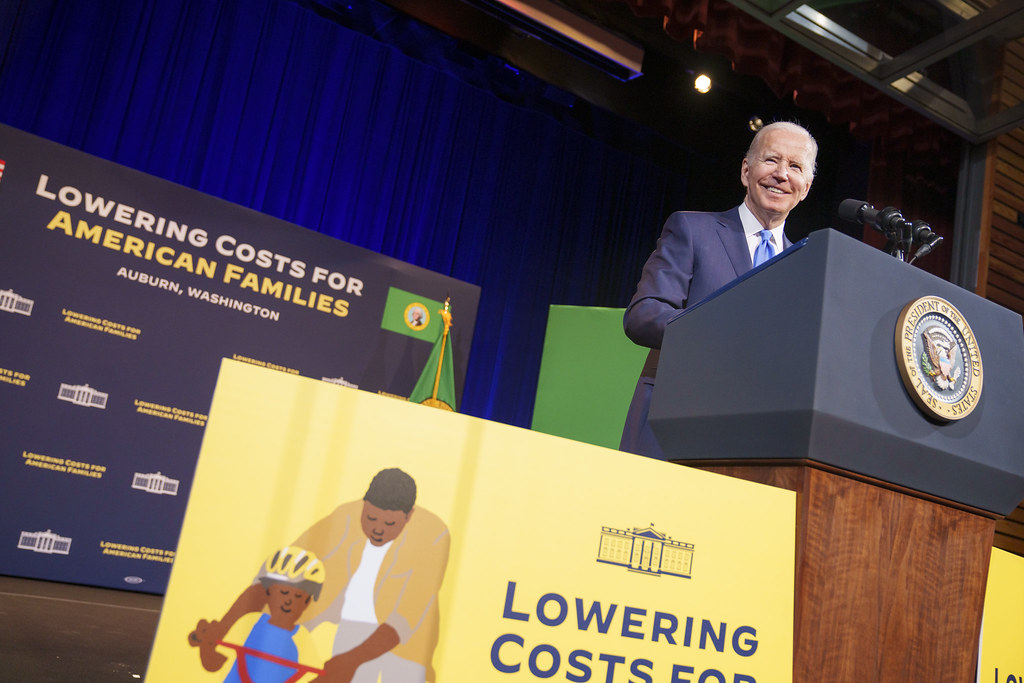 POLITICO's Jonathan Lemire reports, "Biden wants to get out more, seething that his standing is now worse than Trump's."
President Joe Biden and his aides have grown increasingly frustrated by their inability to turn the tide against a cascade of challenges threatening to overwhelm the administration.

Soaring global inflation. Rising fuel prices. Russia's invasion of Ukraine. A Supreme Court poised to take away a constitutional right. A potentially resurgent pandemic. A Congress too deadlocked to tackle sweeping gun safety legislation even amid an onslaught of mass shootings.

In crisis after crisis, the White House has found itself either limited or helpless in its efforts to combat the forces pummeling them. Morale inside 1600 Pennsylvania Ave. is plummeting amid growing fears that the parallels to Jimmy Carter, another first-term Democrat plagued by soaring prices and a foreign policy morass, will stick.

"It's something that has bedeviled quite a few previous presidents. Lots of things happen on your watch but it doesn't mean there is a magic wand to fix it," said Robert Gibbs, a press secretary under President Barack Obama. "The limits of the presidency are not well grasped. The responsibility of the president is greater than the tools he has to fix it."
After a bit of the sort of bad political analysis Steven Taylor complained of yesterday, about infighting on the staff, we get to the headline bit:
The president has expressed exasperation that his poll numbers have sunk below those of Donald Trump, whom Biden routinely refers to in private as "the worst president" in history and an existential threat to the nation's democracy.
Shocking though it might be, Biden's numbers are indeed worse than Trump's. Here's what FiveThirtyEight shows us through June 3: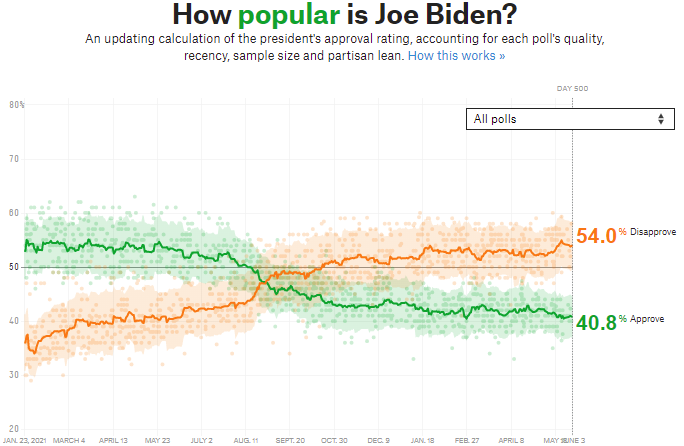 And here's what RealClearPolitics shows us: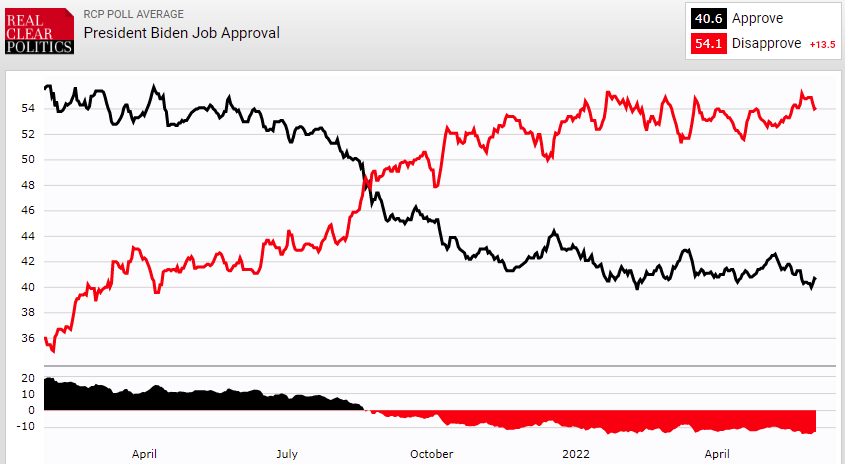 Biden is almost 14 points underwater. But it seems to me to be pretty obvious why—and it's not just inflation, gas prices, and the like. Here's another graphic from the FiveThirtyEight gang: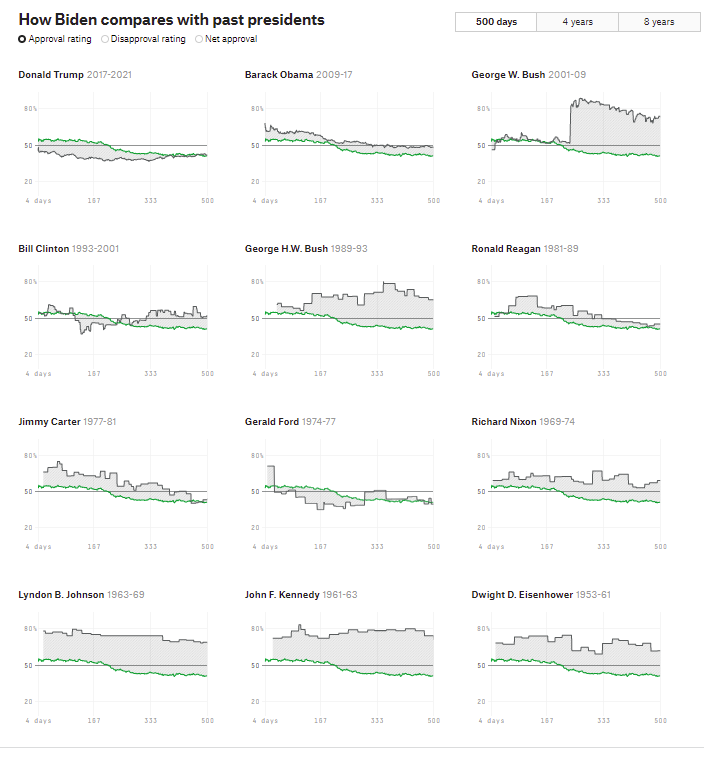 This is the "500 days" view. Looking back historically, we see that the Presidents of the last few years seldom get much above simple majority support and, indeed, are often underwater and the trend has worsened over time.
The earliest Presidents in the graphic were held in remarkably high esteem by modern standards. This was true not only of Dwight Eisenhower and John Kenedy, who we think of as very popular but even Lyndon Johnson (who didn't even bother to run for a second full term) and Richard Nixon (who had to resign in disgrace) never got down to the level of Biden at his most popular. Gerald Ford, who was an accidental President (and Vice President) who took over after Watergate and then pardoned Nixon was an anomaly. Jimmy Carter, who we tend to think of as wildly unpopular, was much more popular than Biden except right at the tail end of his first 500 days.
But you see that it starts to get worse after that. Reagan had some low points early before rebounding. Bill Clinton got hit pretty hard before rebounding—and then getting hard some more. George W. Bush, of course, got a huge rebound from the 9/11 attacks before squandering it on the Iraq War.
Let's span out to the 8-year view: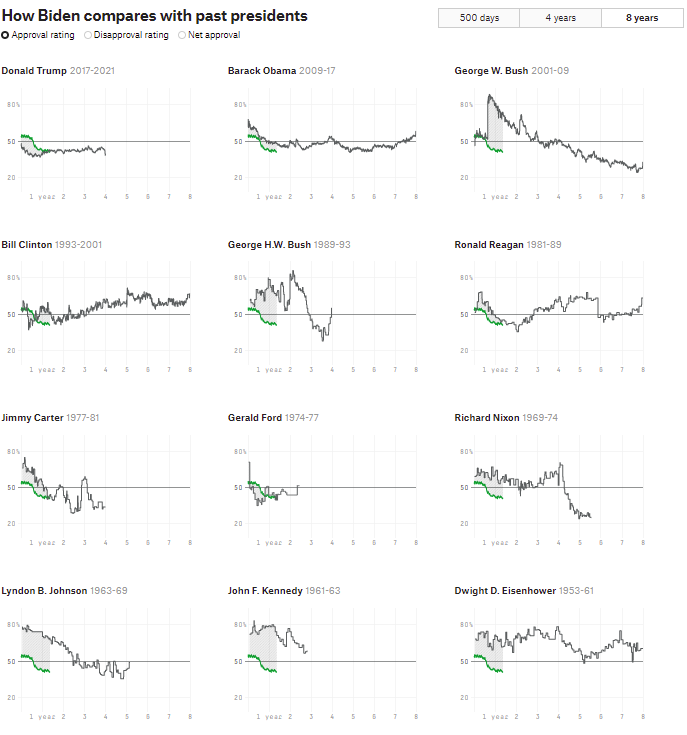 Biden is polling much worse than Bush 43 at the same period but, as you see, Bush plummeted soon after. Obama was never as unpopular as Bush but, even with the economy booming, he was never really popular, either, except for a very brief honeymoon when the nation was congratulating itself for ending racism. And, of course, Trump was underwater from a week or so into his presidency and never recovered.
Back to RealClearPolitics because I have older graphics: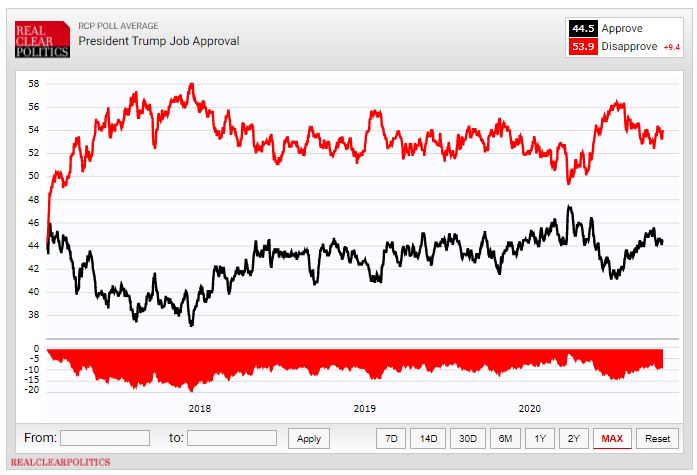 So, yes, it's truly bizarre that Biden is polling worse than Trump did at the end of his term. (Although, it should be emphasized, Trump had spikes where he was in the high-50s in disapproval.) He got us out of Afghanistan, albeit messily. He's done a radially better job of handling COVID. But, again, we also have runaway inflation (by the standards of the last 40 years) and record-high gas prices (if not in inflation-adjusted dollars).
As to the plan to recover from all of this—the other part of the headline—color me skeptical:
The plan is to put Biden on the road to highlight progress being made, even incrementally, in meeting the series of tests, with visits this week to California, where he will preside over a summit of Western Hemisphere allies, as well as New Mexico to push for his climate agenda. The administration will also set aside its reluctance to work with "a pariah" nation with hopes to spur oil production. And it plans to sharpen its attacks on Republicans, aiming to paint the GOP as out-of-touch with mainstream America on issues like gun safety and abortion, all while hoping the upcoming Jan. 6 congressional hearings will further color the party as too extremist and dangerous to return to power.
Look, I like Joe Biden. I think he's a genuinely decent human being and a marked improvement in almost every way from his predecessor. But he wasn't the world's best stump speaker in his 40s and he's simply terrible by Presidential standards at 79.