Biden Preparing for 2024 Run
Will America re-elect an 82-year-old to the White House?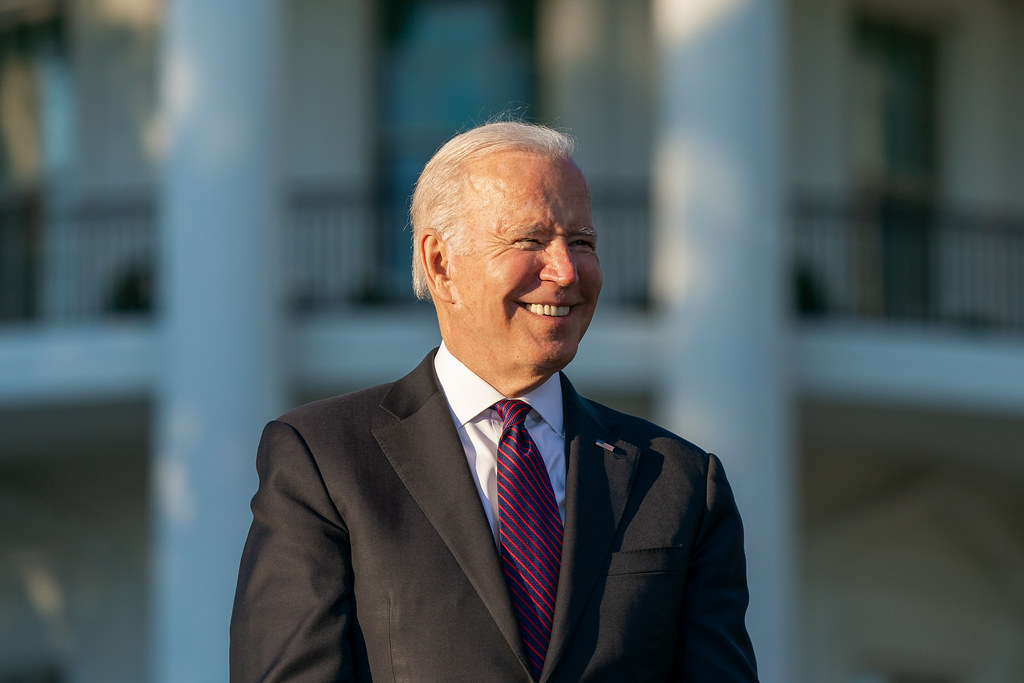 President Joe Biden, who turned 79 yesterday, sets a new record for Oldest President every day he's in office. And, despite some signals during the campaign that he intended to be a one-termer, he's giving every indication that he intends to stand for re-election three years from now.
President Biden and members of his inner circle have reassured allies in recent days that he plans to run for reelection in 2024, as they take steps to deflect concern about the 79-year-old president's commitment to another campaign and growing Democratic fears of a coming Republican return to power.

The efforts come as the broader Democratic community has become increasingly anxious after a bruising six-month stretch that has seen Biden's national approval rating plummet more than a dozen points, into the low 40s, amid growing concerns about inflation, Democratic infighting in Washington and faltering public health efforts to move beyond the covid-19 pandemic.

The message is aimed in part at tamping down the assumption among many Democrats that Biden may not seek reelection given his age and waning popularity, while also effectively freezing the field for Vice President Harris and other potential presidential hopefuls.

"The only thing I've heard him say is he's planning on running again," said former senator Chris Dodd (D-Conn.), a Biden friend. "And I'm glad he is."

At a virtual fundraiser this month, Biden told a small group of donors that he plans to seek a second term, underscoring the message he gave the nation in March at his first White House news conference before cautioning that he had "never been able to plan 3½, four years ahead, for certain."

"What he is saying publicly is what he firmly believes. There's no difference," said former Pennsylvania governor Ed Rendell, who attended the fundraising event. "He will not run if he feels he can't do the job physically or emotionally."
Running for re-election is the default position. The last eligible President to decline to do so was Lyndon Johnson, who concluded a 40-minute address to the nation on March 31, 1968 by saying, "With America's sons in the fields far away, with America's future under challenge right here at home, with our hopes and the world's hopes for peace in the balance every day, I do not believe that I should devote an hour or a day of my time to any personal partisan causes or to any duties other than the awesome duties of this office—the Presidency of your country." Accordingly, he famously declared, "I shall not seek, and will not accept, the nomination of my party for another term as your president."
While magnanimous, it was also the case that the war in Vietnam and civil rights protests combined to create an atmosphere that would have made it unlikely, indeed, that he would win a second full term.
Now, of course, it would be foolish, indeed, for Biden to make himself a lame duck any earlier than he has to even if he didn't have the fire in the belly to run again. It's hard enough to get anything done without other Democrats scrambling to see who will replace him at this early stage.
But, of course, the prospects of an unpopular octogenarian at the head of the 2024 ticket means that some are doing so behind the scenes, anyway.
But interviews with 28 Democratic strategists and officials, many of whom spoke on the condition of anonymity to speak more frankly, show that the assurances have not stopped the internal debate over whether Biden will appear on the ticket.

Some Democrats take a skeptical view of any public and private signals Biden and his team send about reelection, reasoning that there is an incentive for them to project interest in a second term, regardless of his true intent, to avoid weakening his standing. Another presidential bid, others worry, would involve a much more rigorous schedule than the relatively calm 2020 campaign, which was largely conducted remotely because of the covid-19 pandemic.

Even among those in close touch with Biden's innermost circle, interpretations about his intentions vary. One Democrat involved in campaigns said they couldn't think of a single person they had spoken to in the last month who considers the possibility of Biden running again to be a real one.

"I hear this question get asked every day," said another Democratic veteran of recent presidential campaigns, about whether Biden will run for reelection. "No one ever asked that question about Barack Obama. No one ever asked that question about Donald Trump."

Florida trial lawyer John Morgan, who was a top 2020 Biden donor, said he was unsure whether Biden would seek reelection.

"What is his health going to be in the next three years?" he wondered aloud. "All you have to do is look at the mortality tables in America to understand what I'm saying."
Nobody needs to consult any tables. Biden is an old man and everyone, surely to include Biden himself, is well aware of that.
Still, the 2024 nomination is almost surely his if his health remains steady. And, if he steps aside, it's by no means a sure thing that Kamala Harris gets it by default. Democrats aren't Republicans and nobody cares about whose "turn" it is.
Biden has so far rejected then-president Donald Trump's approach of declaring a reelection campaign in the first months in office, reasoning that such an announcement would waste money and wear out campaign donors, allies say. Biden is widely expected to wait until after the midterms to make a formal announcement.

Shortly after arriving in the White House, Biden shifted the assets of his presidential campaign to the Democratic National Committee, leaving his donor and volunteer lists to be managed by the national party. Since then, DNC leaders have been operating under the assumption that he will run again, choosing not to begin any planning for a contested primary, like debate preparations, which had started at this point in the 2020 cycle.

The party does plan to review the order of nominating states in the primary calendar, a threat to the first-in-the-nation position of the Iowa caucuses, but those efforts do not assume a contested Democratic fight.

Should Biden run and face a primary challenge in 2024, Democratic officials plan to side firmly with the incumbent, potentially frustrating challengers' access to party data and resources, according to people familiar with the plans.Advertisement

In the meantime, the DNC has been working with Jen O'Malley Dillon, White House deputy chief of staff and Biden's former campaign manager, to draft plans for major investments over the next year in important midterm election states that they believe will be battlegrounds for Biden in 2024.
Unlike Trump, Biden is a professional politician. The notion that we should already be planning primary debates three years from the next election and a year ahead of crucial Congressional midterms is bizarre but, alas, what our system has devolved into. The first Democratic debate for the 2020 cycle was June 26, 2019—which means we're likely just seven months from the 2024 campaign kicking off in earnest and much less than that before candidates start showing up in New Hampshire diners. Hell, Chris Christie may be having pancakes in Nashua as I type.
We're in the unique position of having both nomination fights essentially frozen right now. It's natural for a first-term President's own party nomination to default to him, of course, but Biden's age puts that into doubt. Everyone assumes Donald Trump will seek the Republican nomination again but, until he makes it official, a lot of would-be candidates will keep their powder dry.
If Biden doesn't run, though, things will get very interesting, indeed.
In recent weeks, Anita Dunn, who left the White House in August after a short stint as a senior adviser, has made calls to Democratic Party leaders and activists, assuring them Biden will run for reelection, according to people familiar with the calls.

From her perch at SKDK, a consulting firm she helps run, Dunn still serves as one of Biden's most trusted and influential political advisers and is deeply involved in plotting out his political future. If Biden decides to run, Dunn is likely to be a key part of his team with O'Malley Dillon, allies say. Steve Ricchetti and Mike Donilon, two of Biden's top White House advisers, are also expected to be deeply involved in campaign strategy and messaging, they say.

Growing concerns about Democratic chances in next year's midterm elections are widespread, after an electoral defeat in the Virigina governor's race and an unexpectedly close race in New Jersey. But that concern less frequently extends to 2024, as party leaders point to the experiences of the last two Democratic presidents, Bill Clinton and Barack Obama, who faced midterm wipeouts before easily winning reelection.

If Biden doesn't run, some fear an open and potentially bruising primary campaign with no clear front-runner. Harris, seen at the start of the administration as a potential heir apparent, has stumbled in the eyes of many Democrats, opening the door to conversations in the party about the prospect of others leading the ticket if Biden steps aside. Transportation Secretary Pete Buttigieg is seen by some Democrats as another potential candidate from inside the administration.

Former Virginia governor Terry McAuliffe spoke during his gubernatorial campaign about possibly running in 2024 if Biden steps aside, according to multiple people familiar with the conversations, but his defeat in this month's election casts that plan into doubt. The names some liberals have floated as possible candidates if Biden steps down include Sens. Elizabeth Warren (D-Mass.), Sherrod Brown (D-Ohio), and Jeff Merkley (D-Ore.). Others have pointed to Rep. Alexandria Ocasio-Cortez (D-N.Y.), who is seen as the future of the liberal movement. In 2025, she would barely meet the constitutional requirement that presidents be at least 35 years old.
Absent a huge change in the landscape, though, we're unlikely to see a nomination fight if Biden runs.
There is little sign at the moment of much appetite for a liberal challenge to Biden if he mounts another campaign. The president has won plaudits from liberal lawmakers this year for pursuing an ambitious domestic agenda.

"President Biden will enjoy strong support from many progressives when he runs for reelection. He will certainly have mine," said Rep. Ro Khanna (D-Calif.), who co-chaired the campaign of Sen. Bernie Sanders (I-Vt.) in 2020.

When it comes to the prospect of Biden drawing a liberal challenger, one Democratic congressional aide with knowledge of party dynamics wondered aloud who would want to spend their political capital taking on an incumbent and weakening him, like Sen. Edward M. Kennedy (D-Mass.) did to President Jimmy Carter in 1980. While such a move might be destructive, the aide said, some might be prepared to play that role.

"If this was a decision being made now, personally I would say that there's plenty of work people can do without challenging the president," said Larry Cohen, a close Sanders ally who chairs the board of a group aligned with the senator.

"If he's not running, I think absolutely there'll be progressives — at least one," he added, without predicting who might run in an open race.
And, yes, Democrats are salivating at the chance to face Trump again, regardless.
The threat of a return of Trump to the White House has also divided Democrats. Biden ran for election to "restore the soul" of the country, but nearly a year into his term it is clear that the political threats he identified in the country, including Trump's brand of politics, have not faded from the scene.

Trump, 75, has taken to hinting strongly that he intends another campaign, which has strengthened the rationale for some Democrats of having Biden back on the top of the ticket. Democrats expect Trump's involvement in the Jan. 6 Capitol riot, and his continued false denials of the 2020 election result, to be a drag on his campaign in 2024.

Barry Goodman, a Democratic donor who served on Biden's national finance committee for his 2020 presidential campaign, said many donors are "praying that Trump runs."

"I think no matter who runs, a Democrat beats him," he said of Trump. "At the end of the day, people are not going to put that despot in office one more time."
While I very much hope that we somehow get a non-Trump alternative in 2023, I'm less sanguine than Goodman about the good judgment of the American people, especially as filtered through the Electoral College mechanism.