Biden Promises November Surprise From Democrats
Vice-President Biden glances into the future and sees a relatively good year for Democrats. Is he right ?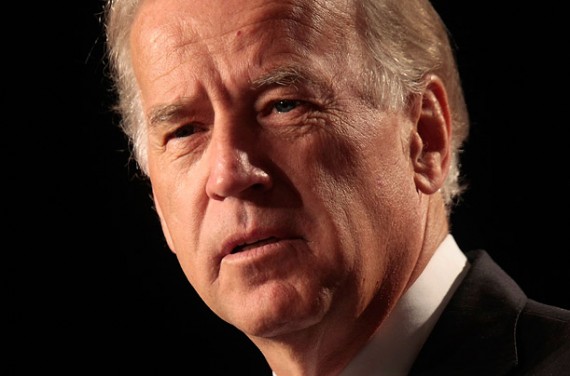 Vice-President Biden pledged yesterday that the mid-term elections would not be as bad for Democrats as some predict:
Vice President Joe Biden has a warning for the pundits: Democrats are going to shock everybody with how well they do in the November election.

And he's paraphrasing Mark Twain in saying reports of the Democrats' demise "are premature."

"We're going to win the House and we're going to win the Senate," Biden told ABC's "This Week" in an interview that aired Sunday. "I don't think the losses are going to be bad at all. … We're going to be in great shape."

(…)

"I think we're going to shock the heck out of everybody," Biden said.

Predictions that the GOP will rout the party in power, he said, rely on polls taken pretty early in the campaign season, before voters start focusing on the Republican candidates who will be on the ballot.

"This is July," Biden said. "The most vulnerable time any public official finds himself in is when they have no opponent."

Polls for both President Barack Obama and congressional Democrats have shown declining support through the spring and early summer as the economic recovery has sputtered, BP's oil well has gushed in the Gulf of Mexico and U.S. casualties in Afghanistan have kept rising.

Republicans contend voters are furious about Obama's health care and stimulus plans among the examples of what they say is a federal government run amok.

"These are gigantic packages to deal with a gigantic problem we inherited," Biden said.

He blamed most of the voter angst seen in the polls on the still struggling economy and widespread misunderstanding of big administration initiatives.

"I don't think they know the detail of what's going on," he said.
Yea Joe, because telling people they're too stupid to know what's good for them is a guaranteed winner, right ?
Of course, while the Vice-President is predicting a good year for Democrats, relatively speaking, Republicans are singing a different tune:
Rep. Pete Sessions (R-Texas) predicted Sunday that Republicans will win just enough House seats come November to gain control of the House.

Speaking on NBC's "Meet The Press," the chairman of the National Republican Congressional Committee said he was confident the GOP will become the majority party in the House for the next Congress.

"I think we're going to be slightly over 40," Sessions told David Gregory when asked for a specific number on how many House seats Republicans will win.

That would give Republicans just enough seats to win the House. The GOP need to win 39 House seats in the fall elections to take control of the chamber. Sessions's counterpart, Rep. Chris Van Hollen (D-Md.), chairman of the Democratic Congressional Campaign Committee, disagreed with his prediction.
On the Senate side, Republican predictions are a little more subdued:
[NRSC Chairman John] Cornyn said he was happy with the election outlook right now, noting that Republican candidates were competitive in eight races for Senate seats held by Democrats. But unlike Sessions, Cornyn did not say how many Senate seats Republicans would win in the 2010 elections.

"I don't know," Cornyn said.

Earlier on CNN's "State of the Union," Senate Minority Leader Mitch McConnell (R-Ky.) said that Republican candidates are "either competitive or ahead in 11 different states now where there are Democratic incumbent senators."

McConnell didn't predict a number, though, instead saying, "If the election were today, we would have a good day. … I'd like to be in better shape than the 41 that we have now. And I think the chances of that are pretty good."
What's going on here on both sides, of course, is that the partisans are trying to keep their respective bases engaged in the race. On the Democratic side, the danger is that continued predictions of losses in Congress will keep people away from the polls in November, this making a bad situation even worse. On the Republican side, the danger is more acute and it involves the fear on the part of some that the public anger that has been driving Republican success of late may peak before November, thus muting whatever gains the GOP might otherwise make.
As things stand right now, I think we're looking at Republicans picking up, at most, 5-6 seats in the Senate, with the possibility of that number being muted by the loss of Florida to a Democratic-leaning Independent. In the House, I'm at a loss to see a scenario where the GOP gains more than 45 seats, which would give them just a bare majority. Realistically, I think the House pickup will be closer to 30-35. Obviously, these forecasts may change as we get closer to Election Day.