Biden's Culture War Aggression?!
The hidden wokeness of our new Critical Theory-loving President.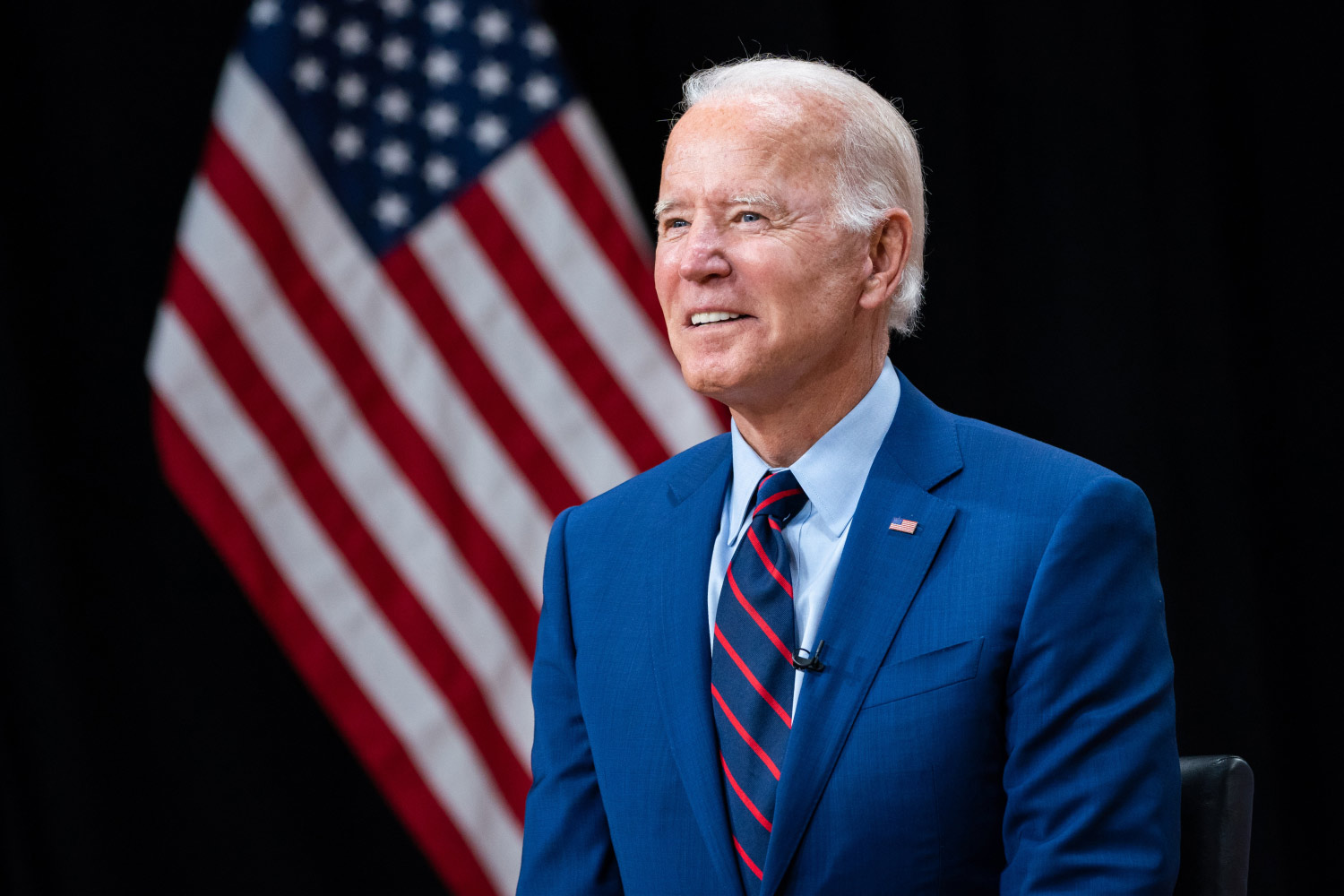 So, while most of us have been breathing a sign of relief after three days of having a grown-up in the White House again, looking forward to being able to criticize the President on his policy ideas rather than his basic human decency, Andrew Sullivan has uncovered the scary truth.
After a couple of paragraphs arguing, correctly I think, that President Biden's inaugural speech was overhyped simply because of its contrast to the awfulness of his predecessor, he gets down to business:
If Biden's team meaningfully accelerates the pace of vaccination, he will be rewarded handily, as he should be. (He's already lowering expectations, to maximize any political pay-off.) If he's capable of passing an economic stimulus that can mitigate some of the extreme social and economic inequality this teetering republic labors under, rescue and grow the economy and help innovate and expand non-carbon energy sources, ditto. These are clear, measurable tasks that most non-ideologues can heartily support. So too would be a fuller extension of universal access to healthcare, via an Obamacare public option, if they can squeak that through the evenly divided Senate.

These are sane, sensible, center-left policies with majority support.
While it may seem a quibble, I'd argue that, if a majority supports a policy, it's by definition "center," not "center-left." Although, in fairness, the column gives the impression that Sullivan's sense of what a majority supports is based on his fellow intellectuals.
Regardless, he quickly does a heel turn:
But Biden has also shown this week that his other ambitions are much more radical. On immigration, Biden is way to Obama's left, proposing a mass amnesty of millions of illegal immigrants, a complete moratorium on deportations, and immediate revocation of the bogus emergency order that allowed Trump to bypass Congress and spend money building his wall. Fine, I guess. But without very significant addition of border controls as a deterrent, this sends a signal to tens of millions in Central to South America to get here as soon as possible.
So, I agree that Biden's immigration plan is in fact a mass amnesty of illegal immigrants. I don't know if that's "left," much less "way to Obama's left," though. DACA, after all, is a massive amnesty plan, albeit one targeted to those who came as children and are less blameworthy and more sympathetic. And, as Sullivan and I are both old enough to remember, conservative icon Ronald Reagan signed a massive amnesty bill of his own. It's ultimately a pragmatic issue rather than an ideological one.
Beyond that, Biden's plan actually does call for stepped up surveillance, albeit of the electronic nature. We've been pouring more resources into border enforcement for decades—including under the radical, leftist, socialist, hard left Obama for whom Sullivan twice voted—without much success.
Oh, and while yet another amnesty might well signal more would-be Latin American migrants that they'll eventually get a Get Out of Jail Free card of their own, Biden's plan specifically requires proof of having been in the country as of 1 January 2021.
Biden could find, very quickly, that the "unity" he preaches will not survive such an effectively open-borders policy, or another huge crisis at the border. He is doubling down on the very policies that made a Trump presidency possible. In every major democracy, mass immigration has empowered the far right. Instead of easing white panic about changing demographics, Biden just intensified it.
I lean more to nationalism and a desire for border control than much of the commentariat. For a host of reasons, cultural and economic, my ideal would be to admit migrants based on our collective preferences as expressed in the law of the land. And, yes, there's likely a white underclass that's legitimately frustrated at having to compete with illegal immigrants. But it's rather obvious that "the far right" is animated by propagandists and demagogues, not anodyne public policy decisions.
Biden has also signaled (and by executive order, has already launched) a very sharp departure from liberalism in his approach to civil rights. The vast majority of Americans support laws that protect minorities from discrimination, so that every American can have equality of opportunity, without their own talents being held back by prejudice. But Biden's speech and executive orders come from a very different place. They explicitly replace the idea of equality in favor of what anti-liberal critical theorists call "equity." They junk equality of opportunity in favor of equality of outcomes. Most people won't notice that this new concept has been introduced — equity, equality, it all sounds the same — but they'll soon find out the difference.
This is followed by a several-paragraph discourse into Sullivan's favorite bugaboo, Critical Theory.
In critical theory, as James Lindsay explains, "'equality' means that citizen A and citizen B are treated equally, while 'equity' means adjusting shares in order to make citizen A and B equal." Here's how Biden defines "equity": "the consistent and systematic fair, just, and impartial treatment of all individuals, including individuals who belong to underserved communities that have been denied such treatment, such as Black, Latino, and Indigenous and Native American persons, Asian Americans and Pacific Islanders and other persons of color; members of religious minorities; lesbian, gay, bisexual, transgender, and queer (LGBTQ+) persons; persons with disabilities; persons who live in rural areas; and persons otherwise adversely affected by persistent poverty or inequality."

In less tortured English, equity means giving the named identity groups a specific advantage in treatment by the federal government over other groups — in order to make up for historic injustice and "systemic" oppression. Without "equity", the argument runs, there can be no real "equality of opportunity." Equity therefore comes first. Until equity is reached, equality is postponed — perhaps for ever.
Look, I'm skeptical of overreach and quota systems. I'm leery, too, that the mechanisms for achieving equity will focus more on BIPOC than on rural Americans. But there's nothing in the linked Executive Order that does more than establishing yet more advisory groups and generates yet more paperwork. As a Federal employee, I fear this will lead to yet more annual training requirements and yet more mandatory seminars on the values of diversity. But there's nothing at all in the order that seems to lead to the purging of us middle-aged white dudes in favor of transgender quadriplegics from Appalachia.
Helping level up regions and populations that have experienced greater neglect or discrimination in the past is a good thing. But you could achieve this if you simply focused on relieving poverty in the relevant communities. You could invest in schools, reform policing, target environmental clean-ups, grow the economy, increase federal attention to the neglected, and thereby help the needy in precisely these groups. But that would not reflect critical theory's insistence that race and identity trump class, and that America itself is inherently, from top to bottom, a "white supremacist" country. Biden just endorsed that with gusto.
He really hasn't. The Order does reference "systemic racism," but that doesn't require white supremacism so much as an acknowledgment that those who designed the system with the implicit understanding that heterosexual, cisgender white men are the norm.
And Biden may well pursue may of the programs Sullivan prefers. He campaigned on some of them. But he can't implement them via Executive Order. Which, to bang a drum I've been banging a lot lately, is a very good thing regardless of how one feels about the policies.
Several more paragraphs are devoted to explicating this thesis:
The paradox, of course, is that to achieve "equity" you have to first take away equality for individuals who were born in the wrong identity group. Equity means treating individuals unequally so that groups are equal.
Again, I'm likely more sympathetic to Sullivan's views of this than much of the commentariat. But Ibram X. Kendi isn't the President. Joe Biden, a 78-year-old moderate who has been in national politics for half a century is.
Biden's executive order on "LGBTQ+" is also taken directly from critical gender and queer theory. Take the trans question. Most decent people support laws that protect transgender people from discrimination — which, after the Bostock decision, is already the law of the land. But this is not enough for Biden. He takes the view that the law should go further and insist that trans women are absolutely indistinguishable from biological women — which erases any means of enforcing laws that defend biological women as a class. If your sex is merely what you say it is, without any reference to biological reality, then it is no longer sex at all. It's gender, period. It's socially constructed all the way down.
So . . . no.
The entire order is premised on this paragraph:
Every person should be treated with respect and dignity and should be able to live without fear, no matter who they are or whom they love. Children should be able to learn without worrying about whether they will be denied access to the restroom, the locker room, or school sports. Adults should be able to earn a living and pursue a vocation knowing that they will not be fired, demoted, or mistreated because of whom they go home to or because how they dress does not conform to sex-based stereotypes. People should be able to access healthcare and secure a roof over their heads without being subjected to sex discrimination. All persons should receive equal treatment under the law, no matter their gender identity or sexual orientation.
Much of this is already statutory law, especially as construed through Bostock. The rest of the order simply instructs Federal agencies to review their existing policies to ensure they're in compliance with this current understanding of what the law requires.
I honestly don't see how this jeopardizes women as a class.
Most of the time, you can ignore this insanity and celebrate greater visibility and protection for trans people. But in a few areas, biology matters. Some traumatized women who have been abused by men do not want to be around biological males in prison or shelters, even if they identify as women. I think these women should be accommodated. There are also places where we segregate by sex — like showers, locker rooms — for reasons of privacy. I think that allowing naked biological men and boys to be in the same showers as naked biological women and girls is asking for trouble — especially among teens. But for Biden, this is non-negotiable, and all objections are a function of bigotry.
Maybe Sullivan's radar is more keen than mine. But I just don't see anything in the order requiring that showers and locker rooms admit people regardless of their biological sex. And, frankly, if it does, it's because of a sweeping reading of Bostock, not Biden's Order.
For good measure, Biden also pledges to remove any protection for orthodox religious freedom and individual conscience in "LGBTQ+" areas in his proposed Equality Act, which repeals the relevant sections of Biden's own Religious Freedom Restoration Act, and also makes sex indistinguishable from gender.
I haven't studied the Equality Act, since it was a dead letter when introduced given a Republican President and Senate. But Biden did pledge to support it during the campaign. Still, to the extent that it clashes with he Free Exercise Clause, the Supreme Court will almost certainly strike those provisions down.
I wonder if Joe Biden even knows what critical theory is. But he doesn't have to. It is the successor ideology to liberalism among elites, a now-mandatory ideology if you want to keep your job. But Biden's emphatic backing of this illiberal, discriminatory project on his first day is relevant. He has decided to encourage "unity" by immediately pursuing policies that inflame Republicans and conservatives and normies more than any others.

And those policies are obviously unconstitutional. The federal government cannot actively discriminate on the basis of race, sex or group identity under the Constitution. It cannot strip women of their rights as a distinct biological class. It cannot void religious freedom for individuals. Biden's woke rampage in the federal government won't last, because it cannot last if our constitution means anything. So let the lawsuits commence as Biden alienates and inflames his moderate supporters and snubs practices that most Americans take as common sense.
What the Constitution means on many if not all of these issues is, and long has been, up for debate and, frankly, the whims of a majority of the Justices who happen to be sitting on the Supreme Court when a particular case is heard.
We have moved faster on gay, and especially transgender, issues than is comfortable for a lot of the country. The Black civil rights and women's movements unfolded over decades and still spark bitterness and anger for too many people. The gay rights movement was much less visible, comparatively, but it, too, took decades to get where it is. It, and the seemingly-out-of-nowhere transgender rights movement, piggybacked on the natural consequences of gender equality. The law has moved further and faster than the culture, creating strains.
Biden, whether because of pressure from the Progressive wing of his party or his own abundant empathy, has embraced all of this with surprising enthusiasm given his moderate tendenc
Still, I can't help but laugh at the phrase "Biden's woke rampage." C'mon, man.