Bipartisan Commission Dies From Lack of Bipartisanship
The country is in peril.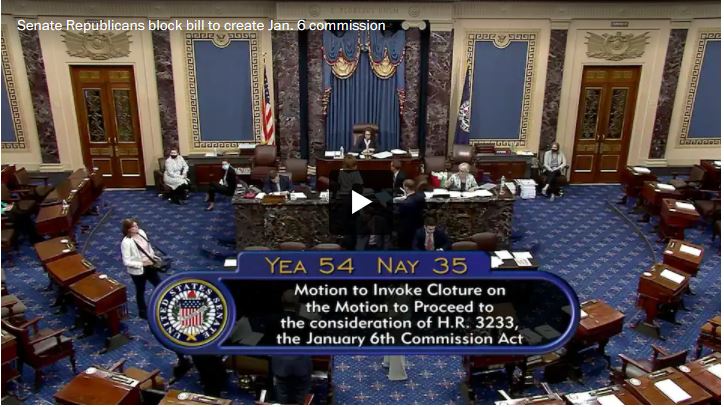 To the surprise of perhaps only Susan Collins, there were not 60 votes in the US Senate to authorize a bipartisan commission to study the Republican-led riot in the building where Senators work. WaPo chief correspondent Dan Balz explains in a news report ("The Senate vote on the bipartisan Jan. 6 commission showed Trump's power and a government under duress") that doubles as an editorial:
Nearly five months after a pro-Trump mob of rioters stormed the Capitol, Senate Republicans have delivered another blow to the country, blocking the creation of an independent commission to investigate the attacks. It was a partisan act and another reflection of democracy under stress.

Led by Minority Leader Mitch McConnell (R-Ky.), all but a handful of Republican senators joined to scuttle creation of a commission that would have been given the authority and resources to probe more fully what happened and why on that terrible day in January. Absent the use of a filibuster, there were enough votes to let the commission go forward.

Republicans had their reasons, or so they said, for doing what they did. There were, for example, aspects of the bipartisan agreement that led to the legislation to create the commission that they didn't like. But the most important reason was their fear that Democrats would use the independent commission's work against Republican candidates in next year's elections by keeping alive President Donald Trump's role in the Jan. 6 attacks and his misdeeds ahead of it.

Many Republican elected officials want Trump to go away. They want him in their rearview mirrors. They want the upcoming midterm elections to be fought in an atmosphere free of the former president and focused on President Biden. That's why Rep. Liz Cheney (R-Wyo.) has been such an irritant to GOP leaders, because she refuses to turn away from what Trump's actions produced on Jan. 6 and, she fears, could provoke again.

Her colleagues are afraid to be more affirmative and aggressive in challenging the former president. They fear Trump, and they fear his followers, who now dominate the GOP rank-and-file, and so they voted on Friday to protect the former president by obstructing the commission, hoping that would protect themselves next year. The vote again showed the hold that Trump has on his party.

Republicans are counting on normal patterns of midterm elections — a backlash against a new president, lower overall turnout and greater energy among members of the party out of power — to restore their majorities in the House and Senate. They don't want Trump to be a front-and-center issue. They don't want voters to be reminded why they decided to fire Trump after a single term.

Why not keep the issue of Trump's role in the Jan. 6 alive as part of a deeper investigation? Why not keep it alive at least long enough for a commission with independence, sufficient resources and subpoena power to take testimony, develop a fact-based timeline and produce recommendations about Capitol security and the protection of democracy itself? What do they really fear would be revealed?

McConnell's explanation is that congressional committees are already doing the necessary work, that there are no new facts to be discovered. He described the independent commission as "extraneous," though 35 members of his party voted to approve its creation when the legislation passed the House.

Hoping to salvage the commission, Sen. Susan Collins (R-Maine) — one of six Republicans who joined all the Democrats present to support it — had put together some changes to assuage concerns that Democrats could tilt the commission staff in their favor and to assure that its powers were evenly divided between Democratic and Republican appointees. McConnell was having none of it.

McConnell also said he doubted that such a commission could promote healing in the country, which is the same argument some Republicans used to vote against impeaching and convicting Trump earlier this year for his role in whipping up the mob.

Healing is not the express purpose of an independent commission. It could be argued that the responsibility for healing the country lies more with elected officials and others in positions of power than with a commission tasked with finding out as much as possible about the Jan. 6 attacks. This much is clear: Blocking the commission will not lead to healing.
His colleague Phillip Bump, who's merely a national correspondent, adds ("Senate Republicans kill the Jan. 6 commission by a negative-19 vote margin"):
It's clear that a majority of the House supports creating a bipartisan commission to investigate the attack on the U.S. Capitol that occurred on Jan. 6. It passed a bill to do so earlier this month.

It's clear that a majority of the Senate supports the commission's creation, too. On Friday, more than 50 senators — representing 32 states and well over half the country's population — voted to move forward on doing so.

It's clear that a majority of the public also supports such a commission. Polling has repeatedly demonstrated that, including a YouGov-Economist survey released this week.

But there will be no such commission. That vote in the Senate aimed at ending a Republican filibuster of the proposal to create a commission needed 60 votes. Instead, it only got 54 — 19 more votes than the opposition, but that doesn't matter under the Senate's filibuster rules. That there were three votes for ending the filibuster for every vote to maintain it doesn't matter.

It could have been a 59-to-0 vote, and the commission would still have been blocked. In fact, 11 senators, nine of them Republicans, didn't bother to vote at all. It didn't matter.

You know all of this in the abstract, but it's still worth walking through how arbitrary the filibuster rules are and how those rules affect legislative results.
I continue to have conflicting thoughts about all of this.
While I remain sympathetic to the ideal of the filibuster—that a country as pluralistic as ours shouldn't enact major national policy on a bare majority vote—the reality of its use has persuaded me that it's time for it to go. I continue to believe, though, that this commission is a poor case on which to rest that argument. The poll Bump refers to shows a divided, not a united, country: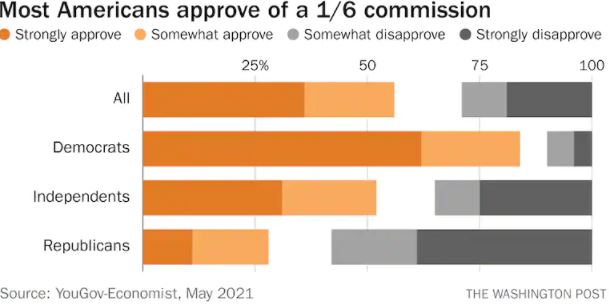 This isn't a case where the public overwhelmingly supports something that's being blocked by arcane legislative rules. Rather, there's weak support (barely more than a majority, with only a third or so strongly in favor) that's extremely polarized along party lines.
Beyond that, while McConnell's rationale for opposing the commission is purely partisan—he thinks, rightly I believe, that a months-long commission that releases its findings during the 2022 cycle will hurt his party's chances of retaking the majority—he's probably right that little good would have come from it. Balz and other supporters of a commission point to the 9/11 predecessor as a model. But the attack there came from foreign enemies. While there was always the possibility that the Bush administration would have come out looking bad, there was a genuine consensus that we needed to look at how the system failed so that we could reorganize the government to prevent a recurrence.
The 1/6 attack, by contrast, was domestic. We know who committed it. It could have been prevented with slightly more robust security measures already within our power. Regardless, there's no "bipartisan" way to investigate an incident that was perpetrated by a handful of supporters of one political party, egged on by the head of that party, in a futile attempt to forestall the transfer of power to the other party.
The most compelling argument adduced in the comment thread the last time I discussed this was that a commission would be the most legitimate way to investigate the role of Republican Members of Congress in aiding and abetting the perpetrators. I, too, would like a fuller accounting of that and agree that a bipartisan commission might be a cleaner way of doing that than having it be led by Joe Biden's Justice Department.
But the very atmosphere that led to the Capitol attack makes this impossible. Too many Republicans believe in the Big Lie and there's no obvious way to change that. The commission wasn't going to investigate the claims of election fraud—Collins and others wanted to expand its purview but was rightly rebuffed—and there is simply no amount of evidence that would persuade the true believers at this point.
That leaves us where we began: in a very dark place for our democracy. And I see no obvious way out at this point.